Hawkeye Fan Shop — A Black & Gold Store | I-Club Events Page | Fight For Iowa | Ferentz Transcript (PDF)
IOWA CITY, Iowa — University of Iowa head football coach Kirk Ferentz held his weekly news conference Tuesday in the Stew and LeNore Hansen Football Performance Center. Here are a few highlights as well as the complete transcript: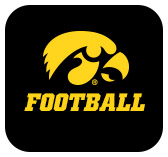 How Did You Spend Your Bye Week?
Ferentz was anything but a couch potato during Iowa's football bye weekend Nov. 1-3. On Friday, he made a recruiting visit.
 
"It's always good to see some high school football," Ferentz said.
 
On Saturday, he and his wife, Mary, were in Mount Pleasant, Michigan, supporting their youngest son, Steve, who is a graduate assistant coach on the Central Michigan football staff. It was a big day for the Chippewas, who improved to 6-4 with a 48-10 victory over Northern Illinois.
 
"We saw them become bowl eligible, so that was kind of fun," Ferentz said. "It was fun to be a fan and not be too emotionally invested in the game, although I got sucked in after a little bit, so it was good. It was a good deal."
 
Heartland Trophy Bragging Rites
Kristian Welch, a senior linebacker from Iola, Wisconsin, will be a Hawkeye game captain, but is not listed on Iowa's depth chart for Saturday's game against the Badgers.
 
"We'll take him back and he'll go out for the toss if he's not playing," Ferentz said. "Injuries are the worst part about football. I can't tell you how hard he has worked. He has been one of our hardest-working players; he is so conscientious and bought-in. It's not always fair, life is not always fair, and football is hardly fair, but he's making a contribution." 
 
There are five other Wisconsin natives on Iowa's two-deep: redshirt freshman offensive left guard Cody Ince (Balsam Lake), sophomore  defensive left tackle Daviyon Nixon (Kenosha), redshirt freshman offensive left tackle Jack Plumb (Green Bay), senior quarterback Nate Stanley (Menomonie), and junior running back Toren Young (Madison). Welch, Stanley, and Young are all Iowa game captains.
 
There are no native Iowans on Wisconsin's roster.
 
Steel Curtain Badgers?
Wisconsin's defense enters its game against Iowa ranked No. 1 in the nation in total defense (223.5 yards per game), first in passing efficiency defense (88.6), third in passing defense (139.4 yards per game), and fourth in quarterback sacks (32). 
 
"I'm not saying these guys are the Pittsburgh Steelers, but it kind of reminds me of the Steelers when I coached in the National Football League," Ferentz said. "They have a lot of different ways to put the pressure on you and they're kind of subtle with some of the things they do. But they're impactful, and they make it tough to move the ball and score points."
 
Le'Veon Bell. Christian McCaffrey. David Johnson. Melvin Gordon. Saquon Barkley. Jonathan Taylor?
During the last decade, the Hawkeyes have faced top-flight running backs across the country and in the Big Ten from Stanford's Christian McCaffrey to Wisconsin's Melvin Gordon to Penn State's Saquon Barkey.  You can include Wisconsin's Jonathan Taylor on the list. 
 
"I listen to the radio coming to work and going home, so one of those experts was just talking about how (McCaffrey and Barkley) might be the two best (running backs) in the game right now, and I thought to myself, 'Boy, what great luck for us.' We got to see Barkley a couple times, and then we make it to the Rose Bowl and we get to play McCaffrey, and boy, was he good. What a good player. Then Barkley, I have said it before, that's as good a performance as I've ever seen back a couple years ago in Kinnick.
"Those guys are just really top-flight players and seem like top-flight young people. That's the thing that's intriguing about Taylor to me, is just as good a player as he is, it sounds like he's a better young person.
 
"That's what's good about college football. It's kind of neat that way. I'd rather watch those guys on TV. My good luck was OK my first two years here, we never played against Drew Brees and (Drew) Henson from Michigan was a first-rounder, so we saw him on film two years, but never played him. That luck has run out apparently. We'll have to get ready for Saturday."
 
Taylor is second in the Big Ten in rushing in 2019, averaging 126.1 yards per game.  He has rushed for 1,009 yards over eight games with 15 touchdowns. 
 
3:05 p.m. Sharp
When the Hawkeyes take the field for kickoff at Camp Randall Stadium, Ferentz says Iowa must be ready… or else.
 
"The message to the team is we need to be ready at kickoff," he said. "At 3:05 p.m., we had better be ready, because if you're not — that really was the story of the Michigan and Michigan State game. It was over quickly.
 
"Michigan State had around 38 snaps? They had like four or five three-and-outs and a six-and-out, and that was in the first half, and it was 17-0. The Michigan game was 28-0; they turned it over three times. Forget about that if you're going to turn it over, might as well go home because it's not going to be pretty.
The message is if you are not ready to go, (Wisconsin) knows what to do with it. They're going to be ready to go. They've demonstrated that time and time again, not just this year but historically these guys show up ready to play."
 
Iowa football hosts Minnesota in the battle for Floyd of Rosedale on Saturday, Nov. 16.  Fans are encouraged to wear black for the Blackout game, and it is the annual military appreciation celebration. Active duty military and veterans are eligible for a military ticket discount. Click HERE for tickets and pre-paid parking and additional game information.