Hawkeye Fan Shop — A Black & Gold Store | Box Score (PDF) | Postgame Notes (PDF) | I-Club Events Page | Photo Gallery | Game Recap | Duncan's Fancy Footwork Vital in Victory Over Purdue | 'Different' Duncan is Kicking Free
By DARREN MILLER
hawkeyesports.com
MADISON, Wis. — Keith Duncan doesn't pay attention to his individual statistics, but when you are leading the nation in field goals, other people will keep you updated.
 
Duncan, a University of Iowa junior kicker, who this week was named a semifinalist for the Lou Groza Award, entered Saturday's Big Ten showdown at Wisconsin with 19 field goals, tied for the FBS lead. It also left the native of Weddington, North Carolina, two made field goals from tying Iowa's season record of 21 held by three greats: Rob Houghtlin (1987), Nate Kaeding (2002), and Kyle Schlicher (2004).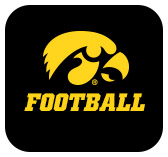 On a 42-degree Saturday with wind from the southwest at 8 miles per hour, Duncan exceeded his average of 2.4 field goals per game. He converted field goals in the first, second, and fourth quarters against the Badgers and is now in sole possession of a school-record with 22 on the season.
 
"I had some people mention it to me, but I had no idea (about the record)," Duncan said. "Yeah, it's cool, but we still have 25 percent of our (regular) season left, so that is the main focus."
 
Duncan wasn't in a celebratory mood. His 10 points were a boost for No. 18 Iowa, but in the end, No. 16 Wisconsin escaped with a 24-22 victory in Camp Randall Stadium.
 
"It kind of sucks," Duncan said. "It's awesome to be (mentioned) with names like Nate Kaeding, but we would love to win. Our job is to go out and put points on the board as a field goal unit. We did our job, unfortunately we couldn't get enough."
 
During his time at Iowa, Duncan has studied video of many Hawkeye kickers. The fraternity is similar to baseball pitchers, Duncan says, each with their unique technique. Kaeding and Marshall Koehn, for example, used their bodies a lot when they kicked. Duncan prefers to keep his upper body still and use his hips for power and accuracy.
 
"There is always something you can grab and pull from the others," he said.
 
At Wisconsin, Iowa took a 3-0 lead with 7:38 left in the first quarter when Duncan made a field goal from 24 yards. His 40-yarder with 6:31 left in the first half cut the Badger lead to 7-6. The field goal that put him on top of the record book was from 39 yards with 9:27 left in the game. Eight of Duncan's field goals this season have been from 30-or-fewer yards. In six of Iowa's nine games, field goals by Duncan have been the team's first points.  
 
"He has done a great job all along this season," Iowa head coach Kirk Ferentz said. "He has been playing extremely well."
 
Duncan's 21-yard field goal were the first points the Hawkeyes scored this season against Miami (Ohio). He added three field goals against Rutgers, four at Iowa State, two against Middle Tennessee, one at Michigan, two against Penn State, four against Purdue, and two at Northwestern.
 
Iowa (6-3 overall, 3-3 Big Ten) hosts Minnesota (9-0, 6-0) on Nov. 16 inside Kinnick Stadium.
 
"We know we still have a great opportunity, we have three (regular season) games left," Duncan said. "We look at it a week at a time; the best we can be next week is 7-3, so that's our goal."
 
Although Duncan isn't into looking ahead — or looking at statistics — this fact is interesting. In the other years when an Iowa kicker converted 21 field goals, the Hawkeyes finished with win totals of 10, 11, and 10.
 
If the season unfolds the way Duncan hopes, his 2019 Hawkeyes can join that double-digit win club.  
Iowa football hosts Minnesota in the battle for Floyd of Rosedale on Saturday, Nov. 16.  Fans are encouraged to wear black for the Blackout game, and it is the annual military appreciation celebration. Active duty military and veterans are eligible for a military ticket discount. Click HERE for tickets and pre-paid parking and additional game information.