Hawkeye Fan Shop — A Black & Gold Store | Hawk Talk Monthly — November | 24 Hawkeyes to Watch 2019-20 | Hawkeyes in the NFL | Football Freshman: Alex Padilla | Football Freshman: Dane Belton | Football Freshman: Desmond Hutson | Football Freshman: Sam LaPorta | Football Freshman: Jermari Harris | Football Freshman: Justin Britt | Football Freshman: Tyler Goodson | Football Freshman: Jack Campbell
By DARREN MILLER
hawkeyesports.com
IOWA CITY, Iowa — Everything about Logan Lee impressed University of Iowa head football coach Kirk Ferentz and his staff.
 
A multi-sport athlete at Orion (Illinois) High School, Lee was motivated, serious, and intense. Plus, his 6-foot-5, 251-pound frame gave the Hawkeyes an option to play him on either side of the football.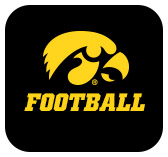 He was recruited by offensive coordinator Brian Ferentz with the idea of becoming the next great Hawkeye tight end, but Lee has since switched to defense, where he has been named Scout Team Player of the Week three times. Lee is proud of that recognition.
 
"I enjoy embracing my role," he said. "(Scout team is) my role this year and I'm happy with that. I want to try to give the team the best look possible for the (opponent) we're going to play that week. I research the guy I'm trying to emulate and then try my best to match his style of play."
 
Lee was honored for his practice prowess before games against Rutgers, Michigan, and Wisconsin. This is how his week unfolded before Iowa traveled north to battle the Badgers for the Heartland Trophy. On Monday, he walked to a bulletin board and saw he would spend a few days as Wisconsin's Isaiahh Loudermilk, a 6-foot-7, 293-pound defensive end. Lee memorized details like where Loudermilk was from (Howard, Kansas), as well as his high school and college statistics. 
 
"A big focus (with Loudermilk) was bull-rushing, so I tried to emulate that as much as possible because of his style of play," Lee said. "They show us film of each individual player, so you try your best to match that player."
 
During Michigan week, Lee imitated a defender who exceled with his hands.
 
"I was trying to hand-fight as much as possible (in practice) and then throw in a couple spins every now and then," Lee said.
 
A weekly switching of personas and practice jersey numbers hasn't been difficult for Lee. Part of that flexibility comes from being a three-sport high school athlete, the type of player Ferentz covets.
 
Lee spent his fall with football, the winter was for wrestling (where he won two state championships), and spring was for throws in track and field.
 
"The big thing with track was staying active and competitive," Lee said. "You need to stay competitive in everything you do, that's where I get my edge — I like to compete.
 
"In wrestling, there is a ton of stuff that is beneficial: your balance, hand-fighting, leverage, conditioning, but most of all it is the competing — the one-on-one competition between your opponent."
 
As the regular season rolls into its final month, Ferentz continues to be impressed by Lee and what he brings to the program.
 
"He has enough range to play outside and is stout enough to play inside," Ferentz said. "He does good things. Right now he is not playing in our scheme a lot because he is representing the opponents we are playing, but his attitude is good. He is a hard-working, tough-minded guy who competes. He's a big kid who has everything we're looking for."
 
Lee was heavily recruited and received several offers from Power 5 programs, seven from the Big Ten Conference. He made Iowa his destination because of its developmental reputation.
 
"I knew (Iowa) would help me reach my full potential more than anybody in the country," Lee said. "If they were six hours away, I still would have come here; the coaching staff is stable and I related well to them. This is the best place for me and I have zero regrets."
 
No. 22/23 Iowa (6-3 overall, 3-3 Big Ten) takes on No. 7 Minnesota (9-0, 6-0) on Nov. 16 in Kinnick Stadium with the traveling trophy Floyd of Rosedale on the line. Kickoff is 3:05 p.m. (CT). Saturday marks the 130th anniversary of Iowa football; the Hawkeyes played their first football game against Grinnell on Nov. 16, 1889.
 
Iowa football hosts Minnesota in the battle for Floyd of Rosedale on Saturday, Nov. 16.  Fans are encouraged to wear black for the Blackout game, and it is the annual military appreciation celebration. Active duty military and veterans are eligible for a military ticket discount. Click HERE for tickets and pre-paid parking and additional game information.