Hawkeye Fan Shop — A Black & Gold Store | 24 Hawkeyes to Watch 2019-20 | Photo Gallery | Honorary Captain: Bob Sanders | Honorary Captain: Ricky Stanzi | Honorary Captain: Miguel Merrick | Honorary Captain: Tom Hayes | Honorary Captain: Bob Stoops | Hawk Talk Monthly — October | Hawkeyes in the NFL
By DARREN MILLER
hawkeyesports.com
IOWA CITY, Iowa — After two unsuccessful attempts, Mike Reilly was finally able to triumphantly carry Floyd of Rosedale off the field following an Iowa football victory over Minnesota.
 
The year was 1963 and Reilly, an All-American linebacker for the Hawkeyes, was a senior. There is photographic proof of the postgame celebration with Hawkeye greats Reilly, Paul Krause, and Wally Hilgenberg escorting the bronze trophy to Iowa's locker room in Kinnick Stadium.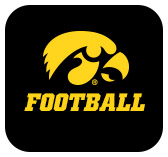 A photo of that scene, Reilly's favorite photo from his playing career, rested behind his casket during a wake days after he passed away on Oct. 18 at the age of 77.
 
"This is Floyd of Rosedale, this is his favorite picture of all time," his son, Jim, told Iowa players and staff Friday in the Richard O. Jacobson Football Operations Building.
 
Mike Reilly is honorary captain for Saturday's battle for Floyd of Rosedale in Kinnick Stadium with a 3:05 p.m. (CT) kick. He will be represented by his sons Jim, Steve, and Bob. Jim and Bob played football for the Hawkeyes, Steve was a four-time letterwinner in golf.
 
"I don't look at this as a big bronze pig," Jim said. "I look at this as a symbol of three things: one is this incredible pride the state of Iowa has for this program, because this program is run at such a high level.
 
"It is a symbol of pride guys like myself that used to play here, have in the program and how you guys conduct yourselves on and off the field. I live in Ann Arbor (Michigan) and people in Ann Arbor respect the Hawkeyes like you wouldn't believe. They feel we are a class act because of the way you guys conduct yourselves.
 
"Last, it is a symbol of you and future Hawkeyes who lay it on the line and do all the work. It's not just glory, it is a lot of work to get to the level you guys are at. It is a bronze pig and a great trophy to fight for."
 
After his collegiate playing career, Mike was drafted by the Chicago Bears in 1964. He played in Chicago six seasons before being traded to Dallas.
 
"If you have heard of Dick Butkus, that is why you may not have heard of Mike Reilly," Jim said. "If you're going to lose your job, you might as well lose it to the best ever."
 
After being released by the Cowboys, Reilly signed with the Minnesota Vikings, where Jerry Burns, his head coach at Iowa, was the offensive coordinator. Reilly played in Super Bowl IV on Jan. 11, 1970, against Ed Podolak and the Kansas City Chiefs. The Chiefs won, 23-7.
 
Jim called his father "the best Hawkeye ever." Following football, Mike moved back to Dubuque, Iowa, where he devoted a bulk of his free time to promoting the Hawkeyes. He was color-commentator for Iowa football broadcasts for 25 years.
 
"What stood out to me about Mike is he was a passionate guy, extremely enthusiastic, and very determined," Iowa head coach Kirk Ferentz said. "That's what I got to see with Jim when he was here (from 1985-88)."
 
Jim highlighted two of the many lessons his father taught: No. 1, coaches are always right. No. 2, you can be the nicest person, friend, brother, and teammate, but when you're on the football field…
 
"If he was standing here today, I'm 100 percent sure he would say to you guys, go have fun," Jim said. "But if you're the meanest (S.O.B.) on the planet Earth, especially in the state of Iowa (Saturday), you will be shining that bronze pig (Saturday) night."
 
Iowa football hosts Minnesota in the battle for Floyd of Rosedale on Saturday, Nov. 16.  Fans are encouraged to wear black for the Blackout game, and it is the annual military appreciation celebration. Active duty military and veterans are eligible for a military ticket discount. Click HERE for tickets and pre-paid parking and additional game information.