Hawkeye Fan Shop — A Black & Gold Store | I-Club Events Page | Photo Gallery | Box Score (PDF) | Tyler Goodson sidebar | Game Recap
By DARREN MILLER
hawkeyesports.com
IOWA CITY, Iowa — There was a final foot race for University of Iowa senior linebacker Kristian Welch on Saturday after he spent an afternoon in Kinnick Stadium running down Minnesota ball carriers.
 
Welch had 11 tackles during a Big Ten rivalry game won by No. 23 Iowa over No. 7 Minnesota, 23-19. Since 1935, it has also been a trophy game, with the bronze pig Floyd of Rosedale on the line.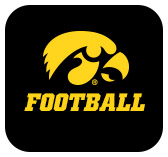 That's what had Welch's attention after his Hawkeyes improved to 7-3 overall, 4-3 in the Big Ten.
 
"I wanted to make sure we were on the same page going (for the trophy)," Welch said. "I didn't want to be the only one. When (senior fullback) Brady (Ross) started going, I started chasing."
 
Does it mean more to you now that you're a senior, Welch was asked?
 
"Absolutely," he replied. "Absolutely."
 
It has been a tough four-week stretch for the 6-foot-3, 239-pound Welch. He started against Penn State on Oct. 12, making eight tackles with a tackle for loss and pass breakup. At some point he suffered a stinger — a nerve injury of the shoulder — and was out of the lineup for games against Purdue, Northwestern, and Wisconsin. The latter was particularly difficult to miss since he is a native of Iola, Wisconsin.
 
"It is a slow, slow process (for recovery)," Welch said. "There is no pain associated with the injury, it's a strength sort of deal. That is the biggest thing to show if the nerve is healing.
 
"I tried to stay mentally into it, preparing like I was going to start that week. I never knew if I was going to get cleared, but mentally, I had to prepare like I was going to start. If I didn't play that given week, it was pretty frustrating."
 
Another medical report came the day after Iowa lost by two points at Wisconsin; this time there was good news: Welch was able to go.
 
He returned to the field just in time to face a Minnesota offense that had won four Big Ten games by 20-or-more points. The Gophers had scored 31-or-more points in their last eight games. And, Minnesota had won 11 straight games, the third-longest streak in the nation.
 
Gophers quarterback Tanner Morgan led the Big Ten in pass efficiency, two receivers were ranked in the top nine in receptions per game, and running back Rodney Smith was third with 104.4 rushing yards per game.
 
During its nine wins, Minnesota averaged 195.2 yards on the ground, and the Hawkeye defense was determined not to let that happen Saturday.
 
"Our biggest focus was to stop the run," Welch said. "Minnesota wants to run the ball and they have great receivers and the ability to pass the ball. We were able to stop the run in the first half."
Kristian Welch is in a final foot race pic.twitter.com/1uoxYm9Xgv

— Iowa On BTN (@IowaOnBTN) November 17, 2019
By the time Iowa built a 20-6 halftime lead, the Gophers had just 39 rushing yards on 16 attempts. Welch made five tackles with a sack, the second of six Iowa sacks on the day. The Gophers were driving to Iowa's 25-yard line near the end of the half when Welch dumped Morgan for an 8-yard loss. After two incomplete passes, Minnesota punted.
 
"It wasn't a designed blitz," Welch said. "We talked all week about (Minnesota using) heavy protections to let those receivers run down field. We made a point as linebackers to read the key and if you can, add a post-snap blitz in a sense. I read my key, came off the edge, the tight end didn't see me and neither did the quarterback. It felt good."
 
In the three-game absence of Welch, two freshmen — Dillon Doyle and Jack Campbell — stepped in and did a suitable job. But the Hawkeyes received a boost with the return of Welch's five years of experience.
 
"It brought confidence back," said Iowa junior defensive lineman A.J. Epenesa. "Kristian brings a senior vibe where he knows what he is doing, makes the right calls, and is confident when calling it."
 
Even when he was out of the lineup, Welch was voted team captain every week.
 
"That tells you the respect everybody has for him," Iowa head coach Kirk Ferentz said at his weekly news conference. "Any time you have a senior in the lineup, it's a healthy thing."
 
No pun intended. But a healthy Welch in the lineup strengthened an Iowa defense that stymied Minnesota on Saturday.
 
The reward was a postgame foot race to a bronze pig.