Hawkeye Fan Shop — A Black & Gold Store | Ferentz Transcript (PDF) | I-Club Events Page
IOWA CITY, Iowa — University of Iowa head football coach Kirk Ferentz held his weekly news conference Tuesday in the Stew and LeNore Hansen Football Performance Center. Here are a few highlights as well as the complete transcript: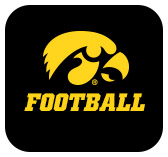 Injury Update
Senior cornerback Michael Ojemudia and junior wide receiver Brandon Smith have returned to practice and Ferentz says time will tell how much they see the field Saturday against Illinois.
 
In nine games this season, Ojemudia has 35 tackles, six pass break-ups, and two interceptions. In eight games, Smith has caught 33 passes for 407 yards, and four touchdowns.
 
"I don't want to say they're full speed, but at least they're moving in the right direction," Ferentz said. "Hopefully they'll be able to play at least partially on Saturday. We'll see how the rest of the week goes, but it's encouraging from that standpoint."
 
Positive Situation in the Backfield
The emergence of true freshman Tyler Goodson has made a strong Hawkeye running back room stronger. Heading into Saturday's final home game, three Iowa running backs have more than 400 yards on the season. Junior Mekhi Sargent leads the way with 482 yards and four touchdowns, followed by Goodson (436-2) and junior Toren Young (401-1).
 
On Nov. 16 during a 23-19 win over Minnesota, Goodson ran for 94 yards on 13 carries with a touchdown.
 
"It's a positive, positive situation right now, and I'm pleased we have three quality players," Ferentz said. "You evaluate what's going on in practice, then the next step is guys getting to the game field and seeing what they do there.
 
"We're not unhappy with any of our running backs. It has been one of the strengths of our football team. I think all three of those guys are capable, and I would throw (junior) Ivory (Kelly-Martin) in there, too. (Kelly-Martin) decided he wanted to redshirt, which I think is a smart decision at this point. They're all doing a good job, and we're happy with all three of them in the game."
 
It's a New Illinois Team
Don't expect Iowa to defeat Illinois, 63-0, like last season in Champaign, Illinois. This isn't even the same Illini that lost 34-31 at home to Eastern Michigan on Sept. 14, then dropped three straight Big Ten games.
 
Since Oct. 19, Illinois is 4-0 with a win over No. 6 Wisconsin and road wins at Purdue and Michigan State.
 
"They're the hottest team on our side of the conference, playing with great momentum, four straight wins, and playing really good football," Ferentz said. "I think one of the first points we made to our football team was this is a totally new Illinois team. Anything that we may remember from the past, or seen on film from the past, you can discard at this point because they're playing at a different level right now. A lot of the same faces, but they're playing at a much higher level right now."
 
Bittersweet Saturday
The final home game in Kinnick Stadium is always an emotional game for the seniors on the Hawkeye roster.  It's also an emotional game for Ferentz.  Iowa will recognize 19 seniors prior to Saturday's home finale.
 
"It's always a bittersweet day for everybody involved," said Ferentz. "It's always a special thing. I have such respect for the guys that run the entire race, that stay here and fight through the adversity they go through, whether it's academically, injury-wise, all the things that are challenging about being a student-athlete at this level.
 
"It's an impressive group of guys, and the best thing about it, I'm not going to have to worry about them after they graduate and after they leave and they're all in good shape right now academically, all doing a good job leading our football team. They're a big part of the reason we're having success. We have a lot of really good stories."
 
It Has Always Been About Relationships
Ferentz has a way of connecting with the players and the relationships he forms have always been one of the best parts about coaching.
 
"It's the best part about coaching. It always has been," said Ferentz. "The fun of coaching has always been the people you work with on a daily basis.
"It's a lot of fun to celebrate, believe me. That's the best part of it, but as sick as this may sound, there's something about those lows, too. The highs and lows are hard to compare to anything else you experience in life. Something you go through at those times with people, the people you care about and the people that have worked hard and invested. There is a special bond that forms. That's what sports are all about. That's the best part with sports from my standpoint."