Hawk Talk Monthly — November | Hawkeye Fan Shop — A Black & Gold Store | 24 Hawkeyes to Watch 2019-20 | Hawkeyes in the NFL | Football Freshman: Sam LaPorta | Football Freshman: Jermari Harris | Football Freshman: Justin Britt | Football Freshman: Tyler Goodson | Football Freshman: Jack Campbell | Football Freshman: Logan Lee | Football Freshman: Alex Padilla | Football Freshman: Dane Belton | Football Freshman: Desmond Hutson
By DARREN MILLER
hawkeyesports.com
IOWA CITY, Iowa — It's rare when young football fans, while watching games, sidestep the skill players to focus on linemen.
 
Tyler Endres is a rarity.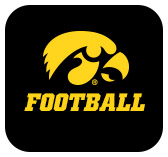 Now a true freshman at the University of Iowa, Endres has grown into a 6-foot-6, 307-pound offensive lineman. Two of his favorite Hawkeyes growing up were offensive linemen Bryan Bulaga (a first-round NFL Draft pick by the Green Bay Packers) and Brandon Scherff (a first-round NFL Draft pick by the Washington Redskins).
 
A two-time all-state selection from Norwalk (Iowa) High School, Endres is one of three native Iowa freshmen offensive linemen who have caught the attention of head coach Kirk Ferentz. When talking about Endres, Ferentz also throws out the names Nick DeJong (Pella) and Noah Fenske (New Hampton).
 
"All three of those guys are working the scout team primarily, but we're watching incremental gains week-by-week and it will be fun to see more of them in December as we get into bowl practice," Ferentz said.
 
Endres rooms with DeJong, where the Norwalk-Pella rivalry occasionally becomes a hot topic. Last May, DeJong was the Class 3A state shot put champion and Endres was fourth. Endres averaged 12.4 points and 8.9 rebounds for the Norwalk basketball team that went 22-5 and advanced to the state finals.
 
"Basketball is a close second to football for me," Endres said. "Being able to go that far in a sport I'm not going to play (in college) is special."
 
Basketball runs in Endres' family. His second cousin was Chris Street, who scored 676 points with 533 rebounds in 73 games for the Hawkeyes from 1991-93. On Jan. 19, 1993, more than seven years before Endres was born, Street was killed in a car-snow plow accident.
 
"I used to watch news clips of the day he died," Endres said. "The work ethic he had in basketball inspired my work ethic in football."
 
A scout team player this season, Endres has valued his time in the film room. He said it helps his blocking technique and footwork, especially on tight-right and tight-left reaches. He looks forward to the month of December when there is an increased emphasis on developmental players, like Endres, DeJong, and Fenske.
 
"We will get more reps and get to know the plays more," Endres said. "The coaches will focus more on developmental guys than the people who have been playing. It will be more growth for me and the rest of the scout guys; we'll have a chance to get better and get more feedback from coaches."
 
Ferentz said Endres is off to a good start to his college career.
 
"He's a big body and he is progressively getting better and more comfortable with what he is doing," Ferentz said.
 
Endres knows nothing will come easy. The coaches told him so during the recruiting process.
 
"They weren't going to sugar coat anything, they weren't going to say it was going to be easy or you're the best," Endres said. "They said you have to work for it, it is going to be hard. They believed I had the ability to do that."
 
They saw the same ability in former Hawkeye greats like Bulaga and Scherff.