Hawkeye Fan Shop — A Black & Gold Store | 24 Hawkeyes to Watch 2019-20 | Hawk Talk Monthly — October | Hawkeyes in the NFL | Honorary Captain: Mike Reilly | Honorary Captain: Bob Sanders | Honorary Captain: Ricky Stanzi | Honorary Captain: Miguel Merrick | Honorary Captain: Tom Hayes | Honorary Captain: Bob Stoops
By DARREN MILLER
hawkeyesports.com
IOWA CITY, Iowa — Desmond King had many reasons to turn professional following his junior football season at the University of Iowa. He stayed another year.
 
In 2015, the Hawkeyes won the Big Ten West Division with 12 straight wins to open the season. King tied a school record with eight interceptions and the All-America cornerback earned the Jim Thorpe Award as the nation's best defensive back.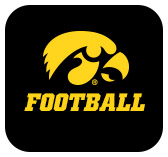 "I wasn't ready to leave the university and my teammates without finishing business," said King, honorary captain for Iowa's final home game against Illinois on Saturday. "The reason I came to college was to get my education and play football. I wasn't ready to move on, I wasn't fully developed as a man, player, or athlete."
 
King returned for his senior season in 2016 and among Iowa's eight victories was a 40-10 Senior Day triumph over No. 15 Nebraska. On that day, he returned three kicks for 80 yards, two punts for 44 yards, and made a solo tackle.
 
"I remember waking up knowing this was going to be my last home game in Kinnick Stadium," King said. "It was emotional for me and my family. I remember coming on the field, the fans cheering, and running out to my mom. It was a big moment because no one else in my family went to college, and that's a big thing in my family."
 
The start to King's career was also noteworthy. As a true freshman in 2013, he was second string behind Jordan Lomax at right cornerback. When Lomax went down with an injury in the season opener against Northern Illinois, King stepped in and went on to start 51 games, a school record.
 
He was a two-time All-American and permanent captain as a senior. During his career, King intercepted 14 passes, returning three for touchdowns.
 
"Whatever he has been asked to do, he did it and did it well," Iowa head coach Kirk Ferentz said. "He jumped in there and did nothing but play great football. He showed unbelievable physical and mental toughness."
 
King had nine scholarship offers coming out of Detroit. He switched verbal commitments between Central Michigan and Ball State before landing at Iowa.
 
"I don't know how (defensive coordinator Phil Parker) found me, but I'm glad he did, because it was a great decision to come here," King said. "It made me become a man, coming from Detroit, raised in a single-parent home, not having a father figure around. Coming to Iowa helped me become a man and progress in life."
 
King was selected by the Los Angeles Chargers in the fifth round of the 2017 NFL Draft. Last season, he was named All-Pro as a defensive back and punt returner. He said going through Iowa's program prepared him for the NFL.
 
"(At Iowa), they run it like a pro organization," King said. "You come in here and they hold you accountable for all actions. It's business first, fun later. You take care of your business and have accountability within yourself."
 
King will accompany the Iowa captains to midfield for Saturday's pregame coin toss. He will also be with the Hawkeyes in the locker room before and after the game.