Ferentz Transcript (PDF) | Postgame Notes (PDF) | Box Score (PDF) | Photo Gallery | Game Recap
By DARREN MILLER
hawkeyesports.com
IOWA CITY, Iowa — It's impossible for University of Iowa senior quarterback Nate Stanley to take a trip down memory lane without becoming emotional.
 
Senior Days do that to players, especially following Senior Day wins.
 
Emotion isn't something you see a lot of out of Stanley, the 6-foot-4, 234-pound stoic perfectionist who his head coach Kirk Ferentz has jokingly repeated that he needs to loosen up a bit. On Saturday, after a 19-10 win over Illinois, and after playing his final game in Kinnick Stadium, Stanley didn't hold his emotions in check.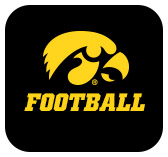 "When you invest so much time and effort…and reflect on this, these are some of the best memories I have ever had," said Stanley, tears filling his eyes. "It is something I will be chasing with future teams or future relationships. The bond we have is extremely special; we don't have much time left together, but we're going to make the most of it. When you look at the bigger picture and you look at it from hindsight, it is hard to keep your emotions in check."
 
Let it out, Nate, you've earned it.
 
With two games left in his college career, Stanley has already led the Hawkeyes to 25 wins, thrown for 7,990 yards, and completed 66 touchdowns.
 
In Stanley's final game at home, he was 18 of 35 through the air for 308 yards. It is his first 300-yard game this season and the first since he scorched Indiana for 320 yards and six touchdowns last October.
 
That is recent history. What does he remember about his first game in 2016?
 
"Don't fumble the snap," Stanley said.
 
He didn't. It was the season-opener against Miami (Ohio); Stanley was a true freshman and C.J. Beathard's protégé. Stanley entered the game with the Hawkeyes ahead, 38-21, with 5:06 remaining. On first-and-goal from Miami's 5-yard line, he rolled out on a naked bootleg with Miami's Brad Koenig closing hard.
 
"I had to throw it away," Stanley said of his first college pass attempt. "I ended up getting hit pretty good on the play, too."
 
He did orchestrate a scoring drive — albeit only 18 yards — and Iowa won the game, 45-21.
 
In game two, Stanley completed his first pass — for 2 yards to Noah Fant — during a 42-3 win over Iowa State.
 
"The thing that sticks out to me is my drop on that play," Stanley said. "It was supposed to be a three-set drop, but I kind of just backed out. I blanked on all the fundamentals of what we were supposed to do, but it was the first completion I had in college and that is one of the memories I will never forget."
 
Things got more interesting in his third game — also at Kinnick Stadium. The stakes were higher when Beathard went to the sideline with an injury and Stanley entered a tie game in the third quarter against North Dakota State. Everyone in the stadium, and everyone on the Bison sideline, thought a handoff to Akrum Wadley or LeShun Daniels, Jr., was in the works.
 
"When I heard the play call we were going to run, I was like ohh, OK, let's just go do it," Stanley said. "It happened so fast, I didn't have time to be nervous or anxious, so I went out there and just played. That's when you play the best, when you go out and play and not worry about messing up."
 
Stanley completed a 37-yard pass to tight end George Kittle. Two plays later he completed a screen to Kittle for eight more yards. Beathard returned to finish the scoring drive, but it was at that moment when Hawkeye fans knew they had a keeper in the young quarterback with a powerful right arm from Menomonie, Wisconsin.
 
"He's a high-integrity guy with mental and physical toughness," Ferentz said. "All the things you hope to find in a football player, he has them."
 
On the opposing sideline Saturday was Illinois head coach Lovie Smith, who has seen his share of great quarterbacks while spending two decades coaching in the NFL. As a starting quarterback, Stanley finished his career 3-0 against the Illini, with wins of 45-16, 63-0, and 19-10. In those games, Stanley combined to throw for 733 yards and six touchdowns.
 
"Nate is a good football player: big, strong in the pocket," Smith said.
 
Then Smith paused and reflected on perhaps the play of the game. In the third quarter, Iowa faced second-and-9 from its 45 and Smith dialed up the perfect blitz.
 
"There is nothing you can do, sometimes they just have a better call," Stanley said.
 
But there was something Stanley could do. He somehow escaped the clutches of Illini linebacker Dele Harding, rolled to his left and threw a 40-yard completion to Ihmir Smith-Marsette. Iowa eventually kicked a field goal for a 16-7 lead.
 
"We had a great blitz on him," Smith continued. "It was a big play for him to be able to break that tackle. It's one thing to break a tackle, but then to throw a perfect pass — good football player."
 It was one of eight passes Stanley completed for 20-or-more yards.
 
STANLEY PULLED A HOUDINI 😳

The @HawkeyeFootball QB somehow escapes a sack and finds Smith-Marsette for the huge play:#BTNStandout x @AutoOwnersIns pic.twitter.com/Slmb99331W

— Big Ten Network (@BigTenNetwork) November 23, 2019
 "Every team has different scramble rules, but if you can win deep, you want the most yards you can get," Stanley said. "Ihmir felt he had his guy beat, so he took off, put his hand up, and was able to finish."
 
And the Hawkeyes were able to finish a season with a victory at home.
 
There is more. Not known as the most fleet of foot, Stanley set a career-high Saturday with 22 rushing yards on four attempts.
 
"We may even move him to running back this week," Ferentz joked. "He's our leading per-carry back today."
 
According to Smith, whenever a team plays Iowa, "it's about stopping the run, run, run."
 
On this day, Iowa's Senior Day, nothing could stop Stanley through the air.
 
"The last four years have been a great experience for me," Stanley said. "I made a lot of friends and had a lot of great experiences."
 
None of those experiences were more emotional for him than Saturday.
 
Let it out, Nate, you've earned it.