Ferentz Transcript (PDF) | Postgame Notes (PDF) | Box Score (PDF) | Photo Gallery | Game Recap | Stanley Sidebar
By RICK BROWN
hawkeyesports.com
IOWA CITY, Iowa — University of Iowa football coach Hayden Fry was looking for an offensive line coach in the summer of 1981. Kirk Ferentz, a 25-year-old graduate assistant at the University of Pittsburgh, was looking for a job.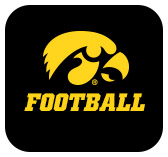 Ferentz got an interview with Fry, and did some homework before he came to campus for the first time on June 19, 1981.
 
"The only thing we had back then was the College Blue Book," Ferentz said. "There was no Internet. I read that coach Fry was a square-jawed ex-Marine Texan."
 
So Ferentz got a haircut, and borrowed a blue and gold tie from his mentor, coach Joe Moore.
 
"I knew nothing about coach Fry or the University of Iowa," Ferentz said.
 
In his mind, the interview was a resume builder. Nothing more.
 
"When I came out here I wouldn't say I was dis-interested, but I wasn't overly nervous," Ferentz said. "Because I didn't think I'd come here."
 
Everything changed after his interview with that square-jawed Texan.
 
"When I got home I told my wife (Mary), 'There is nothing more I want more than to work at the University of Iowa.' When you meet coach Fry, you feel like you've known him for 20 years. He's one of those guys. A day later he hired me."
 
On Saturday, almost four decades after that job interview, Ferentz matched Fry with his 96th Big Ten victory in a 19-10 win over Illinois.
 
Fry was 96-61-5 in 20 seasons as the Hawkeyes' head coach. Ferentz is 96-75 in his 21st season as Fry's successor, and can pass him in the regular-season finale Friday at Nebraska.
 
Only three coaches have won more league games in Big Ten history. Amos Alonzo Stagg of Chicago won 115 in 37 seasons. Bo Schembechler of Michigan won 143 in 21 seasons. And Woody Hayes of Ohio State won 153 in 28 seasons.
 
"That's lofty right there," Ferentz said of the three men ahead of him. "I remember reading about Amos Alonzo Stagg in "When Pride Still Mattered." Everybody thought he was grossly overpaid in 1920, or whatever it was. That hasn't changed. It's one of the things I remembered about that book. I was laughing."
 
The fact that the University of Iowa has had just two football coaches the last 41 seasons is remarkable. Neither coach came to Iowa with longevity in their blueprint for success.
 
"That won't happened again, I'll make that prediction," Ferentz said. "Part of it is the place. If you gave coach Fry truth serum, I bet he'd tell you he never would have guessed it would be this good when he came in 1978 or 1979.
 
"I'm not sure his master plan was being here 20 years. He's a Texan. I'm the same way. I came here in 1981. I didn't know where I was going, but life can be pretty good sometimes."
 
Fry and Ferentz have coached the program to multiple Big Ten titles. Ferentz has been Big Ten Coach of the Year four times; Fry did it twice.  Both were named National Coach of the Year. Fry took 14 teams to bowl games, including three Rose Bowls. This is Ferentz's 17th bowl team. That includes a Rose Bowl and two Orange Bowls.
 
Ferentz was Iowa's offensive line coach from 1981-89, left to become head coach at Maine and then headed to the NFL as an assistant coach before being hired to replace Fry at Iowa before the 1999 season.
 
It was a rocky start. Iowa lost its first nine Big Ten games under Ferentz, upset No. 25 Michigan State on Oct. 7, 2000, and then lost three more. Ferentz circles a 26-23 double overtime victory at Penn State on Nov. 4, 2000, as pivotal to his rebuilding project at Iowa.
 
"That was the first bona fide, legitimate win," Ferentz said. "Michigan State was kind of a wing and a prayer. We played offense like a solid team (against Penn State), played good defense and special teams, and Bake (Jason Baker) had a great day punting the ball and pinning them back. It was the first time things came together for us."
 
That victory total reached 96 on Saturday, at a place that now feels like home for Ferentz.
Dan McCarney lettered in football at Iowa from 1972-74, when the Hawkeyes won a total of six games. McCarney and Ferentz were assistant coaches together at Iowa under Fry, and sat next to each other in team meetings.
 
"I was always interested when guys came back from his generation, and how they felt about the University of Iowa," Ferentz said. "I have respect from playing at Connecticut, but I don't feel that way about the university or the program. I was envious of (McCarney). Over the years you learn about it, and meet these people. We have such a rich heritage here.