IOWA CITY, Iowa – On the strength of an early touchdown drive and four field goals from Junior kicker Keith Duncan, Iowa improved to 8-3 on the season with a 19-10 win over Illinois Saturday. With the win the Hawkeyes concluded the home season with a 6-1 mark in Kinnick Stadium.
Iowa has won eight games or more in each of the last five seasons, the longest such streak for Iowa football since 1981-87. Iowa has 12 seasons with eight or more wins since 1999. In addition, Iowa head coach Kirk Ferentz moved into a tie for fourth place in Big Ten Conference wins (96), matching the total of his predecessor, Hayden Fry.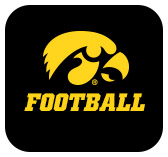 "First and foremost, it was great to send our 19 seniors out with a victory in Kinnick," said Ferentz. "Their last memory in Kinnick will be a happy one for them, so happy about that; it's well deserved for all the guys.
The Hawkeyes took the opening kickoff and quickly drove 75 yards in nine plays, with freshman Tyler Goodson scoring on a two-yard run. Duncan's first field goal from 23 yards gave Iowa the lead for good, and then Duncan added another three-pointer from 45 yards out to end the first half.
"Our team showed up ready to go at kickoff," said Ferentz. "We played hard. We were not always clean enough in the first half, we left some scoring opportunities out there. That made the challenge a little harder, but some of the positives, certainly include Keith setting a Big Ten record for field goals, and then the turnovers.
"Illinois came in leading the conference in takeaways. Ending up plus two in turnover margin was a big, big factor in the outcome. Offensively, I thought we did some good things in the passing game. We protected well and made some big plays there."
Illinois tied the scored midway through the first quarter, but that was the lone touchdown allowed by the Hawkeye defense. A 28-yard field goal with 10:52 to play marked the only other Illini scoring opportunity of the day.
"Defensive we played well to hold them to 10 points. Overall, pleased with the effort, happy to get another big Ten win. There are some things we can improve on and clean up for this short week getting ready for Nebraska.
It sure did, we did a good job protecting the ball," said Ferentz. "Michael (Ojemudia) and Matt (Hankins) each had a pick, then to come up with the fumble caused by Kristian in the fourth quarter helped us finish the thing out with a field goal. Making it a two-score game helped us finish it out."
 
IOWA ENDS FIRST HALF WITH FIELD GOAL
"It was big. We had missed a couple of opportunities to expand on the lead. Phil Parker made a great call with the blitz on the fourth down. Our safeties did a great job of holding and then hitting it on the run so Illinois couldn't protect it. Nate hit Tyrone with a big play that gave us a chance to have Keith convert the field goal. That exchange was big and gave us some momentum, gave us a boost going into halftime."
 
SPECIALISTS SHINE IN KICKING GAME
"The kicking game overall was good. I think we were a plus 10-yard differential in the punting game, Michael did a great job punting and Caleb had four touchbacks. Overall the kicking game in general altered field position. All three specialists did a good job in that area."
 
CLOSING REGULAR SEASON AT NEBRASKA
"It's a little tricky with a shorter week. We need to be careful about what we ask the players to do at this point in the season. The bottom line is you turn the page, get back to work on Monday morning and try to get to the game plan as quickly as possible. It's a road game, a tough environment to play in. Last year was a three-point game that went right down to the wire. I would expect the same challenge this week. Hopefully our guys will do a great job preparing and will be ready to go on Friday."
Iowa travels to Nebraska for the Heroes Game Friday. Game time is either 1:30 p.m. on BTN.