Hawkeye Fan Shop — A Black & Gold Store | I-Club Events Page | Ferentz Transcript (PDF)
IOWA CITY, Iowa — University of Iowa head football coach Kirk Ferentz held his weekly news conference Tuesday in the Stew and LeNore Hansen Football Performance Center. Here are a few highlights as well as the complete transcript: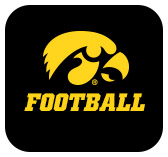 Short Week, No Contact
With it being a short game week and the final week of the regular season, Ferentz wanted the Hawkeyes as fresh as possible during Friday's game at Nebraska.  That meant a week of no contact practice in Iowa City.
 
"The biggest thing right now is for us to be fresh physically and also mentally sharp," said Ferentz. "It's hard this time of year. We typically, in November, start cutting back how much we hit in practice.
 
"It's about keeping the team fresh. If you leave the game on the practice field, that is a bad thing. We're trying to be as efficient and effective as we can without leaving it out there during the week."
 
Nothing But Respect
The word out of Lincoln is that the Hawkeyes don't respect the Huskers leading into Friday's Hy-Vee Heroes Game matchup.
 
"I have no idea where that came from," said Ferentz. "All I know is it took us a fourth down conversion and a good field goal to win last year. It was hard. 
"One thing we try to teach our players is to respect every opponent that we play and respect what it takes to win. That's one thing if you play college football long enough or coach long enough, you realize just how difficult it is to win a game against anybody.
 
"We respect everybody we play. That's week-in and week-out, and that's opponent after opponent after opponent, whether it's Middle Tennessee or last week it was Illinois, it really doesn't matter to us. They're all important — that's how upsets happen. We've been involved in a few of those through the years, too. You have to always respect what it takes to win."
 
Get Up & Work
When Iowa's Big Ten West Division title hopes vanished during a 24-22 road loss at Wisconsin on Nov. 9, the Hawkeyes picked themselves up and went back to work.  It resulted in back-to-back wins over No. 7 Minnesota and Illinois to move to 8-3 on the season.
 
"We got back up on our feet, and that happened that Monday following the game," said Ferentz. "It's OK to lull around a little bit on Sunday and mope and all that stuff, but I think our guys got back, went to work, and that is one of the good things about being in season. At least you don't have time to waste. Like this week, we put Illinois to bed on Sunday, and Monday morning we were working on this team."
 
Speaking of the Huskers
Nebraska enters Friday's Hy-Vee Heroes game one win shy of bowl eligibility at 5-6 overall.  Conceivably, the Huskers will have a little extra juice with their season on the line.
 
"I would expect them to play hard no matter what," said Ferentz. "We witnessed that last year, and I can't even tell you what their record was last year when we played them. It doesn't really matter to me because all I know is it took us every play in the game to win the game. It was a tough and hard-fought, and my guess is that that's what it's going to be Friday."
 
About the QB1
Sophomore quarterback Adrian Martinez accounted for 336 yards and three touchdowns last season in the Hawkeyes' 31-28 victory in Kinnick Stadium. He's the latest RPO quarterback on the Hawkeyes' scouting report this season.
 
"The first thing that comes to mind is he's a better runner than the other guys (Brock Purdy or Tanner Morgan), with all due respect to the other guys," said Ferentz. "They're really good quarterbacks, are playing great, and played great when we played them, but the added dimension is (Martinez) is the second leading rusher on their football team.
 
"That's a big part of what they do and what he does. Once he got going last year — they ran it a lot of times — what happened?  We couldn't stop him, slow him down, or contain him.  That's a concern for us right now. How are we going to try to limit him to what he does or what he can do because we had a real problem last year."
 
Martinez has 582 rushing yards (4.7 per carry) and seven touchdowns this season, while completing 139-of-233 passes for 1,906 yards and 10 touchdowns.