Hawkeye Fan Shop — A Black & Gold Store | Hawk Talk Monthly — November | 24 Hawkeyes to Watch 2019-20 | Wallpaper — November | Tickets
By DARREN MILLER
hawkeyesports.com
IOWA CITY, Iowa — After going four games without seeing full-court pressure defense, the University of Iowa women's basketball team will experience it three times in three games at the Puerto Rico Clasico from Nov. 27-30 in San Juan, Puerto Rico.
 
The Hawkeyes (3-1), who have the fourth-highest RPI in the nation, will face Cincinnati (3-2) on Nov. 27, Towson (1-3) on Nov. 28, and Washington (2-1) on Nov. 30.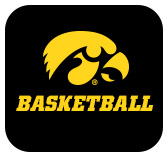 "You want your team to bond and enjoy Puerto Rico when you're there," Iowa head coach Lisa Bluder said during a teleconference Nov. 22. "We also have to teach our freshmen how to be on a road trip, because they have not experienced it, except for UNI. We need to teach them how to be ready to play, even when there are a lot of distractions. Even though there are palm trees and beaches, you have to be able to eliminate distractions, focus on your game, come to practices, and be able to focus."
 
The Hawkeyes welcomed a seven-day break between the Princeton and Cincinnati games since they played three times over the previous week.
 
"We needed a day off (Thursday, Nov. 21)," Bluder said. "Now we have significant time to get ready for our trip to Puerto Rico."
 
On top of Bluder's Clasico wish list is to see her team up the ante on defense. Holding a high-scoring Princeton team to 39.7-percent shooting from the field Nov. 20 was encouraging.
 
"We need to get better on (the defensive) side of things," Bluder said. "I know this team wants to, so I have their focus now."
 
The last time out against Princeton, the Hawkeyes continued to develop their depth by playing 10 during a 77-75 overtime victory. Bluder wasn't happy how she used her bench during an 88-66 loss at Northern Iowa on Nov. 17.  
 
"We learned from that," Bluder said. "We need to move forward with that; continue that rotation where we are using more of our bench."
 
HELLO, ROOMIE
Iowa and Cincinnati have never played in women's basketball, but Bluder knows Bearcats head coach Michelle Clark-Head well. The two roomed together when they were on the coaching staff for the 2015 U.S. Pan American Women's Basketball Team in Toronto, Canada. Bluder was head coach of the team that brought home a silver medal, Clark-Head, who was at Western Kentucky at the time, was an assistant.
 
SOME PLAY 2, SOME PLAY 3
Iowa and Washington are among the teams in the Puerto Rico Clasico that will play three games; Cincinnati and Towson will play two. The choice is up to the teams, Bluder said. The Hawkeyes elected to play three times in Puerto Rico because neutral-site games count more toward RPI than ones at home.
 
"We think neutral games are good, so we went for it," Bluder said.
 
SEE YOU IN DECEMBER
The Hawkeyes return home Dec. 4 to play Clemson in the ACC/Big Ten Challenge on Mediacom Court in Carver-Hawkeye Arena. The Tigers are 2-3 and will play three more games before traveling to Iowa City.
 
Iowa will play four straight December games in the state of Iowa, including matchups at Iowa State on Dec. 11, and home games against North Carolina Central (Dec. 14) and Drake (Dec. 21).