By DARREN MILLER
hawkeyesports.com
IOWA CITY, Iowa — The No. 19/20 University of Iowa football team heads into its Black Friday battle at Nebraska ranked fifth in the nation in scoring defense and in the top five of the Big Ten in three other defensive categories.
 
Hawkeye junior defensive end Chauncey Golston hasn't noticed.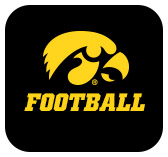 "The season is still going, why would we (look at our statistics)?" said Golston, who has 8 ½ tackles for loss and seven quarterback hurries. "You can't kick your feet up, that would be disrespectful to the opponent."
 
The opponent to conclude the regular season — the Hy-Vee Heroes Game — is a dangerous Nebraska team that averages 427.8 yards per game. The Cornhuskers ran for 305 yards and threw for 226 during a 54-7 win at Maryland on Nov. 23.
 
"We have to make sure we are able to contain their athletes and that we're putting ourselves in the best position to challenge them and put them in tough situations," said Iowa sophomore free safety Jack Koerner. Koerner is second on the team with 62 tackles and five pass break-ups.
 
While Nebraska (5-6 overall, 3-5 Big Ten) snapped a four-game losing streak at Maryland, the Hawkeyes (8-3, 5-3) defeated Illinois, 19-10, for their second straight home win and fourth win in five games. Nebraska needs a victory Friday to become bowl-eligible and extend its season; Iowa wants to win its fifth consecutive regular season finale.
 
"We always want to the end the season on a high note," said senior linebacker Kristian Welch. "Any Big Ten win, especially in the Big Ten West, it doesn't matter, we're going to try to play our best football and a byproduct of that will be getting a win."
 
Iowa is 2-0 since Welch returned from a shoulder injury he suffered against Penn State. Despite missing three games, Welch still leads the Hawkeyes with 70 tackles. His forced fumble of Illinois quarterback Brandon Peters in the fourth quarter Nov. 23 led to Iowa taking a two-possession lead over the Illini.
 
"I think (linebacker) Josey (Jewell) said it best, the days go slow and the years go fast," Welch said. "As I look back, it is crazy we're already here with the final regular season game. We always look forward to any game, especially being a Big Ten game, so we're looking forward to the challenge."
 
The biggest challenge to Iowa's defense will be Nebraska sophomore quarterback Adrian Martinez. He did not play in two of the Cornhusker losses (at Minnesota, Indiana). In the three games since his return, Martinez has averaged 220 yards through the air and 80 yards on the ground. Last season, during Iowa's 31-28 win at Kinnick Stadium, Martinez threw for 260 yards and two touchdowns and ran for 76 yards and a touchdown.
 
"We need to have gap discipline," Golston said. "Gap integrity is the main thing we have been concentrating on this week with everything we do."
 
The shorter game week has meant less contact for the Hawkeyes, who aim to head to Lincoln in the best possible health. Welch knows Iowa will receive Nebraska's best shot, especially in Memorial Stadium.
 
"I'm worried about us and how we're going to play," he said.
 
"Every game is important," said Koerner.
 
"We still have two more games to play," Golston said. "If you expect anything but (Nebraska's) best shot, that's how you go out there and not show up."
 
Iowa and Nebraska will meet the day after Thanksgiving for a ninth consecutive season. The game will be televised by BTN with kickoff set for 1:30 p.m. (CT).