Hawkeye Fan Shop — A Black & Gold Store | I-Club Events Page | Game Recap | Record-Setting Duncan Adds 3 More Field Goals | Duncan's Fancy Footwork Vital in Victory Over Purdue | 'Different' Duncan is Kicking Free
By DARREN MILLER
hawkeyesports.com
LINCOLN, Neb. — It was a dull, mind-numbing second half for University of Iowa kicker Keith Duncan. After scoring six points in the first half, his post-halftime workload presented no extra point opportunities and no field goal attempts.
 
For the first 29 minutes and 54 seconds anyway.
 
Then came the final six seconds of the Hy-Vee Heroes Game on Friday in Memorial Stadium. It would be hard for the Hawkeyes to top the ending to their 2018 win over the Cornhuskers, featuring a 41-yard game-winner by Miguel Recinos on an overcast, drizzly November afternoon in Kinnick Stadium.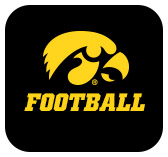 But, as Iowa head coach Kirk Ferentz said, "the weather gets a little interesting in November." In the case of the Hy-Vee Heroes Game, so do the endings.
 
Iowa (9-3 overall, 6-3 Big Ten) built a 24-10 lead and overcame a field position disadvantage most of the second half while Nebraska (5-7, 3-6) tied the score. It looked like overtime was imminent when 32 seconds remained and the Hawkeyes were on their own 26-yard line. You've heard of a two-minute offense, but Iowa went into half-minute mode with a senior quarterback on the field and a Lou Groza Award finalist keeping a keen eye on field position.
 
Quarterback Nate Stanley connected with wide receiver Ihmir Smith-Marsette for 22 yards on third-and-10. He then found tight end Sam LaPorta down the middle for 22 more yards. Stanley spiked the ball at Nebraska's 30 to stop the clock at 0:06. Duncan trotted onto the field and prepared for a 48-yard, potentially game-winning, field goal (his career long is 49 yards, that he matched in the first half).
 
Lou "the Toe" Groza, meet Keith "the Cool" Duncan.
 
Nebraska head coach Scott Frost called timeout. Then he called his third and final timeout, moments before the trio of Iowa long-snapper Jackson Subbert, holder Colten Rastetter, and Duncan were successful on a soon-to-be waved-off field goal.
 
"I'm so glad (Frost) called the timeouts, it allowed me to get my mind set on what I needed to focus on," Duncan said.
 
Rastetter has adjusted to differences between Recinos and Duncan. Recinos didn't mind a little pre-kick conversation; not so for Duncan.
 
"I didn't talk to him the whole time," Rastetter said. "Keith stays to himself and I stayed to myself, keeping my hands in my hand warmer. I knew the ball would be slippery, I knew it was going to be windy, so I stayed to myself and the rest is history."
 
It's a good thing Rastetter kept his distance. Duncan was in no mood for a friendly game of rock, paper, and scissors….or any kind of dialogue.
 
"That's me time," Duncan said. "I told Colton if he says something to me, I'm going to bop him on the head and tell him to get out of here. That's my time to be in my zone, relax, and then it's another kick to execute."
 
Was it really as simple as "another kick to execute?" Sure, the Hawkeyes are well-schooled doing situation drills. On Thursdays of game week, they walk through a kick session and, of course, there is practice in camp and during the season. But nothing can simulate a game-winner on a misty day with wind swirling in a stadium filled with 90,000 fans.
It may be a day late, but @HawkeyeFootball fans are more than thankful for Keith Duncan and his right leg.

BTN x @USCellular pic.twitter.com/rbXtBii5Xq

— Iowa On BTN (@IowaOnBTN) November 30, 2019
 
When you do something over and over, Rastetter explained, your mindset converts to any game-day attempt becoming the same as a practice rep.
 
Not-so-spoiler alert, Duncan made the field goal, Iowa won, 27-24, and the Hawkeyes are heading to a bowl game with an opportunity for a 10-win season. 
 
"I'm hungry for every field goal, especially a situation like that, a 48-yarder in tough conditions," Duncan said. "That's what you live for, that's why you want to be a kicker. You have to be hungry for the kick, you don't want to be scared, you just go and get it."
 
As for playing conditions, the native of Weddington, North Carolina is accustomed to putting his right foot to ball in those often tricky Midwest settings. He joked that the last time he kicked in a game with optimal circumstances it was "Miami of Ohio, 2016."
 
"You have to take it as it goes," Duncan said. "You can say the weather wasn't phenomenal, but if you play with it the right way, then it will love you back."
 
There is so much for Hawkeye fans to love about Duncan. He has made multiple field goals in nine of Iowa's 12 regular-season games. His 29 field goals are a school and Big Ten record, leaving him with the sixth-most in NCAA history for a season. He is 25 of 25 on point-after attempts. For his career, he has converted fourth-quarter game-winning kicks against Michigan (2016), Iowa State (2019), and Nebraska. 
 
That is clutch. 
 
"Keith Duncan, what can I say," Ferentz said. "Twenty-nine field goals and the job he has done all season."
 
Actually, Ferentz said a lot to Duncan in the postgame locker room. It went something like this: Well Keith, congratulations, you are now on scholarship.
 
"That was an awesome experience and I'm so happy about that," Duncan said. "It's a culmination of four years of hard work. These 12 weeks (of regular-season games) have been hard for us, working and going 100 percent. There have been some setbacks, but we finished the regular season how we wanted. 
 
"Team goals will lead to individual goals, and that's where we are today."