Hawk Talk Monthly — December | Hawkeye Fan Shop — A Black & Gold Store | 24 Hawkeyes to Watch 2019-20 | Notes (PDF) | Photo Gallery
By DARREN MILLER
hawkeyesports.com
IOWA CITY, Iowa — Tania Davis spent the majority of her college basketball career practicing and playing games on Mediacom Court in Carver-Hawkeye Arena.
 
It was there, a day short of a calendar year ago, when she stepped back with 2.6 seconds remaining, to deliver a knockout 3-point field goal to defeat Iowa State, 73-70. Those game-winning heroics aren't on top of the Carver-Hawkeye Arena highlight list for Davis, who returns to her old home tonight as a graduate assistant for Clemson.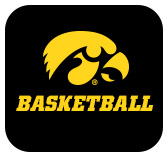 "Advancing to the Sweet 16 (with a 68-52 win over Missouri on March 24, 2019)," Davis said. "To be able to play in front of that crowd, almost a sold-out arena (of 12,376), is something I never played in front of inside of Carver-Hawkeye Arena. Running out of the tunnel to those crazy fans is one of my best memories in a Hawkeye uniform."
 
Davis spent 37 minutes on the court that night, scoring seven points and handing out six assists. She returns in Clemson orange and purple for the ACC/Big Ten Challenge. Tip-off is 8:01 p.m. (CT).
 
"I have thought about (returning to Carver-Hawkeye Arena), but the only thing I can come up with is they are going to cheer for Iowa and me being on the opposite side, I'm not going to like it, but it is something I have to get used to," Davis said. "I love Hawkeye nation with a passion and I would like to think they love me back. I would expect a lot of love until the ball gets tipped, then I'm a (Clemson) Tiger."
 
During her career at Iowa, Davis overcame two season-ending knee injuries to play 104 games and score 1,007 points. She added 433 assists, 126 3-point field goals, and 103 steals. Davis made 9 of 10 free throws and finished with 14 points when the Hawkeyes defeated Maryland, 90-76, to win the Big Ten Tournament championship March 10 in Indianapolis.
 
"I take a trip down memory lane as much as possible," Davis said. "Moments like those are once in lifetime, but (the memories) last forever. I will forever have that memory of holding the trophy in Banker's Life Fieldhouse, the memory of the step-back 3 against Iowa State, and running out of this tunnel to the Hawkeye crowd."
 
Davis was named honorable mention All-Big Ten last season after Iowa went 29-7 overall, 14-4 in Big Ten play. She averaged 10.3 points and 4.5 assists per game.
 
After the season, and with help from the Iowa coaching staff, Davis sent out resumes in an attempt to get into college coaching.
 
"The girl loved basketball and she is doing exactly what she should be doing," Iowa head coach Lisa Bluder said. "She wanted to be a coach the minute she stepped on our campus and I'm glad she is going down that path and having an excellent opportunity as a graduate assistant at Clemson."
 
Davis credits a connection between Iowa assistant coach Raina Harmon and Clemson assistant coach Shimmy Gray-Miller for helping her get a foot in the door. Davis said that from the time the Iowa coaches knew she was pursuing coaching leads, they did everything they could to get her name out there with nothing but positive references.
 
The job description for Davis includes ordering food, scouting, dissecting film, watching games, and assisting with workouts and individual workouts with guards. She has taken pieces of Iowa with her to Clemson. During the first practice, she yelled "Let's go black," a rallying cry from her days as a Hawkeye. Davis quickly learned that the new verbiage is "Here we go, purp,"  "Let's go Tigers," or "Let's go Tigs."
 
Then, there is her admission that she swiped perhaps the ultimate Bluder-ism.
 
"Listen, I'll tell you this now, on record, I do the Lisa Bluder foot stomp every day in practice," Davis said. "Every single day, it never fails; once, twice, three times, every single day."
 
When the annual ACC/Big Ten Challenge schedule was released, it pitted Clemson (3-5 overall) against Iowa (5-2) in Carver-Hawkeye Arena. It will be a difficult 40 minutes for Bluder.
 
"I don't really like it," she said. "You like to win, but you don't like to beat your friends. It's a hard thing, a very fine line, and I don't care for it."
 
As for Davis, she will savor this homecoming as much as she can, while keeping an eye on her future goals.
"I have two years (at Clemson), then I have to get a big girl job," Davis said. "Then I will coach wherever, I really don't care. Ultimately, I want to become a head coach in a Power 5 conference, and ultimately, I want to win a national championship."