IOWA CITY, Iowa — Hayden Fry won 232 games in 37 years as a head football coach, with 143 of those coming at the University of Iowa from 1979-98.
"There's a secret I learned a long time ago when I was a young head coach," Fry said. "If you're going to be successful, you have to surround yourself with winners."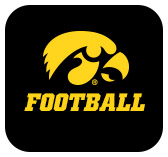 According to Fry, 26 of his former assistant coaches went on to become head coaches in college or the professional ranks. Ten have since retired. There are currently seven former assistants or players under Fry who have assumed the top coaching position at NCAA Bowl Subdivision (Division I) football programs and two of them — Iowa's Kirk Ferentz and Wisconsin's Bret Bielema — meet Oct. 18 inside Kinnick Stadium.
"I remember when Kirk came for the interview," Fry said. "I interviewed ex-NFL coaches and college coaches. Coach Ferentz was supposedly 28 years old and the offensive line coach at Pittsburgh. Without question he was the most organized, fundamentally-sound coach I interviewed. He was so intelligent. Then I heard he was a grad assistant and only 26 years old."
Fry also remembers his initial meeting with Bielema. As the story goes, Fry was already on the practice field when a prospective walk-on approached.
"Bret came up to me and said he wanted a chance to play football," Fry recalls. "He was a walk-on from Illinois. I said, `Son, we don't have a uniform that small.' But Bret said he would eat three meals a day with the team, hit the weight room and grow. By the time he left here he was a team captain. I was so impressed with him. Bret was tenacious and the type of person I called a hard-charger."
The five other Fry disciples who are now head coaches at the Division I level are Bob Stoops (Oklahoma), Mike Stoops (Arizona), Chuck Long (San Diego State), Jim Leavitt (South Florida) and Bo Pelini (Nebraska). Add in Ferentz and Bielema and the seven have a career record of 321-208 for a .607 winning percentage. Don Patterson is in his 10th season at Division I-AA Western Illinois and has a record of 65-44.
"I follow every one of them and I pull for them," Fry said. "They helped me win games and I try to stay real close to them. Everyone on my staff was like family to me because in order to win football games, the team had to be like family."
That is what makes the Oct. 18 Wisconsin-Iowa game so difficult on Fry.
"Kirk and Bret are two fine Iowa products," Fry said. "I hate to see one of them lose and they won't let you tie any more. It's kind of sad for me because I know one of them is going to lose a ball game and I don't like to see that."
This will be the third meeting between Ferentz and Bielema. Wisconsin won 24-21 in Iowa City in 2006 and held on for a 17-13 decision last season in Madison. Ferentz doesn't particularly enjoy coaching against other members of the Fry Coaching Tree. During his career he has gone toe-to-toe against Barry Alvarez at Wisconsin, Bill Snyder at Kansas State, Dan McCarney at Iowa State and now Bielema.
"Those are guys I have great respect for," Ferentz said. "It's always a little different coaching against them, but with all that said, once the game begins, it's not something you even think about."
Snyder compiled a record of 136-68-1 in 17 seasons at Kansas State, Alvarez was 118-73-4 in 16 seasons at Wisconsin and McCarney, who is now the defensive coordinator at Florida, was 56-85 in 12 seasons at Iowa State. Those three — and Ferentz — were all together on Fry's staff at Iowa from 1981-86 until Alvarez left to become defensive coordinator at Notre Dame.
"Two of the most outstanding coaches I was with during that time never got an opportunity to be head coaches — Bill Brashier and Carl Jackson," Ferentz said. "There's no doubt in my mind they both would have been tremendous head coaches."
Bielema is the third-youngest coach in Division I football. He lettered at Iowa from 1989-92. Bob Stoops (1979-82), Mike Stoops (1981, '83-84) and Long (1982-85) also played for Fry. Ferentz was a coach on the Hawkeye staff when Bielema was a player here (1989). Bielema also worked on staff for Ferentz for three seasons (1999-2001).
Ferentz said he wasn't sure what Fry looked for when selecting his assistant coaches, but the end result was always a close-knit group that worked well together.
"If you go back and examine, it's interesting how Coach Fry hired people," Ferentz said. "We were all mutts and none of us had extensive or impressive resumes. But I think there was a science to what he did. All I know is that the group he put together worked well with each other. There were no petty jealousies — just a bunch of guys working hard, who enjoyed football. He had an art and an intention to everything he did. Coach Fry didn't do a lot of things by accident."
Fry said that Ferentz has done a `wonderful job' at Iowa and that he thinks the Hawkeyes are `going to get better and better.' He also praised Bielema's efforts with the Badger program. To Fry, the head coaches in today's game are more than `two fine Iowa products.'
"Both of them are just like my sons," Fry said. "They're super human beings as well as outstanding coaches. I'm very proud of both of them."