By BARRY PUMP
hawkeyesports.com
IOWA CITY, Iowa — There are many ways to describe Hayden Fry. Football coach. Legend. Pioneer. Marine. Square-jawed Texan. But for Jerry LeVias, a former player under Fry, a more familiar title is friend.
Fry and LeVias have had a relationship that has lasted nearly 40 years – a relationship that extended beyond that of coach and player to sometimes surrogate parent, and a relationship that proved, even in a divided South, race is truly an artificial barrier.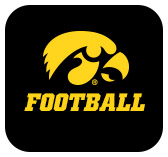 The story between the two began in the mid-1960s outside of Houston, Texas, when a young coach from Southern Methodist University decided he wanted to recruit the "most exciting high school player" he had seen in Texas.
Fry, aged 36 at the time, didn't bother LeVias, a 5-foot-8, 160-pound wide receiver with talk about racially integrating the Southwest Conference. The coach didn't mention the fact that LeVias was black at all. Instead, he walked right over to LeVias's mother, Leura, and had a detailed discussion about the preparation of pinto beans.
That was Coach Fry's style, and it snagged the high school senior from the beginning. In fact, Fry wooed LeVias away from offers by UCLA and Michigan to go instead just up to Dallas and right into a hotbed of racial tension.
"It's almost like we got out in the middle of the ocean and then had something to talk about," said LeVias, in a telephone interview from his home in Houston. "I had scholarships from all over the country, but I believed in Coach Fry so much that we didn't talk about breaking color barriers. He didn't recruit me that way.
"He recruited me as an athlete and talked about me as an individual. I liked Coach Fry because he was the only coach who seemed concerned about me as an individual and my education, and that made all the difference in the world."
But after LeVias committed to SMU, it would be rough going for the newest member of the team, and also for Hayden Fry.
Both received death threats and calls for them to quit. While some spit on LeVias, many questioned whether Fry would last at SMU.
"A lot of people talk about me, and what I had to endure," said LeVias. "But could you imagine what he had to endure? What a strong person he was to step up and do the right thing. He's tough."
Indeed, coach Fry wasn't going to let go of a promise he made to himself nearly three decades prior. Nor would he let anything interfere with building the best team he could and doing the "right thing". Fry knew well the hardships of growing up black in Texas.
As a youngster, Fry played with black kids his own age, sitting with them in the back of the bus and in the balconies of cinemas. And by the time he reached junior high school, Fry knew that his friends weren't treated equally and made the promise that if he could do something to change it, he would.
That opportunity came with LeVias.
"That was the greatest thing I ever did in football," said Fry, who dedicated two chapters of his autobiography, A High Porch Picnic , to his work with LeVias at SMU.
Despite the racial overtones and turmoil, LeVias thrived on the field catching 155 passes for 2,275 yards and 22 touchdowns in his career. He still owns six SMU records.
For LeVias and Coach Fry, the taunts subsided with every victory.
"I think I must have gotten whiter and whiter [in the eyes of team mates, fans and opponents], after I started scoring those touchdowns," joked LeVias. "The more I was spit on and taunted, the better I played."
Considering the ties between LeVias and Fry, it seems a clich? to say that it is now only fitting that they be inducted into the College Football Hall of Fame together this December in New York. But they are and it is.
"The greatest thrill for me personally is that Jerry LeVias is being inducted at the same time I am," said Fry. "That's a great honor to be going in with Jerry."
This one story of football, racism and redemption merely highlights the life and career of Coach Hayden Fry, who was honored for his 20 years at Iowa and 37 years in college football last Saturday during the halftime of Iowa's 30-27 homecoming victory over Michigan.
Certainly, it was a busy homecoming for the legendary coach.
He ate breakfast with the Johnson County I-Club early on Friday morning, acted as grand marshal of the homecoming parade later that day, and then was awarded a special plaque by former Michigan coach Bo Schembechler and Iowa athletic director Bob Bowlsby at a special halftime ceremony during the game.
"This tribute to me is in recognition of all the wonderful players that I had at several universities, but particularly the University of Iowa, and the great assistant coaches I had," said Fry. "Of all the places I was located, [Iowa] was my favorite. I'll always be extremely grateful to everyone for the assistance and making life pleasant for me."
Indeed, the ceremony was about more than Fry's 143 wins or 14 bowl game appearances while at Iowa and even more than his 232-188-10 career record. But it was not only the great players, like LeVias, that he coached or the assistant coaches, like current Iowa coach Kirk Ferentz, that he had on staff. The ceremony was about how he – white pants, sunglasses and all – helped make those players, coaches and programs what they are today.
"He is just that type of person," said LeVias. "He's just a fantastic guy. I thank God he played a large part in my life and my growth and maturity. He ranks in my life with my parents.
"It's fantastic to be recognized and put into the Hall of Fame together. It's a great honor," LeVias added. "But that is secondary. Coach Fry and I are in our own hall of fame together."