Hawkeye Fan Shop — A Black & Gold Store | Hawk Talk Monthly — December | 24 Hawkeyes to Watch 2019-20 | Game Notes
By DARREN MILLER
hawkeyesports.com
IOWA CITY, Iowa — When the University of Iowa and Drake meet in women's basketball, action on the court is anything but ugly.
 
The same won't be true about thousands of fans in their Carver-Hawkeye Arena seats Saturday; they are encouraged to don their festive apparel in the form of an ugly holiday sweater.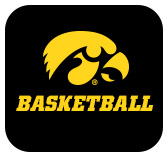 On paper, this matchup promises to be a doozy. Iowa has dominated the last 17 years; Drake has a one-game edge in the all-time series.
 
When it comes to in-state women's basketball, it's hard to beat Iowa-Drake. This matchup will be no exception when the Hawkeyes (8-2 overall) host Drake (7-3) on Mediacom Court.
 
"It is exciting for an in-state player especially," said Iowa senior Makenzie Meyer, who is from Mason City, Iowa. "Drake always has a good team and it is always a dogfight between us. It would mean a lot to get a win, especially on our home court, and it will look good on our resume later in the season."
 
Iowa has won two in a row and 16 of the last 17 games; Drake holds a 26-25 advantage since the series began in 1974.
 
Factor in that Iowa head coach Lisa Bluder compiled a record of 187-106 from 1990-2000 at Drake. Or that Iowa associate head coach Jan Jensen scored 1,996 points for the Bulldogs from 1987-91 before joining Bluder's staff at Drake. Or that Iowa special assistant to the head coach Jenni Fitzgerald was starting point guard from the Bulldogs from 1986-91 before coaching the Bulldogs alongside Bluder and Jensen. Or that Drake head coach Jennie Barancyk scored 1,762 points for the Hawkeyes from 2000-04.
We're excited to kick off the holidays with you on Saturday.

Don't forget to wear your ugliest holiday sweater when the #Hawkeyes take on Drake at 6 p.m.

🎟: https://t.co/l5ugxCN98h | #FightForIowa pic.twitter.com/c5zbCNLMXG

— Iowa Women's BBall (@IowaWBB) December 19, 2019
 
"It will be two really good women's basketball teams from in-state going against each other," Bluder said Thursday during a news conference in Carver-Hawkeye Arena. "I think we will have a good crowd, I know Drake will bring a good crowd. It should be a really good environment."
 
Because of commencement ceremonies earlier in the day, the game will have a tip time of 6 p.m. (CT). Bluder wanted to play on Saturday in order to give her team a full four days off over the holiday recess. The Hawkeyes return to action and open Big Ten play Dec. 28 at Nebraska.
 
"It should be a great atmosphere," Meyer said. "Hopefully we draw a lot of fans and it would be nice to get a win heading into the Big Ten season."
 
The Bulldogs lost their last game, 93-84 at Oklahoma on Dec. 17. Their first 10 games have included dates with opponents from the Big 12, Big Ten, SEC, and Big East conferences.
 
"They have played a fabulous schedule and have played against great people," Bluder said. "They are prepared for this game. Last year, they were here for the NCAA Tournament, so they are familiar with (Carver-Hawkeye Arena)."
 
Drake fell to Missouri, 77-76, in overtime, in the first round of the NCAA Tournament in Iowa City on March 22, 2019. Two days later, Iowa defeated Missouri, 68-52, to advance to the Sweet 16 in Greensboro, North Carolina.