Hawk Talk Monthly — January | Hawkeye Fan Shop — A Black & Gold Store | 24 Hawkeyes to Watch 2019-20
By DARREN MILLER
hawkeyesports.com
EDITOR'S NOTE: This story first appeared in Hawk Talk Monthly, the official online e-magazine of the University of Iowa Athletics Department. To read the January issue, click HERE.
IOWA CITY, Iowa — You don't earn loyalty in a day, but you can accumulate an ample body of work over 45 years.
 
All Rod Klemp wanted was to be a loyal University of Iowa football fan after he attended his first game at Iowa Stadium in 1958.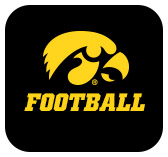 The Hawkeyes defeated No. 8 Northwestern that day, 26-20, in a game highlighted by a one-handed touchdown catch by Iowa All-American Curt Merz. A few days later, the Hawkeyes were ranked No. 1 in the nation by United Press International…and Klemp, a junior at Linn-Mar High School in Marion, Iowa, was hooked.
 
"After I saw that first game, I knew I had to come back to see at least one more," Klemp said. "One more kept building and it has been a lot of games now."
To be exact, Klemp has watched 336 games in Kinnick Stadium (the name changed from Iowa Stadium in 1972), including a streak of 289 in a row.
 
"Iowa fans are great. They are loyal and I wanted to be one of them," Klemp said. "All I want to be is one of the loyal fans."
 
Klemp, 77, grew up on a farm north of Marion and was Valedictorian in the first Linn-Mar graduating class of 1960. After spending four years in the Air Force, he returned to Cedar Rapids, but said there was always something about Iowa City that appealed to him.
 
He moved to Iowa City in 1967, working for the Iowa Measurement Research Foundation, which later became Pearson Education.
 
"Living in Iowa City made it easy to go to all these football games," Klemp said. "The people I admire are the ones who drive one, two, three hours to come to the game and then turn around and go home."
 
From 1958-73, Klemp attended 47 Iowa football games. He was absent on Nov. 24, 1973, when the Hawkeyes lost to Michigan State, 15-6, "capping" an 0-11 season under head coach Frank Lauterbur. The following fall — on Sept. 21, 1974 — Klemp was in the stands as Iowa defeated UCLA, 21-10, in the home-opener for head coach Bob Commings.
 
Klemp hasn't missed a home game since, poo-pooing the myth that it is just as enjoyable to watch games on television at home.
 
"There is nothing like actually being in the stadium, you can't replace that," Klemp said. "The feel of the whole thing, the Iowa crowd and the atmosphere. Not every game is at that high level, but when it gets going, it's a lot of fun."
 
Another thing you won't see on television that Klemp and his wife, Sandy, enjoy are performances by the Hawkeye Marching Band.
 
"That's a big part of what makes college football what it is, so if you just watch on TV, you're never going to see any of that," Klemp said.
 
Klemp's Cal Ripken-like consecutive Kinnick Stadium streak will begin season No. 46 when Iowa hosts Northern Iowa on Sept. 5, 2020. As proof of his streak, he has a spreadsheet that includes date of the game, opponent, and score. He also has a binder full of ticket stubs.
 
After watching Iowa games for six decades, a few stick out for Klemp. Of course, the first game in 1958 is significant, Iowa's six-point win that featured head coaches Forest Evashevski (Iowa) and Ara Parseghian (Northwestern).
 
"I was there when Eddie Podolak had a rather good day (Nov. 9, 1968)," Klemp said. "He ran for 286 yards and we beat Northwestern by a fairly hefty score (68-34). That is a game where one individual had a tremendous day.
 
"(Head coach) Bo Schembechler and his Michigan team came in (Oct. 19, 1985) and we beat them, 12-10. I remember Bo muttering something like, 'They didn't even score a touchdown and they still beat us.'"
 
More recently, Klemp thoroughly enjoyed what he calls "the Woodshed game" — Iowa's 55-24 win over No. 3 Ohio State on Nov. 4, 2017, and the Hawkeyes' 23-19 win over No. 8 Minnesota on Nov. 16, 2019.
 
"Minnesota came in 9-0 and that was a good Big Ten football game," Klemp said.
 
Regardless of the significance of Iowa's victory, Klemp remains in his seat in Section 212 of the south end zone. There is no storming the field for this guy.
 
"I don't have enough energy to do that," he said with a laugh. "But I hang around and watch it all."
 
If Klemp's proximity to Kinnick Stadium aids in his attendance streak, so does wife Sandy, who is equally passionate about football. A native of Detroit, Sandy attended the University of Michigan, where she was a baton-twirler. She spent four years working for the Detroit Lions, and even played a few heated card games against Hawkeye/Lion great Alex Karras.
 
"He cheated at euchre," Sandy said.
 
On game days, Klemp arrives at his seat to watch the pregame activity. Before that, he walks outside the stadium to observe tailgating while fraternizing with other Hawkeye fans.
 
"Everybody seems to be in a friendly mood," he said.
 
Klemp enjoys the atmosphere surrounding Kinnick, even though he has spent a few Saturdays tolerating rain, snow, and cold.
 
The Klemps didn't make the trip to San Diego for the Holiday Bowl, but they watched from home as Iowa won its 10th game of the season. For Klemp, the matchup had added significance. When he was in Air Force basic training, he became friends with Steve, a Southern California Trojan fan from Pasadena, California. When the bowl pairings were announced Dec. 8, Klemp and Steve made a wager.
 
After Iowa's 49-24 victory, Klemp became the winner of a $5 gift certificate to McDonald's.
TICKETS FOR THE 2020 UNIVERSITY OF IOWA FOOTBALL SEASON ARE AVAILABLE. TO ACCESS THE FOOTBALL TICKETS PAGE, CLICK HERE.