Hawkeye Fan Shop — A Black & Gold Store | 24 Hawkeyes to Watch 2019-20 | Notes (PDF) | I-Club Events Page | AM RESULTS (PDF)
SOUTH BEND, Ind. — The University of Iowa swimming and diving team competed well on the first day of the Shamrock Invitational, notching several individual and relay wins at the Rolfs Aquatics Center.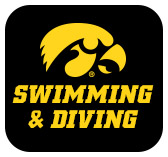 PODIUM ROCKED
Freshman Sergey Kuznetsov captured Iowa's first victory in the 100 fly with a time of 48.06.
 
Senior Hannah Burvill secured another victory for Iowa in the 200 free, notching first with a time of 1:45.99. Fellow senior Allyssa Fluit and freshman Macy Rink took third and sixth with times of 1:46.59 and 1:50.06.
 
Freshmen Julia Koluch (54.63) and Kennedy Gilberston (54.88) finished second and third in the 100 back, with Koluch's time breaking into the top-10 in program history.
 
Freshman Millie Sansome recorded a personal best in the 400 IM with a time of 4:17.53, retaining her third overall spot in program history. Anze Fers Erzen took a bronze finish with a time of 3:51.71.
 
SPRINTS SHOW DEPTH
Nearly for the third meet in a row, the men's 50 free almost featured a full sweep from sophomore Aleksey Tarasenko (20.16), and seniors Steve Fiolic (20.39), and Will Scott (20.48). The trio took second, third, and fourth.
 
Junior Daniel Swanepoel (55.12), freshman Will Myhre (55.62), and senior Weston Credit (55.64) finished in the top-10 of the 100 breast, with Swanepoel at fourth, tailed by Myhre in seventh and Credit in eighth.
 
DISTANCE FINISHES
Freshman Macy Rink wowed in the 500 free, posting a 4:52.53 and finishing fourth for Iowa with a new personal best.
 
Sophomores Mateusz Arndt (1:37.15), Andrew Fierke (1:37.87), Tarasenko (1:37.91), and freshman Evan Holt (1:38.74) all finish in the top-10 in the men's 200 free. Arndt took third, followed by Fierke and Tarasenko at sixth and seventh, with Holt in ninth.
 
RELAYS PLACE
Burvill, Rink, Sansome, and Fluit took the 800-free relay title with a time of 7:12.79. This time is good for fifth place in program history. Arndt, Tarasenko, Tenney, and Fierke placed second in the men's 800-free relay with a time of 6:28.51. This time is good for eighth in program history.
 
The men's 200-free relay team of Fiolic, Tarasenko, Scott, and senior Joe Myhre nabbed a win in a blistering 1:20.10. Iowa's second fastest time of the season. Just three spots back, the team of Kuznetsov, Will Myhre, and seniors John Colin and Sam Dumford posted a 1:22.44.
 
The 200-free relay team of Burvill, junior Sarah Schemmel, Fluit, and Rink started off the women's relays with a fourth-place finish, posting a time of 1:32.60.
 
The Hawkeyes showed out in the 400-medley relay with Sansome, freshman Zoe Mekus, junior Kelsey Drake, and Burvill finishing in 3:42.86 for third overall. The team of Gilbertson, freshman Aleksandra Olesiak, Schemmel, and Rink placed right behind in fourth at 3:43.99.
 
Wrapping up the morning session, the team of Colin, Swanepoel, Kuznetsov, and Tarasenko placed third in the men's 400-medley relay with a time of 3:16.29.
 
The 200-medley relay team of Colin, Will Myhre, Kuznetsov, and Joe Myhre placed fourth in a quick 1:29.03.
 
DIVING
Freshman Mohamed Neuman led placing for diving on the 3-meter springboard, finishing with a score of 318.95 for fifth place.
 
TEAM SCORES: MEN
1. Notre Dame, 869 | 2. Iowa, 586 | 3. Ohio State, 553 | 4. Missouri State, 309 |
 
TEAM SCORES: WOMEN
1. Notre Dame, 754.5 | 2. Ohio State, 651 | 3. Akron, 488 | 4. Iowa, 442.5 |
 
UP NEXT
The Hawkeyes return to action tomorrow at 9 a.m. / 4 p.m. (CT) at the Rolfs Aquatics Center for the final day of the Shamrock Invitational.