Hawkeye Fan Shop — A Black & Gold Store | 24 Hawkeyes to Watch 2019-20 | Fight For Iowa | Strategic Plan
By DARREN MILLER
hawkeyesports.com
IOWA CITY, Iowa — University of Iowa Henry B. and Patricia B. Tippie Director of Athletics Chair Gary Barta talked about athletic, academic, and fan-based momentum within the athletics department during a news conference Monday in Carver-Hawkeye Arena.
 
Barta, who has been with the university since 2006, touched on several topics, including his position on the College Football Playoff Committee, facilities, strategic plan, finances, fund-raising, and life as a student-athlete.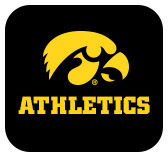 Here is a portion of the transcript from Barta's 50-minute meeting with the media:
 
"I can't stand up here and not talk about all the momentum throughout the department, whether it's athletically, academically, and fan-based. Our fan base is energized, re-energized, continued to be energized.
 
"Wow, what a run and as recently as (Feb. 2) in Carver-Hawkeye Arena (men's basketball win over Illinois, (Jan. 31) in wrestling (win over No. 2 Penn State), and just seeing what (head coach) Kirk (Ferentz) and the football team did this past year, but now for several years. Watching Lisa (Bluder's women's basketball) team last year go to the Elite Eight, win the Big Ten championship; Fran's (men's basketball) team going into the NCAAs and now having a great run again this year.
 
"Beyond that, maybe some of the sports we don't talk about that often or don't get reported quite as much: field hockey winning the Big Ten championship, both regular season, Big Ten Tournament, Elite Eight appearance; rowing, back in the NCAAs; soccer this fall. On and on and on.
 
"There is incredible momentum over the past few years, not just this year; 90 percent graduation rate for four years in a row. It was a record the first year we hit it and we have now hit it four years in a row. Incredibly proud of our student-athletes, coaches and what they are accomplishing.
 
"I mentioned the momentum with our fans: the sellout (Feb. 2) in men's basketball, the sellout (Jan. 31 in wrestling), and going back a couple weeks with women's basketball, an incredible crowd to watch Megan Gustafson's (retired No. 10) jersey go up to the rafters. We have always had a great following from great fans — top 25 in football attendance, top 25 in men's basketball, top 15 in women's (basketball), No. 1 in wrestling. This is a chance to thank our fans again and talk about momentum they have going."
 
College Football Playoff committee
"College Football Playoff and the opportunity that I was provided to join that group this past year and recently asked if I would chair. Again, it was one of those offers I was honored by and accepted.
 
"Just getting asked to be a part of that group was an honor — there are 13 members on that committee. It is great to be among people who care about the game, have great resumes, and spend the time to try to get it right. I have enjoyed that. Most recently I was asked if I would mind chairing the effort…I was honored to say yes, and look forward to that opportunity."
 
Facilities
The Board of Regents this week will entertain two facilities requests. One is to launch a study and eventually construct a wrestling training facility. We are going to ask permission to name the new clubhouse at Finkbine the Nagel Family Clubhouse.
 
"We compete in one of the great venues in the country for wrestling. Carver-Hawkeye Arena is as good as anywhere in the country, probably anywhere in the world in terms of competing in a facility.
 
"What (head coach) Tom (Brands) has had a vision of, and what we want to carry out, is to have the greatest wrestling training facility in the world. Thankfully we have already received close to $10 million in commitments to get that started."
 
(Clubhouse)
"That facility is scheduled to be done in time for golf season. We will tear down the old clubhouse in the month of February, weather permitting. It will be torn down before we open the new one."
 
Strategic Plan (Click HERE for the University of Iowa's Strategic Plan)
"We have big ideas for the next 10 years….we have big ideas about where we want to go. Some of you have heard me say, vision without resources is irrelevant. We have great vision, now we have to find the resources going forward.
 
"That (five-year strategic) plan tells you, here is what we envision over the next five years, here is where we're headed over the next five years. Then we are charging each of our departments to put the action plans in place in their department to accomplish those goals.
 
"This is the third strategic plan we have taken on since I arrived in 2006. The goal is to keep making progress."
 
Finances
"That report we put into the NCAA has been submitted and it will show we had revenue over expense — that's always a good thing — of about $5 million…it shows a $5 million positive, which is great. Most of you recall we have been self-funded since 2007. We no longer receive student fees or any general fund dollars."
 
Fundraising
"Our fans and donors continue to support us at levels — it is incredible. We're so fortunate to receive that support."
 
Being a student-athlete
"I believe this with all my heart: there has never been a better time to be a student-athlete. Related to scholarship support, we changed rules in food where we can feed them as much as they can eat, we improved in the cost of attendance area, we have great improvements on medical support, physical and mental health, strength and conditioning, coaching is as strong as it has ever been. How do we keep getting better?