Hawkeye Fan Shop — A Black & Gold Store | 24 Hawkeyes to Watch 2019-20 | Hawk Talk Monthly — February | I-Club Events Page
By ANDREW BREITFELDER
hawkeyesports.com
 
IOWA CITY, Iowa — University of Iowa women's swimming and diving hosts the 2020 Big Ten Championships from Feb. 19-22 at the Campus Recreation and Wellness Center, sending the senior class off at the place where it all began.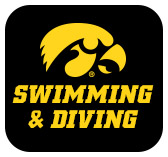 For the first time since 2012, the women's championships ventures back to Iowa City. In that time, many Hawkeye record holders have come and gone, leaving their legacy on the school record board. Seniors Hannah Burvill and Allyssa Fluit can cement their names in the annals one last time in the pool they know so well.
 
"I am excited to have Big Tens at our pool," Burvill said. "Having our peak meet here is a great way to complete my college career. Our team is feeling confident after having solid placings and racing over the past few weeks. I'm excited to see what we can do at this year's championships and how we can improve our standing in the Big Ten."
 
Burvill, an eight-time school record holder in the 50 free, 100 free, 200 free, 100 back, and all relays except the 200-free relay — where she is a member of the second-fastest quartet in school history — has left a solidified footprint at 309 South Madison Street. Of the top-50 relay teams in Iowa's record book, Burvill is part of 24.
 
Joining Burvill as a freshman in 2016, and commonly known as her other half, senior Allyssa Fluit makes her final home start for the Hawkeyes at this year's championships. Fluit swims similar events and holds top-10 times in program history in the 100 free, 200 free, 500 free, and all five relays.
 
"Having the championships at the CRWC my senior year makes me proud," Fluit said. "This is where my career started, and this is where it will end. I'm looking forward to spending the week watching the ladies on my team accomplish what they've been working so hard for all season."
 
Championship season is a team effort from the seniors on down to the freshmen. A goal that has sat at the top of the board this season is to improve the overall Big Ten team finish — a goal that will be done with the intensive training and competition that has taken place thus far.
 
"The team is confident and ready," Fluit said. "It has been a long month of training and competing, but we've continued to prove that we mean business and that we are a force to be reckoned with."
 
The week following the women's farewell to the CRWC, the 2020 Big Ten Men's Swimming & Diving Championships will be held in Bloomington, Indiana, from Feb. 26-29.