Hawkeye Fan Shop — A Black & Gold Store | Hawk Talk Monthly — February | 24 Hawkeyes to Watch 2019-20 | I-Club Events Page | RESULTS (PDF)
IOWA CITY, Iowa — The University of Iowa women's swimming and diving team completed its second day of Big Ten Championships action with multiple top-10 all-time program finishes.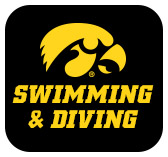 RECORDS SHINING BRIGHT
The 400-medley relay team of freshmen Millie Sansome and Aleksandra Olesiak, junior Kelsey Drake, and senior Hannah Burvill took down the school record with a time of 3:36.18.
 
Leading off the relay, Sansome broke the program record in the 100 back with a time of 53.21.
 
HAWKEYES CLOSE GAPS
Senior Allyssa Fluit swam a career-best time of 4:43.52 — the 2nd-fastest time in program history — to qualify for the consolation final in the 500-yard freestyle. She finished the night with a time of 4:43.90. Freshman Macy Rink moved up to ninth in program history with a career-best of 4:50.74. 
 
Drake touched in 1:59.92 during the 200 IM preliminaries, a new career-best and NCAA 'B' qualifying standard. Drake now ranks 2nd-overall in program history and outdid herself in finals after posting a 1:59.41.
 
Freshman Kennedy Gilbertson broke into the Iowa record books with a 23.16 in the 50 free, clearing ninth all-time. Fellow freshman Maddie Ziegert and senior Sammy Sauer both posted career bests in 23.27.
 
Burvill made finals with a 22.80 – 50 free and closed with a time of 22.88.
 
HEARING FROM HEAD COACH MARC LONG
"It was cool to see Millie [Sansome] do that off the relay. It's fun watching her figure it all out. She's got the 400 IM tomorrow and 200 back coming up, with the best yet to come. It's hard in that heat of so many great athletes to do well, but she led off that relay and helped that team to another school record. It was great to see that and see all the good splits."
 
HEARING FROM FRESHMAN MILLIE SANSOME
"It was exciting to say the least. I knew I was up against fast competition and I just had to focus on what I worked on in training. It payed off and I'm really happy with it. I love competing and having my teammates behind me. We didn't have anything to lose so we went in and raced while supporting each other."
 
UP NEXT
Iowa returns to the Campus Recreation and Wellness Center tomorrow at 11 a.m. (CT). Follow live on Meet Mobile or hawkeyesports.com/swimlive.
PHOTO GALLERY
 
Gallery: (2/20/2020) SWIM: 2020 Women's B1G Championships 3