Hawkeye Fan Shop — A Black & Gold Store | Hawk Talk Monthly — February | 24 Hawkeyes to Watch 2019-20 | I-Club Events Page | FULL MEET RESULTS (PDF)
IOWA CITY, Iowa — The University of Iowa women's swimming and diving team completed the 2020 Big Ten Championships with 430 points, placing ninth overall.
 
The Hawkeyes improved on their 10th place finish in 2019.  The 430 points are the most for the program since the format changed to the 24-scorer format in 2016.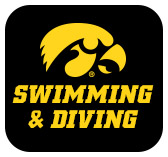 SANSOME SETS FINAL RECORD
Freshman Millie Sansome qualified for the 'A' final in the 200 back with a school record time of 1:54.86. Sansome finished the night eighth-overall with a time of 1:55.29.
 
IOWA RECORD ENTRIES
The 400-free relay team of freshman Macy Rink, seniors Hannah Burvill and Allyssa Fluit, and freshman Kennedy Gilbertson touched 10th with the eighth-fastest time in program history at 3:20.35. Rink improved to seventh all-time on Iowa's 100 free rankings with her lead split of 50.33.
 
Freshman Aleksandra Olesiak swam a 21st-plalce finish in the 'C' final of the 200 brea­­st, hoisting a career-best time of 2:13.92, solidifying herself at sixth in program history.
 
Junior Kelsey Drake finished 12th overall in the 200 fly in 1:58.50, while Burvill touched ninth in the 100 free with a time of 49.18.
 
HEARING FROM HEAD COACH MARC LONG
"We had a lot of school records in the meet, and we think there are a few athletes into NCAAs [championships] and a few on the bubble, so we're excited for that. We've got a bright future with this team. The seniors were reminiscing with the freshman earlier and telling them to soak it all in here and that's what our whole team was doing."
 
HEARING FROM FRESHMAN MILLIE SANSOME
"I was really happy with the outcome of this meet. I didn't come here expecting to have records right away, but I looked at my record on the board before my final and got a boost of confidence. I love all my teammates and I wanted to swim my races for them. The seniors have been amazing and have been role models and good friends. They've been amazing to train with and I love them all deeply. I'll have them as friends for life."
 
UP NEXT
The Hawkeyes return to action for the men's 2020 Big Ten Championships in Bloomington, Indiana, from Feb. 26-29. Follow along at hawkeyesports.com.
 
PHOTO GALLERY
 
Gallery: (2/22/2020) SWIM: 2020 Women's B1G Championships 7