Hawk Talk Monthly — February | Hawkeye Fan Shop — A Black & Gold Store | 24 Hawkeyes to Watch 2019-20 | I-Club Events Page | Wednesday Results (PDF)
BLOOMINGTON, Ind. — The University of Iowa men's swimming and diving team got off to a hot start during the first session of the 2020 Big Ten Championships, hoisting three school records and two podium relay finishes.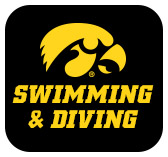 RECORDS FALL
Iowa's first record came from the 800-free relay team of sophomores Aleksey Tarasenko, Mateusz Arndt, senior Michael Tenney, and sophomore Andrew Fierke. The team notched the record in 6:20.84 and earned an NCAA 'B' qualifying standard with the fifth overall finish.
Opening time trials, sophomore Anze Fers Erzen downed the 200 back school record in 1:41.64, shattering his career best by exactly one second. His finish was good for an NCAA 'B' standard.
Junior Daniel Swanepoel continued the wave of program records, breaking assistant coach Roman Trussov's record in the 200 breast with a 1:54.02. This also qualified for an NCAA 'B' standard.
MEDLEY PODIUMS
The 200-medley relay team of senior John Colin, freshmen Will Myhre and Sergey Kuznetsov, and senior Joe Myhre placed eighth and closed the second-fastest in program history in 1:25.75.
UP NEXT
The Hawkeyes return to action tomorrow at 10 a.m. (CT) for preliminary action, with finals beginning at 5:30 p.m. (CT). Follow live on MeetMobile.