Hawkeye Fan Shop — A Black & Gold Store | 24 Hawkeyes to Watch 2019-20 | I-Club Events Page
DALLAS, Texas — The University of Iowa diving team completed day one of the NCAA Zone D Diving Championships at the Robson & Lindley Aquatics Center and Barr-McMillion Natatorium in Dallas, Texas.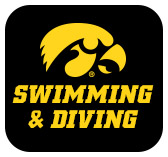 TOP PLACINGS
Freshman Mohamed Neuman just missed qualifying for the NCAA Championships, finishing 11th overall off the 3-meter. The top nine finishers qualified.  Neuman rounded out the 3-meter springboard with a score of 684.05. Both Neuman's prelim score of 340.55 and finals score of 343.50 were less than four points off his season and career best.
 
Junior Anton Hoherz finished 17th overall on the 3-meter with a combined score of 638.90. He advanced into finals with a score of 322.20 and dove to a 316.70 in the finals.  Junior Jonatan Posligua finished with a score of 229.55 in the prelims, finishing 31st.
 
On the women's side sophomore Sam Tamborski led the team during the morning's prelim session with a score of 241.70 to place 24th. Senior Thelma Strandberg followed in 238.50 (28th), with junior Claire Park rounding out Iowa's placing with a score of 236.65 (30th).
 
UP NEXT
The Hawkeyes return to action Tuesday for the men's 1-meter and women's 3-meter springboard competitions. Follow along at divemeets.com.