Hawkeye Fan Shop — A Black & Gold Store | 24 Hawkeyes to Watch 2019-20 | I-Club Events Page
IOWA CITY, Iowa — University of Iowa sophomore Anze Fers Erzen and junior Daniel Swanepoel have qualified for the NCAA Championships, it was announced Wednesday by the NCAA. This marks the first appearance for both student-athletes.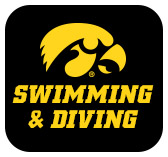 Fers Erzen, a Ljbljana, Slovenia, native, qualified in the 200 backstroke after an impressive performance at both the 2020 Big Ten Championships and a 'last chance' meet last week in Austin, Texas. Fers Erzen broke and re-broke his own school record three times in the qualifying effort. He will also compete in the 200 IM (1:46.14) and 400 IM (3:45.76).
Fers Erzen's times rank 24th in the 200 back, 58th in the 200 IM, and 34th in the 400 IM.
Swanepoel, a Cape Town, South Africa, native, qualified in the 200 breaststroke after an equally impressive showing in Bloomington, Indiana, last month. Swanepoel broke the 200 breast school record (1:53.53) and recorded a lifetime best in the 100 breast (52.92). He will compete in both events, along with the 200 IM.
Swanepoel ranks 25th in the 200 breast, 36th in the 100 breast, and 65th in the 200 IM.
Both school record holders will compete from March 25-28 at the IUPUI Natatorium in Indianapolis.