Hawkeye Fan Shop — A Black & Gold Store | 24 Hawkeyes to Watch 2019-20 | Doyle Named AP All-American
By DARREN MILLER
hawkeyesports.com
EDITOR'S NOTE: A version of this story first appeared in the March issue of Hawk Talk Monthy, the official online magazine of the University of Iowa Athletics Department. To view the entire March issue, click HERE.
IOWA CITY, Iowa — Kathleen Doyle heard rumblings while the surprisingly successful University of Iowa women's basketball season rolled on.
Maybe the chatter began the first week of January when the Hawkeyes knocked off co-Big Ten regular season champions Northwestern on the road and four days later, Maryland at home. If Doyle's name wasn't mentioned as a possible Big Ten Player of the Year candidate then, it certainly was after the senior guard's 31-point, 10-assist, nine-rebound performance against Indiana on Jan. 12.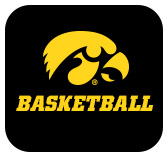 "I didn't focus on it at all," Doyle said. "I just tried to play hard all the time."
Doyle was named Big Ten Player of the Year by coaches and media March 2 after helping Iowa to a record of 23-7 overall, 14-4 in the Big Ten. She led the league in assists with 6.3 per game and was fourth in scoring at 18.1 points per game.
It is the third straight season where a Hawkeye has been named Big Ten Player of the Year. Megan Gustafson earned the honor in 2017-18 by media, and by coaches and media in 2018-19. Prior to that, the last Iowa player to earn Player of the Year was Tangela Smith in 1997-98.
"It's special to bring three players of the year in a row to Iowa," Doyle said. "It's not something you think about going into the season. I was thinking about team standings and wanting our team to be at the top. Individual success only comes after team success; it is all the hard work my coaches and teammates put in together that makes it pay off in the end."
On March 19, Doyle added to her resume by being named third-team All-America by The Associated Press. Through the years, seven Hawkeyes have earned 10 All-America awards from the AP, and Doyle joins Megan Gustafson (first team in 2019; second team, 2018), and Samantha Logic (third team, 2015) as the only players from Iowa to land on one of the AP top three teams.
In preseason Big Ten team predictions released Oct. 21, Iowa was nowhere to be found in the top five from either coaches or media. Doyle was projected to be first-team all-conference, but it was Maryland's Kaila Charles who was expected to succeed Gustafson as Player of the Year.
Doyle, a 5-foot-9 guard from LaGrange Park, Illinois, scored 19 points in the Big Ten opener at Nebraska on Dec. 28, then continued to score in double figures for the next 17 regular season games. Nine times she scored 20-or-more points in a Big Ten game, including 33 against Illinois on Dec. 31 and 31 against Indiana. She handed out a school-record 15 assists against Nebraska on Feb. 6.
Meanwhile, the Hawkeyes put together a nine-game Big Ten winning streak from Dec. 31 to Jan. 30 and ended the season alone in third place. They have won 36 consecutive home games, second-longest streak in the nation.
"I'm thankful the media and coaches thought that highly of me, and it's hard to say why they chose me," Doyle said. "Part of it might have been that we had a better year than people thought we were going to have."
For her career, Doyle played in 123 games (starting 114) and finished second in Iowa history with 706 assists (5.7 per game), fourth with 238 steals (1.9), and 13th with 1,537 points (12.5).
Doyle isn't the only decorated Hawkeye. Sophomore center Monika Czinano was first-team All-Big Ten by media and second team by coaches; senior guard Makenzie Meyer was a consensus second-team selection; McKenna Warnock was named to the All-Freshman team by coaches.
Czinano led the Big Ten and was second in the nation with a 67.9 field goal percentage. Meyer led the Big Ten in free throw percentage (84.3) and was second in 3-point field goals (77, 2.6 per game).
"We swept up in the awards," Iowa head coach Lisa Bluder said. "I'm happy for those young women."