Hawkeye Fan Shop — A Black & Gold Store | 24 Hawkeyes to Watch 2019-20 | Hawk Talk Monthly — March
By DARREN MILLER
hawkeyesports.com
IOWA CITY, Iowa — Bill and Kathy Castle made a decision, one that would preserve their sanity as well as a few pieces of living room furniture.
 
With 3-year-old daughter Erin metaphorically — OK, literally — bouncing off the walls of their home in Boone, Iowa, something needed to be done to manage her vigor. Mom and dad Castle were track and field athletes at Northern Iowa, but their solution was to enroll Erin in gymnastics.
 
There, they reasoned, if Erin was bouncing off walls, at least there would be padding.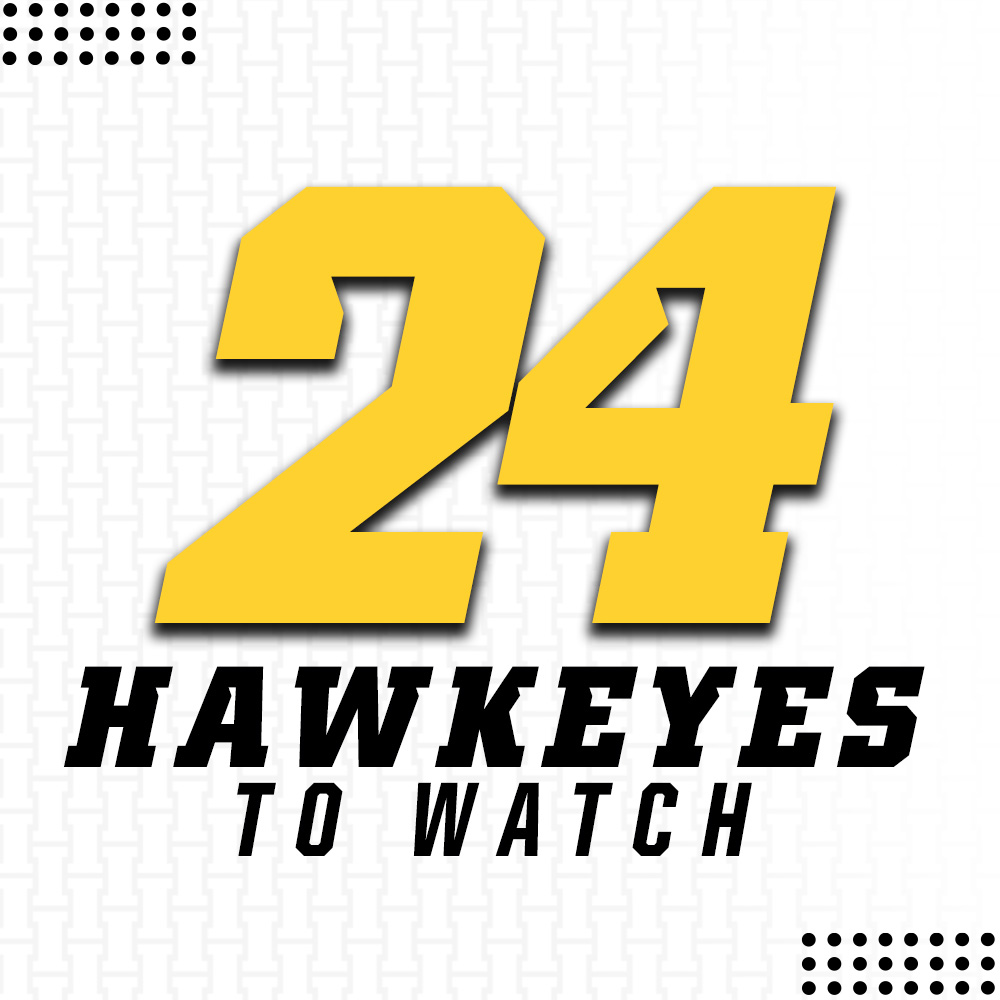 "I needed to be somewhere safe to expend my energy," Erin said. "I don't know why they chose gymnastics, my family is kind of a running family."
 
Castle sampled other sports — soccer, basketball, and softball — but gymnastics was her passion. The University of Iowa junior just completed her first season as an all-around performer and expectations are soaring into 2021.
 
The Iowa Girls High School Athletic Union hasn't sanctioned gymnastics since 1988, so from her initiation into the sport until her freshman year of high school, Castle was affiliated with a club gym in Ames, Iowa. As a high school freshman, Castle switched to Triad Gymnastics in Ankeny, Iowa, a year after she earned Level 10 status, the highest level in the USA Gymnastics Junior Olympics Program.
 
"I got to Level 10, but I knew I still wasn't quite there skill-wise," Castle said. "Then I switched clubs, they broke down my skills and cleaned everything up and made me more college-focused."
 
As a high school sophomore, she committed to the University of Iowa.
 
"I loved the coaches, loved the team," Castle said. "It felt like it was the right place for me. The coaches made it feel like I was going to be taken care of and they cared a lot about not just gymnastics, but the person that I was."
 
That meant a family in Boone that previously supported Northern Iowa and Iowa State needed to make room for black and gold.
 
"For the first couple years after I committed, my sisters refused to wear Iowa clothing," Castle said. "Once I was competing, they started wearing it a little more."
 
As a high school junior in 2016, Castle placed 13th on bars at nationals. In 2017, she was state club champion on bars and third in all-around. She placed sixth in all-around at regionals. 
 
But her career at Iowa got off to a slow start. In the beginning of November of 2017, she suffered a stress fracture in her back and sat out a month. She participated in two exhibitions while acclimating to collegiate gymnastics, but they didn't go as planned. She got back on the vault as an alternate for the Big Ten Championships, then a fractured foot ended her freshman season.
 
"Looking back, I didn't realize how much I needed my coaches for me to succeed here," Castle said. "I'm a different person than when I walked in as a freshman. I have mental challenges when it comes to gymnastics, so (head coach) Larissa (Libby) and the coaching staff helped me overcome those things with their patience. They helped me become better than I ever thought I could be."
 
As a sophomore in 2019, Castle competed on floor in every meet, as well as twice on the vault. She recorded a season-high 9.825 on floor and 9.775 on vault against Oregon State, North Carolina, and Seattle Pacific on March 15, in Corvallis, Oregon. She returned to Oregon less than a month later for the NCAA Corvallis Regional, where Castle scored 9.800 on floor and 9.750 on vault.
 
Castle was enjoying her finest season as a Hawkeye in 2020 when on March 12 it was canceled by the NCAA because of the coronavirus pandemic. Ten times she competed on floor (season-high 9.875), seven times on bars (9.850), six times on beam (9.800), and once on vault (9.675). Castle competed in the all-around competition at the Big Five Meet on Feb. 25 in Toledo, Ohio (39.100). Her season scores on beam, bars, and all-around are career-highs.
 
"This year was the most fun," Castle said. "I broke into competing in all four of the events and that was something I always wanted to do."
 
There was a specific and personal highlight for Castle when on March 6, the GymHawks defeated Iowa State in Ames, 196.425-196.225.
 
"I grew up going to Iowa State gymnastics meets at Hilton Coliseum," Castle said. "To go back to Hilton and compete in front of friends from high school and my family and end up beating Iowa State was very cool."
 
Even that is nothing compared to what Castle anticipates for 2021. The GymHawks return all their routines and will receive a boost from a strong incoming freshman class.
 
"We will build off this past season and we know the direction our program is going," Castle said. "We can be Big Ten champs and we can make it to nationals. That's a big goal, but it is possible."