Hawkeye Fan Shop — A Black & Gold Store | 24 Hawkeyes to Watch 2019-20 | Hawk Talk Monthly — March | Wirfs 'Nervous, Anxious, Excited' as Draft Day Nears | NFL Draft Central | Tristan Wirfs Photo Gallery | Wirfs Selected by Buccaneers in 1st Round of NFL Draft
By DARREN MILLER
hawkeyesports.com
IOWA CITY, Iowa — In January, Tristan Wirfs traded the 2000 Chevrolet Impala he has driven since his sophomore year of high school for a new truck. What could a first-round NFL draft pick wish for now?
"I might order a new pair of shoes," Wirfs told reporters Friday during a 20-minute Zoom teleconference. "I have been needing a new pair of shoes for a while."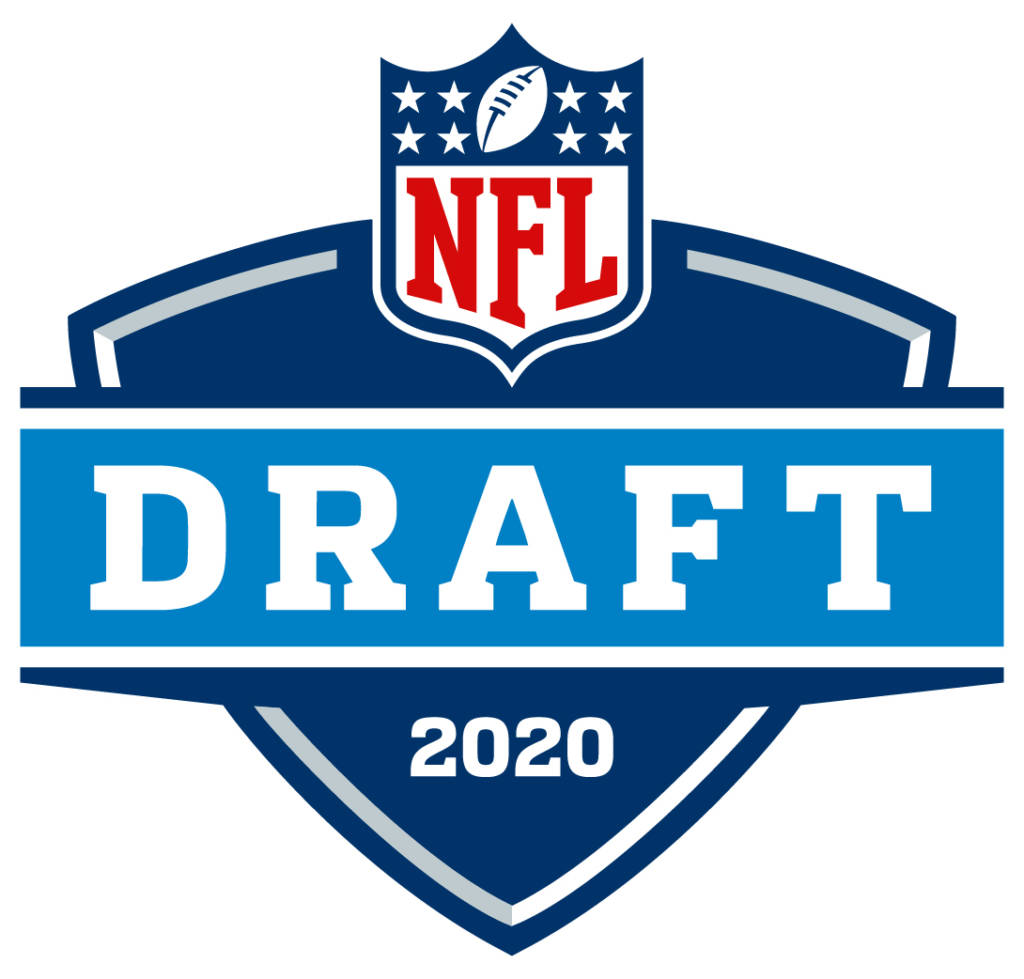 That shouldn't be a financial burden for Wirfs, the University of Iowa junior offensive tackle selected 13th overall by Tampa Bay during the opening round of Thursday's NFL Draft. The Buccaneers traded up a spot to take Wirfs, a 6-foot-5, 322-pounder from Mount Vernon, Iowa.
Tampa Bay has had a busy offseason, signing Hall of Fame quarterback Tom Brady in March and tight end Rob Gronkowski last week.
"I couldn't think of a better situation," Wirfs said. "Getting to block for Tom Brady and getting to play next to Rob Gronkowski; I'm ecstatic with how everything went. I can't wait to get down to Tampa and start working."
Wirfs said he has spent his life in a "30-mile bubble" between Mount Vernon and Iowa City, so he looks forward to a move to Florida.
Here are a few highlights of Wirfs' interview:
On protecting Brady, who won six Super Bowls with the New England Patriots
"He has to put his trust in me to protect him. Doing something like that during your rookie season is going to be a great experience. I'm excited to learn from him; he has been a student of the game who has been in the league for 20 years."
We'll Call Back on Monday
Wirfs had difficulty hearing members of the Tampa Bay organization when they called Thursday evening to congratulate the newest Buccaneer. They hope for a better connection at a later date.
"A whole clan in Mount Vernon was in my back yard, cars were flying by in front of my house honking, so [the Tampa Bay representatives] said they would give me a call Monday."
Reuniting with Hawkeye Anthony Nelson with Buccaneers
"He might have been the first person to text me. He taught me so much about pass rushers my freshman and sophomore seasons. We did player reports on each other; he gave me a scouting report on what I could do better, and I tried to give one on him.
"I love Anthony, it will be fun being his teammate again."
Watching as Other Tackles were Selected in the First Round
"It was different seeing those three tackles go before me. I'm a competitive person and it was a stinger for a little bit. Being able to go to the Bucs and being in the situation I'm in now, I would 100 percent have it this way. It stung a little bit at first, then it went away quick."
What Number?
Wirfs said guard Ali Marpet from Hobart reached out to him after the draft. Marpet wears No. 74 with the Buccaneers and informed Wirfs it is time to look for a new number.
"I was like, that's fine," Wirfs said.
Thoughts on A.J. Epenesa Sill on the Board
Wirfs spoke to defensive end A.J. Epenesa on Thursday prior to the draft.
"He said 'You're my uso (brother in Samoan) for life,'" Wirfs said.
"People just need to put on the tape and see what he does on the field. A lot of teams missed out and someone will get an absolute steal in the draft. He will get there with a chip on his shoulder and he will be a force."
A Call from the Head Hawkeye, Kirk Ferentz
"He called (Thursday), wished me luck and said he was proud of me. He has been so supportive through this whole process. He wished me luck before the NFL Combine, congratulated me after the Combine. I love coach Ferentz, I always will. He has been the best coach I have ever had and I know there are 100 other guys who can say the same thing."
To read the University of Iowa's NFL Draft Central Page, click HERE.
HAWKEYES DRAFTED DURING FERENTZ ERA
2020 NFL Draft
Round 1
Tristan Wirfs
Tampa Bay Buccaneers
Offensive Tackle
2019 NFL Draft
Round 1
T.J. Hockenson
Detroit Lions
Tight End
Round 1
Noah Fant
Denver Broncos
Tight End
Round 4
Anthony Nelson
Tampa Bay Buccanners
Defensive End
Round 4
Amani Hooker
Tennessee Titans
Defensive Back
2018 NFL Draft
Round 2
James Daniels
Chicago Bears
Offensive Line
Round 2
Josh Jackson
Green Bay Packers
Defensive Back
Round 4
Josey Jewell
Denver Broncos
Linebacker
2017 NFL Draft
Round 3
C.J. Beathard
San Francisco 49ers
Quarterback
Round 4
Jaleel Johnson
Minnesota Vikings
Defensive Line
Round 5
George Kittle
San Francisco 49ers
Tight End
Round 5
Desmond King
Los Angeles Chargers
Defensive Back
2016 NFL Draft
Round 7
Austin Blythe
Indianapolis Colts
Offensive Line
2015 NFL Draft
Round 1
Brandon Scherff
Washington Redskins
Offensive Line
Round 3
Carl Davis
Baltimore Ravens
Defensive Line
Round 4
Andrew Donnal
St. Louis Rams
Offensive Line
2014 NFL Draft
Round 3
C.J. Fiedorowicz
Houston Texans
Tight End
Round 3
Christian Kirksey
Cleveland Browns
Linebacker
Round 4
Anthony Hitchens
Dallas Cowboys
Linebacker
2013 NFL Draft
Round 5
Micah Hyde
Green Bay Packers
Cornerback
2012 NFL Draft
Round 1
Riley Reiff
Detroit
Offensive Line
Round 4
Mike Daniels
Green Bay
Defensive Line
Round 5
Adam Gettis
Washington
Offensive Line
Round 5
Shaun Prater
Cincinnati
Defensive back
Round 6
Marvin McNutt
Philadelphia
Wide receiver
Round 7
Jordan Bernstine
Washington
Defensive back
2011 NFL Draft
Round 1
Adrian Clayborn
Tampa Bay
Defensive end
Round 4
Christian Ballard
Minnesota
Defensive Line
Round 5
Ricky Stanzi
Kansas City
Quarterback
Round 5
Karl Klug
Tennessee
Defensive Line
Round 5
Julian Vandervelde
Philadelphia
Offensive Line
Round 6
Tyler Sash
New York Giants
Defensive back
2010 NFL Draft
Round 1
Bryan Bulaga
Green Bay
Offensive Line
Round 2
Pat Angerer
Indianapolis
Linebacker
Round 3
Amari Spievey
Detroit
Defensive back
Round 3
Tony Moeaki
Kansas City
Tight end
Round 4
A.J. Edds
Miami
Linebacker
Round 7
Kyle Calloway
Buffalo
Offensive Line
2009 NFL Draft
Round 3
Shonn Greene
New York Jets
Running back
Round 3
Bradley Fletcher
St. Louis
Defensive back
Round 4
Seth Olsen
Denver
Offensive Line
Round 6
Brandon Myers
Oakland
Tight end
2008 NFL Draft
Round 3
Charles Godfrey
Carolina
Defensive back
Round 4
Kenny Iwebema
Arizona
Defensive end
Round 6
Mike Humpal
Pittsburgh
Linebacker
2007 NFL Draft
Round 3
Marshal Yanda
Baltimore
Offensive Line
Round 4
Scott Chandler
San Diego
Tight end
Round 7
Mike Elgin
New England
Offensive Line
2006 NFL Draft
Round 1
Chad Greenway
Minnesota
Linebacker
Round 3
Abdul Hodge
Green Bay
Linebacker
2005 NFL Draft
Round 2
Matt Roth
Miami
Defensive end
Round 2
Jonathan Babineaux
Atlanta
Defensive Line
Round 4
Sean Considine
Philadelphia
Defensive Back
Round 6
Tony Jackson
Seattle
Tight end
Round 6
Pete McMahon
Oakland
Offensive Line
2004 NFL Draft
Round 1
Robert Gallery
Oakland
Offensive Line
Round 2
Bob Sanders
Indianapolis
Defensive Back
Round 3
Nate Kaeding
San Diego
Place kicker
Round 7
Jared Clauss
Tennessee
Defensive Line
Round 7
Erik Jensen
St. Louis
Tight end
2003 NFL Draft
Round 1
Dallas Clark
Indianapolis
Tight end
Round 2
Eric Steinbach
Cincinnati
Offensive Line
Round 2
Bruce Nelson
Carolina
Center
Round 5
Derek Pagel
New York Jets
Defensive Back
Round 5
Ben Sobieski
Buffalo
Offensive Line
2002 NFL Draft
Round 2
Ladell Betts
Washington
Running Back
Round 5
Aaron Kampman
Green Bay
Defensive Line
Round 6
Kahlil Hill
Atlanta
Wide receiver
2001 NFL Draft
Round 6
Kevin Kasper
Denver
Wide receiver
2000 NFL Draft
Round 5
Austin Wheatley
New Orleans
Tight end
Round 6
Matt Bowen
St. Louis
Defensive Back
Gallery: (4/20/2020) Tristan Wirfs Through the Years