Hawkeye Fan Shop — A Black & Gold Store | 24 Hawkeyes to Watch 2019-20 | Hawk Talk Monthly — March | NFL Draft Central | Wirfs 'Nervous, Anxious, Excited' as Draft Day Nears | Tristan Wirfs Photo Gallery
BRONXVILLE, N.Y. — University of Iowa junior offensive lineman Tristan Wirfs was selected by the Tampa Bay Buccaneers in the first round of Thursday's NFL Draft. Wirfs was the 13th player picked overall.
"The upside for Wirfs is through the roof," said Mel Kiper, Jr., ESPN draft analyst. "He has a chance to be really good; that's (head coach) Kirk Ferentz's specialty at Iowa. He gets Wirfs to this level, now (Wirfs) needs to step up another notch to be a Pro Bowl-caliber player protecting (Tampa Bay quarterback) Tom Brady."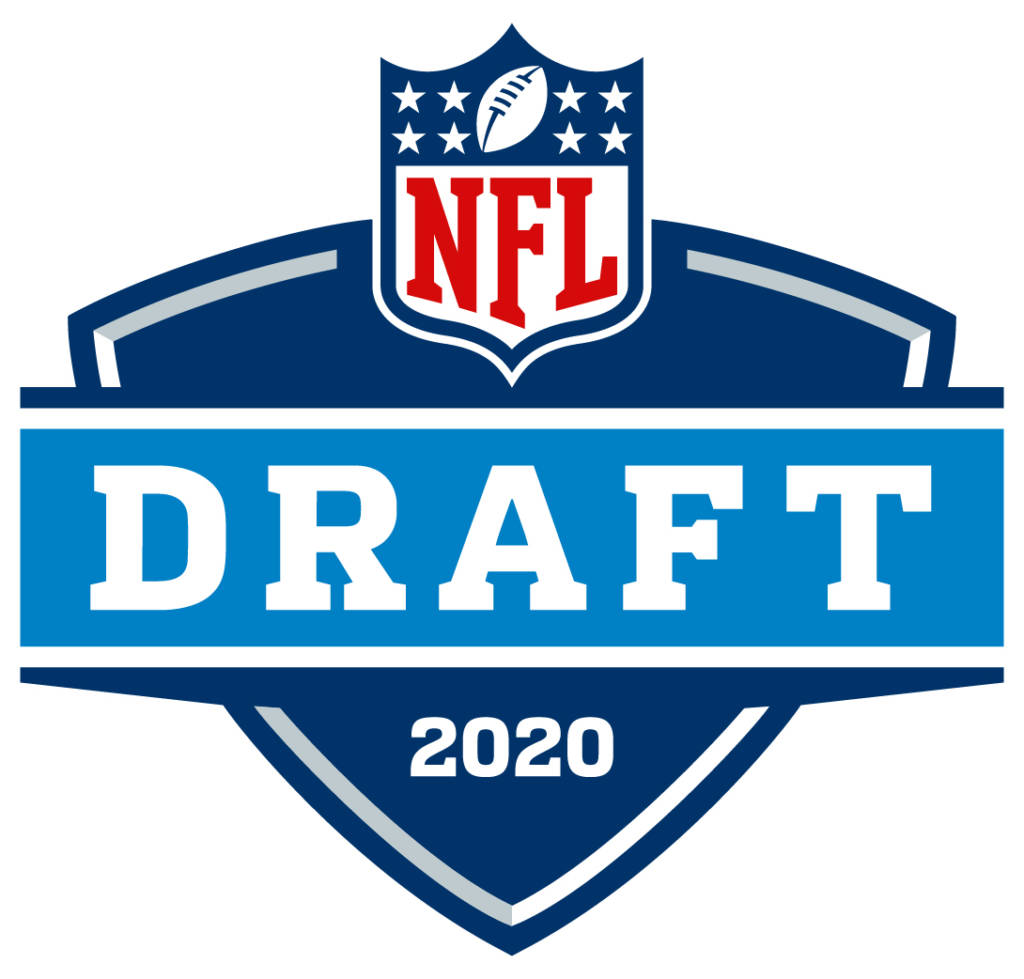 The Rimington-Pace Offensive Lineman of the Year in the Big Ten Conference, Wirfs was named first-team All-America by Football Writers and Walter Camp. He was named first-team All-Big Ten by league coaches and media.
 
With the 6-foot-5, 322-pound Wirfs on the offensive line last season, the Hawkeyes won 10 games and averaged 366.5 yards (229 passing, 138 rushing) and 25.8 points per game.
 
In 2017, Wirfs, a native of Mount Vernon, Iowa, became the first true freshman to start for Ferentz at either offensive tackle position.   
 
Iowa has had eight offensive linemen selected in the NFL Draft in the last decade and 18 during the Ferentz era.
The Buccaneers traded up one spot to select Wirfs, who will help protect the recently acquired Brady. Last season, Tampa Bay led the NFL with 302.8 passing yards per game, was third in scoring offense (28.6 points per game) and third in total offense (397.9 yards per game). The Buccaneers were 24th out of 32 teams with 95.1 rushing yards per game. 
"The Buccaneers got a steal here," said Booger McFarland, ESPN analyst.
"With his size, (Wirfs) can man-handle people at the line of scrimmage," Kiper said.
Wirfs will rejoin Hawkeye teammate Anthony Nelson, who is in his second season with Tampa Bay. Wirfs and Nelson played together in Raymond James Stadium on Jan. 1, 2019 when Iowa defeated Mississippi State, 27-22, in the Outback Bowl.
Iowa has had at least one player drafted in every NFL Draft since 1978, including 10 first round selections. Five of those first-rounders have been offensive linemen. Wirfs is the 71st player coached by Ferentz at Iowa to be selected in the NFL Draft.
 
Entering Thursday, Iowa has 17 consecutive draft choices remaining active in the NFL, second only to Michigan's 19.
To read the University of Iowa's NFL Draft Central Page, click HERE.
 
HAWKEYES DRAFTED DURING FERENTZ ERA
2020 NFL Draft
Round 1
Tristan Wirfs
Tampa Bay Buccaneers
Offensive Tackle
2019 NFL Draft
Round 1
T.J. Hockenson
Detroit Lions
Tight End
Round 1
Noah Fant
Denver Broncos
Tight End
Round 4
Anthony Nelson
Tampa Bay Buccanners
Defensive End
Round 4
Amani Hooker
Tennessee Titans
Defensive Back
2018 NFL Draft
Round 2
James Daniels
Chicago Bears
Offensive Line
Round 2
Josh Jackson
Green Bay Packers
Defensive Back
Round 4
Josey Jewell
Denver Broncos
Linebacker
2017 NFL Draft
Round 3
C.J. Beathard
San Francisco 49ers
Quarterback
Round 4
Jaleel Johnson
Minnesota Vikings
Defensive Line
Round 5
George Kittle
San Francisco 49ers
Tight End
Round 5
Desmond King
Los Angeles Chargers
Defensive Back
2016 NFL Draft
Round 7
Austin Blythe
Indianapolis Colts
Offensive Line
2015 NFL Draft
Round 1
Brandon Scherff
Washington Redskins
Offensive Line
Round 3
Carl Davis
Baltimore Ravens
Defensive Line
Round 4
Andrew Donnal
St. Louis Rams
Offensive Line
2014 NFL Draft
Round 3
C.J. Fiedorowicz
Houston Texans
Tight End
Round 3
Christian Kirksey
Cleveland Browns
Linebacker
Round 4
Anthony Hitchens
Dallas Cowboys
Linebacker
2013 NFL Draft
Round 5
Micah Hyde
Green Bay Packers
Cornerback
2012 NFL Draft
Round 1
Riley Reiff
Detroit
Offensive Line
Round 4
Mike Daniels
Green Bay
Defensive Line
Round 5
Adam Gettis
Washington
Offensive Line
Round 5
Shaun Prater
Cincinnati
Defensive back
Round 6
Marvin McNutt
Philadelphia
Wide receiver
Round 7
Jordan Bernstine
Washington
Defensive back
2011 NFL Draft
Round 1
Adrian Clayborn
Tampa Bay
Defensive end
Round 4
Christian Ballard
Minnesota
Defensive Line
Round 5
Ricky Stanzi
Kansas City
Quarterback
Round 5
Karl Klug
Tennessee
Defensive Line
Round 5
Julian Vandervelde
Philadelphia
Offensive Line
Round 6
Tyler Sash
New York Giants
Defensive back
2010 NFL Draft
Round 1
Bryan Bulaga
Green Bay
Offensive Line
Round 2
Pat Angerer
Indianapolis
Linebacker
Round 3
Amari Spievey
Detroit
Defensive back
Round 3
Tony Moeaki
Kansas City
Tight end
Round 4
A.J. Edds
Miami
Linebacker
Round 7
Kyle Calloway
Buffalo
Offensive Line
2009 NFL Draft
Round 3
Shonn Greene
New York Jets
Running back
Round 3
Bradley Fletcher
St. Louis
Defensive back
Round 4
Seth Olsen
Denver
Offensive Line
Round 6
Brandon Myers
Oakland
Tight end
2008 NFL Draft
Round 3
Charles Godfrey
Carolina
Defensive back
Round 4
Kenny Iwebema
Arizona
Defensive end
Round 6
Mike Humpal
Pittsburgh
Linebacker
2007 NFL Draft
Round 3
Marshal Yanda
Baltimore
Offensive Line
Round 4
Scott Chandler
San Diego
Tight end
Round 7
Mike Elgin
New England
Offensive Line
2006 NFL Draft
Round 1
Chad Greenway
Minnesota
Linebacker
Round 3
Abdul Hodge
Green Bay
Linebacker
2005 NFL Draft
Round 2
Matt Roth
Miami
Defensive end
Round 2
Jonathan Babineaux
Atlanta
Defensive Line
Round 4
Sean Considine
Philadelphia
Defensive Back
Round 6
Tony Jackson
Seattle
Tight end
Round 6
Pete McMahon
Oakland
Offensive Line
2004 NFL Draft
Round 1
Robert Gallery
Oakland
Offensive Line
Round 2
Bob Sanders
Indianapolis
Defensive Back
Round 3
Nate Kaeding
San Diego
Place kicker
Round 7
Jared Clauss
Tennessee
Defensive Line
Round 7
Erik Jensen
St. Louis
Tight end
2003 NFL Draft
Round 1
Dallas Clark
Indianapolis
Tight end
Round 2
Eric Steinbach
Cincinnati
Offensive Line
Round 2
Bruce Nelson
Carolina
Center
Round 5
Derek Pagel
New York Jets
Defensive Back
Round 5
Ben Sobieski
Buffalo
Offensive Line
2002 NFL Draft
Round 2
Ladell Betts
Washington
Running Back
Round 5
Aaron Kampman
Green Bay
Defensive Line
Round 6
Kahlil Hill
Atlanta
Wide receiver
2001 NFL Draft
Round 6
Kevin Kasper
Denver
Wide receiver
2000 NFL Draft
Round 5
Austin Wheatley
New Orleans
Tight end
Round 6
Matt Bowen
St. Louis
Defensive Back
Gallery: (4/20/2020) Tristan Wirfs Through the Years