Hawk Talk Monthly — May | Hawkeye Fan Shop — A Black & Gold Store | 24 Hawkeyes to Watch 2019-20
IOWA CITY, Iowa — University of Iowa football strength and conditioning coach Chris Doyle participated in a 30-minute Zoom news conference Wednesday for more than 20 members of the local news media.
 
Here are highlights: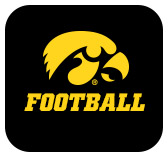 We're all in the same boat
Doyle emphasized that Iowa isn't the only football program on an island and working remotely. But he wants to use the time away from organized training to give the Hawkeyes an edge when camps reopen.
 
"Everybody in college football is experiencing these exact same challenges and we have to do it better than everybody else," Doyle said. "Stress and adversity tend to break the weak and strengthen the strong. It's our job to create an advantage for Iowa football.
 
"As we come out of (the COVID-19 pandemic), it's our job to have developed routines, habits and the necessary resolve that galvanizes us and we hit the ground running, whenever that is."
 
Recipe for student-athlete success
When news broke about the coronavirus pandemic March 12, the first requirement of every Iowa football student-athlete was to stay safe and follow guidelines of experts. From there, the Hawkeye coaching staff had four more objectives.
 
Said Doyle: "As far as being a successful student-athlete, it was, 1) get into a routine, 2) was academics; make sure we do a good job adjusting to remote learning so we don't do anything that would interfere with our eligibility moving forward or interfere with the fall, 3) training, 4) nutrition."
 
8 weeks of improvement
One of the biggest highlights for Iowa football was that before team gatherings were canceled March 12, the Hawkeyes had completed an impressive winter training program.
 
"That was one very positive thing to the semester," Doyle said. "We were able to have a strong and complete offseason before we went into spring break."
 
Week 4 gains
As the Hawkeyes went through a first, somewhat uncertain three-week training phase, they entered a second three-week phase that offered more stability.
 
"We progressed into another three-week phase where we were able to narrow our focus and get to more normalized training plans," Doyle said. "Once they got established where they were going to be during this phase, it allowed us to accelerate and do a better job of improving the programming and improving what we were doing."
 
Developing 4 programs
Doyle and the strength and conditioning staff rolled with the punches when the coronavirus pandemic hit. They developed workout plans in four categories, and the workouts were individualized from there. 
 
The programs were:
 
1) Kids had access to a facility
2) Garage gym program with access to a barbell and rack
3) Access to only a dumbbell or a kettle bell
4) Body weight only
 
"Primarily, most of our guys have access to a facility or to a garage gym and we've been able to help piecemeal things together with garage gyms in the area," Doyle said. "Guys can get work in, nobody is on a body weight only program, everybody has something. 
 
"They have a kettle bell, dumbbell, weighted vest… everybody has something at this point."
 
A solid foundation
Doyle was pleased with the gains the team made from January to March before the pandemic hit and the Hawkeye championship culture made the transition to offsite training and communication as seamless as possible.
 
"We had our Hawkeye championship teams in place," Doyle said. "We had that format built-in, where we had the team broken into groups of 17 guys, two captains per team with a strength and position coach assigned to every team. There was a significant leadership hierarchy that we plugged in.
 
"If you don't have those systems in place, you end up paying for it. If you're built to be anti-fragile, when you have systems in place when adversity strikes or there is some stress on the system, if you have strong communication, you tend to handle that and that randomness can create a strengthening mode."
 
Circa de 1999
Doyle is applying some of his old methods when it comes to educating the Hawkeye student-athletes on proper refueling and nutrition without training tables at his disposal.
 
"There was a time in the 90s when we were giving the guys shopping lists to say what to buy at Hy-Vee," Doyle said. "Now (before the pandemic) we provide food, they go upstairs to the All-American Room and they get great meals. They go to a refueling station.
 
"Now we're providing shopping lists, how do you fill your refrigerator and how do you prepare a simple meal because they don't cook anymore?"
 
NFL Opportunity
Five Hawkeyes had their names called in the 2020 NFL Draft last weekend and three others signed undrafted free agent deals to continue their careers as professionals.
 
"Anytime you see that one of your players is afforded the opportunity to live a lifelong dream on putting on an NFL uniform, you get excited for them," Doyle said.