Hawk Talk Monthly — May | 24 Hawkeyes to Watch 2019-20 | Hawkeye Fan Shop — A Black & Gold Store
By DARREN MILLER
hawkeyesports.com
IOWA CITY, Iowa — Butch Caldwell seemingly had it all.
 
The dual-threat quarterback from Dayton, Ohio, possessed a strong throwing arm, legs that could zig-zag around defenders, and a durability to thrive in the 1970s when the sport was, well, hard-hitting, hammering football.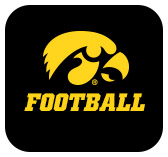 Yes, Caldwell seemingly had it all. He had the fame that comes with being most valuable player on the 1976 University of Iowa football team, a recognition derived from 616 passing yards, three passing touchdowns, 389 rushing yards, and four more scores on the ground.
 
But Caldwell lacked one thing. It was absent in the spring of 1977 when he should have walked across the stage at commencement, and it remained missing until May 16, 2020. That is the day Caldwell will receive a diploma in communication studies with a minor in television and film production — 43 years after his original expected graduation date.
 
"This is very rewarding," Caldwell said. "I had tears in my eyes. This makes me appreciate what I didn't appreciate before. It is gratifying, and I was looking forward to going across that stage."
 
Because of the coronavirus pandemic, Caldwell will not get to clutch his diploma, shake hands with an academic dignitary, or pose for photos on stage in cap and gown. Always the optimist, he looks at it as another brush with history.
 
"I was one of the first African-American quarterbacks to start at a major university," he said. "And I'm in the first class to graduate that didn't get to march because of the coronavirus. I will make history again."
 
In Caldwell's first tour as a University of Iowa student-athlete from 1972-77, he pursued a degree in general studies, which did not require a foreign language. Iowa no longer offers that degree, so in order to major in communication studies, Caldwell needed to complete an additional 35 semester hours — including four Spanish courses. He will take two Spanish classes this summer before he officially has a degree.
 
Things have evolved in academia since Caldwell enrolled at Iowa in 1972.
 
"I feel like Fred Flintstone visiting George Jetson," he said.
 
From Bedrock to Orbit City, this is how Caldwell made it from his home in Dayton, Ohio, to Iowa City, Iowa, in 1972. He was among the most coveted high school recruits in the nation and narrowed his choices to Michigan, Ohio State, Southern California, Tennessee, and Iowa. The Hawkeyes were coming off a 1-10 season in 1971, the first under head coach Frank Lauterbur. Caldwell knew freshmen were eligible to play varsity football for the first time beginning in 1972, but Bo Schembechler at Michigan, Woody Hayes at Ohio State, and John McKay at Southern California, weren't interested in throwing a rookie into the fire of major college football.
 
Iowa assistant coach Jack Harbaugh recruited Caldwell.
 
"Jack Harbaugh promised he would do the best he could to get me on the field right away," Caldwell said. "That's all I needed. He said, 'If you're good enough to start, you will be starting.'"
 
In Iowa's fourth game of the 1972 season, Caldwell saw action at quarterback against Purdue. When his career ended in 1976 (he missed the 1974 season when he had his appendix removed), Caldwell had thrown for 1,651 yards and seven touchdowns and run for 1,061 yards and 12 touchdowns.
 
A highlight of his senior season came at No. 11 Penn State. He carried the ball on three of the first four plays — and 17 times in the game — as Iowa won, 7-6.
 
"Everyone told us we were going to get stomped," Caldwell said. "We went up there and they carried me off the field: It was either bootlegs, option or I had to scramble. I was so tired, drained, and couldn't move. It was a big win."
 
In his final game, Iowa crushed Michigan State, 30-17. It was the Hawkeyes' first win at Spartan Stadium since 1960.
 
After the season, Caldwell signed a free agent contract with the Baltimore Colts, but tore a hamstring on a kickoff return. He tried playing in Canada but returned to the United States and signed as an undrafted free agent with the San Francisco 49ers. Another torn hamstring ended his professional career.
 
Caldwell spent more than 30 years coaching high school football and girls' track and field. He also worked several football camps where he preached faith, family, education, and sports — in that order. After years delivering that sermon, Caldwell looked in a mirror and wasn't satisfied with the reflection.
 
"I was a hypocrite," he said. "Here I am telling these kids about their education when I needed to do something about mine."
 
For more than 25 years Caldwell thought of returning to Iowa to finish his degree. Then one October at a Hawkeye football game, he broached the subject with Andy Piro, executive director of the Varsity Club. Piro put Caldwell in touch with Liz Tovar, who as associate athletics director, Student-Athlete Academic Services, oversees Iowa's Degree Completion Program. After filling out a few forms, Caldwell was ready to again become a student.
 
Caldwell was living on a fixed income through social security and looking for housing in Iowa City. Nothing came open for two weeks, so he bounced from hotel room to hotel room and even bunked in the back seat of his car. Iowa head football coach Kirk Ferentz and Ben Hansen, assistant director of football operations, called another former Hawkeye, Mitch King, who hooked Caldwell up with a place to live.
 
"That shows you that once a Hawk, always a Hawk," Caldwell said. "I have always said that Iowa has the best fans and the most generous people I have met in my life and I have been all over the world. I love it here and I love the people."
 
Tovar calls Caldwell's situation a unique, special story. She said it proves it is never too late to earn your college diploma and that Iowa's Degree Completion Program is open to any former Hawkeye who wants to return.
 
"We are committed to student-athlete success regardless of how long you have been removed from the University of Iowa," Tovar said. "Butch comes into our building, has a backpack on and he is ready to go to a tutorial session. My goal is that more former student-athletes will reach out to our office in the event we can help them complete their degree."
 
Life won't change much for Caldwell after receiving the diploma and he isn't sure about accepting a fulltime job. After all, there are grandchildren and great grandchildren to spoil. But first, there will be a family party for the 66-year-old graduate.
 
"They're more excited about it than I am," Caldwell said.
 
It will be frosting on the cake for a guy who has it all.