By JAMES ALLAN
hawkeyesports.com
IOWA CITY, Iowa – Ihmir Smith-Marsette believes the University of Iowa football team has the offensive pieces to make the 2020 season a success.
The Hawkeyes return their top four wide receivers and top seven pass catchers from a 10-win team. The receiver quartet of Smith-Marsette, Nico Ragaini, Brandon Smith and Tyrone Tracy, Jr., combined for 163 catches, 2,189 yards and 15 touchdowns in 2019.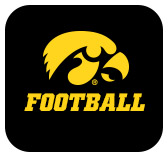 Iowa has its top two rushers back in Tyler Goodson and Mekhi Sargent. Goodson became the first Hawkeye true freshman to lead the team in rushing, finishing with 638 yards and five touchdowns.
The Hawkeyes have Sam LaPorta returning at tight end and the offensive line sees senior Alaric Jackson back at tackle and redshirt sophomore Tyler Linderbaum at center.
"We have everything we need," said Smith-Marsette.
The array of offensive weapons will be a boost in Spencer Petras' transition as Nate Stanley's replacement as the Hawkeyes' starting quarterback.
"I've thought about how dangerous and explosive this offense can be when things are rolling, especially when someone gets hot," said Smith-Marsette. "It could be wild."
Smith-Marsette has worked regularly with Petras since organized team activities were canceled March 12 because of the coronavirus pandemic. He says the 6-foot-5 Petras is similar to Stanley with his accuracy, but without the "fastball."
"Nate has a little more of a power arm, so the ball comes a little bit faster with more velocity," said Smith-Marsette. "Spencer is more of a touch person."
Smith-Marsette says the workouts have helped in developing chemistry so the Hawkeyes can hit the ground running when they are cleared to report.
"Being able to get out on the field and make adjustments with each other and tell each other what we like and don't like, that's how you get comfortable with somebody," said Smith-Marsette. "When it's time to come together again, it's going to be a well-oiled machine and we're going to roll with it."
"I've thought about how dangerous and explosive this offense can be when things are rolling, especially when someone gets hot. It could be wild."

Senior wide receiver Ihmir Smith-Marsette
Complacent? Not ISM…
Smith-Marsette had 44 receptions for a team-leading 722 yards and five touchdowns in 2019; he was one of the most prolific kick returners in the nation, averaging 29.6 yards with two kickoff returns for touchdowns.
As far as Smith-Marsette is concerned, nobody in the Iowa wide receiver room can be complacent.
"You have to continue to work like you still have to make a name for yourself and that's exactly how we continue to work," said Smith-Marsette. "Nobody has arrived, nobody is a guaranteed first round pick, second round pick, or third round pick and we don't have anybody in that room that's a guaranteed anything.
"You have to work like you're coming in and you still need a spot and that's the attitude we have. You can come out of quarantine and lose your spot because nobody has a solidified spot. Complacency is a big thing, but we still have a lot to prove. Nobody has 1,000 (receiving) yards in the room, nobody has 10 touchdowns, so it should be easy to stay hungry and to fight to want to do better and be better."
Fans or no fans…
Whether there are 69,000, 20,000, or zero fans inside Kinnick Stadium this fall, Smith-Marsette says the Hawkeyes will be ready to go.
"If it's playing without fans, you still have to show up and play," he said. "I'm going to show up to play and I believe everybody on my team is going to show up to play. We practice with no music, so I'm pretty sure we could play a game with just pads popping all day. If we have to do it that way, you can hear everything."