IOWA CITY, Iowa — Saying there is a fine line between demanding and demeaning, University of Iowa football head coach Kirk Ferentz on Sunday pledged a thorough investigation of his program in lieu of social media comments from former players that alluded to racial remarks made to them during their tenure as Hawkeyes.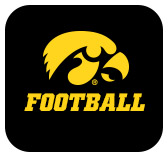 It is the second time in four days that Ferentz has met with media for a Zoom news conference in the aftermath of George Floyd's racially charged death in Minneapolis on May 25.
"I want to thank former players who have had the courage to speak out about their experience in our program and I'm very, very sorry for any hardships that any of them endured," Ferentz said. "If they didn't feel safe to speak freely, that is something I regret."
Ferentz was disappointed to hear the comments, saying it hit him hard. He began calling former players — black and white — immediately after being informed of the social media posts Friday. Ferentz remains steadfast on improving the program and moving it forward.
"I want to assure every player that their voices were heard, and their anger and frustration has been noted," Ferentz said. "We intend to do something to improve things.
"Our program is demanding; it has been demanding from the start. Players I heard from are largely appreciative of being part of a program where they can come in, show improvement and excel. A big point of distinction in life and coaching is that there is a difference between being demanding and potentially being demeaning. To me, for any player to feel demeaning is not acceptable."
Ferentz has already moved to create an advocate panel chaired by Mike Daniels, who played defensive tackle for the Hawkeyes from 2007-11. Daniels is currently an NFL free agent after stints with Green Bay and Detroit.
"I am confident it is going to cause more movement forward. Our players want to open up more than in any of my 21 years (as Iowa's head football coach). I look forward to starting that process and it will begin (June 8) with our players."

UI football head coach Kirk Ferentz
"Our goal is to identify how we can make the program more inclusive, welcoming, and safe for all our black players and all our players in general," Ferentz said.
As a result of student-athlete feedback, the Hawkeyes began relaxing a few team policies a season ago. Ferentz said there are more steps to take and more things to accomplish.
"That process will begin in earnest (June 8) when our players return to campus," he said.
Ferentz repeated the need to be a better listener, a point he also made Wednesday during the Zoom news conference. Being approachable and asking pointed questions must complement listening, he said.
"These things are tough and difficult and we have to do a better job of seeking that information and making sure players feel safe, respected and feel they can operate in a way that will allow them to do the things we're all committed to doing which is to grow, improve and push themselves," Ferentz said.
An initial wave of football staff returned to the Richard O. Jacobson Football Operations Building on June 1. On Monday, more staff and veteran players will return, and on June 15, more staff and first-year players will arrive.