IOWA CITY, Iowa – Nine University of Iowa women's gymnasts were named Women's Collegiate Gymnastics Association (WCGA) Scholastic All-America Award recipients, it was announced by the WCGA.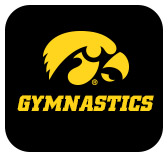 Iowa's recipients included: freshman Ariana Agrapides, sophomore Allie Gilchrist, sophomore Alex Greenwald, senior Clair Kaji, junior Maddie Kampschroeder, sophomore Bridget Killian, junior Ashley Smith, freshman Allyson Steffensmeier, and senior Charlotte Sullivan.
WGCA Scholastic All-American have a 3.5 overall grade point average or a 3.5 grade point average for 2019-20.
The Hawkeyes had the 45th-best team grade point average in the nation at 3.5622. Half of Iowa's roster earned the Scholastic All-America distinction.