By DARREN MILLER & JAMES ALLAN
hawkeyesports.com
IOWA CITY, Iowa — Calling the ability to test daily for the coronavirus a "game-changer," University of Iowa head football coach Kirk Ferentz and University of Iowa Henry B. and Patricia B. Tippie Director of Athletics Chair Gary Barta met with media Thursday for the first time since the Big Ten Conference announced it would begin an eight-game football schedule on the fourth weekend of October.
"We're raring to go, not ready to go," said Ferentz, who continually emphasized that student-athlete safety is at the forefront of any decisions moving forward.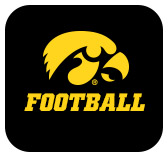 On Aug. 11, the Big Ten Conference announced the postponement of the 2020 fall sports season, including all regular-season contests and Big Ten Championships due to ongoing health and safety concerns related to the COVID-19 pandemic. That decision was altered for football and was made public Wednesday.
"The most important challenge any of us have now is our personal responsibility, whether it is masking, social-distancing, hygiene, social choices" Ferentz said. "This is going to be a challenge in terms of getting ready, because typically we have a three-week period where it is a football-only environment; that's one of the great things about preseason. It gets down to who can handle that challenge the best."
Final football schedules will be released soon, Barta said, after the Big Ten finishes consulting with television partners FOX, BTN, and ESPN.
While the recent news directly impacts the sport of football, it also set in motion conversations about a timeline for other sports to resume. Men's and women's basketball, for example, will begin their seasons Nov. 25.
"The path forward that has been created is critical for all of our sports," Barta said. "In order for any of our teams to play, this needed to be established. All of our sports will come under the same protocol as we go forward. This was a big day for football, but it was also a big day for all of our other sports."
The return of sports to college campuses should not and will not diminish the seriousness of the pandemic, Barta said.
"The pandemic is still with us and it is going to be with us for a while," he said. "We all anticipate it is serious and we take it that way."
Still, it is impossible to overlook the excitement Wednesday's news created, especially from football student-athletes. As he strolled through the Stew and Lenore Hansen Football Performance Center, Barta noticed an extra spring in their step and a few more smiles. Ferentz agreed.
"It was exciting for our players to get that news (Wednesday)," Ferentz said. "To see their faces…a total different demeanor and tone. The biggest issue this whole time has been about our players, what is best for them and their health is first and foremost.
"For them to know we have a chance to play football is exciting."
Ferentz thanked the Big Ten presidents and chancellors for their leadership and thoughtful consideration.
"I appreciate that they looked at the new information that has been brought forward and the clarity that was brought to other issues and have a way for us to have a path to football," Ferentz said.
Although playing an abbreviated football schedule with reduced fans will increase the net amount of revenue to the university — primarily from television — it will not reverse the athletic department's earlier decision to cut four sports and several staff members.
"The short answer is no," Barta said. "The position eliminations and the furloughs, salary reductions and including the four sports no longer continuing at Iowa are all still in place and those decision won't change. The financial crisis is still in play and will still be very significant."
"It was exciting for our players to get that news (Wednesday). To see their faces…a total different demeanor and tone. The biggest issue this whole time has been about our players, what is best for them and their health is first and foremost."

Head Coach Kirk Ferentz
Coach Ferentz Takeaways
Hawkeye Jubilation
"It's a whole different vibe for everybody. It goes back to we all like clarity and all like to know what the target is."
Contact Please
"Hopefully we'll get those (rapid) tests by Sept. 30, so we can practice with shoulder pads. You can't play this game sitting in a chair. There is a lot of benefit to meetings and working in shells, but it's not the same. Part of it is the physical part, the body has to learn how to endure contact and deliver contact in a same way. Hopefully we'll have enough time to get game ready."
5 Weeks
"We're going to look at the time frame and be as smart as we can and do the best we can to get our players ready to play, but not put them at risk. We might not go as hard as we would in an August camp. We won't have the flexibility of having all day long available to us, so it will be a different preseason. We have five weeks, so we'll have a chance to get them ready to go."
We're playing but…
"This (COVID-19) isn't going to go away. It's something that everybody has to be very vigilant about and it's going to take personal responsibility. We'll be dealing with this until January and beyond that. The thing I shared with our players twice yesterday is the level of personal responsibility they have. If we're going to make this a reality and keep it moving forward, everybody is going to have to be more vigilant than they have ever been as we go along."
The Schedule
"The scheduling has yet to be determined. What we do know is we'll play eight games and all will be Big Ten games, so they will all be competitive. I am not too worried about who the opponents are, we have an idea who six of them are. We'll worry about that at a later time. Our focus is getting our team ready to doing what we can to do our best to have them ready to go on Oct. 23-24, whenever that may be."
Opt Out?
"We have a small number (of student-athletes) that have concerns or have expressed concerns, but there are no announcements at this point. I think back to a couple of months ago and that was on a lot of people's minds, but in a general way, our players are excited about the opportunity and are excited to play."
Empty Kinnick, Empty Stadiums
"On the road, that's great, I am all for it, especially if we're indoors or in one of those 100,000 seat stadiums. At home, I flashed back to when we scrimmage in August or in the spring without fans there, it feels weird. You're going live and full speed, but it's not the same as game day. Normally you come out of the tunnel and the adrenaline of the fans anticipating the swarm or all the things you're accustomed to. It's going to be different and will be an adjustment for all of us."