All WNBA photos courtesy of NBAE via Getty Images
By DARREN MILLER
hawkeyesports.com
IOWA CITY, Iowa — The last time Megan Gustafson and Kathleen Doyle were on the same basketball team, the result was a top 10 national ranking, a 29-win season and a trip to the NCAA Tournament Elite Eight.
Iowa's dynamic duo will join forces again as members of AZS AJP Gorzów Wielkopolski, a Polish professional women's basketball club. The team begins play the first week of October in the Basket Liga Kobiet, the highest competition in Poland.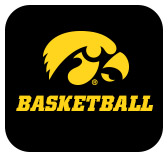 "We know each other and how we play," Gustafson said. "Our styles worked well together. She is such a good point guard and she is feisty — I loved playing with her at Iowa."
Gorzów Wielkopolski will also play EuroCup games, but because of the coronavirus global pandemic, those competitions have been moved to January. Only two roster positions are available for Americans and Gorzów Wielkopolski filled both spots with Hawkeyes.
"We were looking for young, ambitious players with a great set of basketball skills," said coach Dariusz Maciejewski. "To Kathleen and Megan's advantage, they played at the same university for three years. The players wanted to play together on a strong European club so that made the negotiations even easier. In the NCAA, they played almost 100 games together. This will certainly allow them to adjust faster to our team."
During the 2018-19 season at the University of Iowa, Gustafson averaged 27.6 points per game and shot 70 percent from the field. Doyle averaged 12 points and 5.9 assist per game. Both were named first-team All-Big Ten and Gustafson was the conference and national Player of the Year.
A year ago, Gustafson competed in Hungary and averaged 15.1 points and 8.3 rebounds per game. This will be the first season of European professional ball for Doyle.
"I'm excited, especially for my first season overseas," Doyle said. "I'm grateful I have somebody I know and I'm comfortable with who has experience overseas to help me. Hopefully we'll have a great season together. It will be fun reuniting with Megan and having a friendly face with me."
"I'm grateful I have somebody I'm comfortable with who has experience overseas to help me. Hopefully we'll have a great season together. It will be fun reuniting with Megan and having a friendly face with me."

Kathleen Doyle
Gustafson and Doyle crossed paths in the WNBA where Gustafson completed her second season with the Dallas Wings and Doyle spent her rookie season with the Indiana Fever. The 12 WNBA teams lived and played in a bubble at IMG Academy in Bradenton, Florida.
Dallas finished 8-14 and Indiana was 6-16. The teams met twice in the regular season with Dallas winning both times: 76-73 on July 31 (Doyle missed that game because of injury) and 82-78 on Aug. 29. Gustafson and Doyle were on the floor at the same time in the second meeting.
"I set a screen on her a couple times and I was like, what is going on?" Gustafson said. "It was a surreal moment for both of us. To see it come together in the best league in the world was amazing."
Gustafson played nine games for the Wings in 2020, averaging 5.2 minutes and 1.6 points per game. Doyle played 18 games for the Fever, averaging 8.6 minutes and 1.5 points per game. Both referred to the most recent WNBA season as "weird" because they were isolated the entire time.
A highlight for Gustafson was a season-ending 82-79 victory over the New York Liberty on Sept. 13. She played 16 minutes and scored eight points (2 of 4 from the field, 4 of 4 from the line) with two rebounds.
"It was nice to see floor time and show I can make an impact," Gustafson said. "It was pretty late in the season to show that, but I have to take my opportunities when I get them."
Doyle will never forget sinking her first 3-point field goal against Los Angeles on Aug. 5.
"I was relieved when I made my first basket," Doyle said. "It was a dream come true knowing I made it to that level. I know there is so much I can do to get better and hopefully I have a long career in the WNBA. I grew up watching these players and now I'm playing alongside and against them. It is pretty cool."
Gorzów Wielkopolski is located in western Poland, about two hours northeast of Berlin, Germany.