By DARREN MILLER
hawkeyesports.com
IOWA CITY, Iowa — Four of the five University of Iowa offensive linemen who started in the Hawkeyes' 49-24 Holiday Bowl victory over Southern California return for the 2020 season that begins Oct. 24 at Purdue.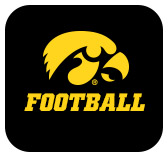 The lone exception is right tackle Tristan Wirfs, who is now turning heads in the NFL. Back in black and gold are senior left tackle Alaric Jackson, junior left guard Mark Kallenberger, sophomore center Tyler Linderbaum and junior right guard Kyler Schott.
Jackson, who was named third-team All-Big Ten by league coaches and media, has started 34 career games and he understands that the whole is greater than the sum of its parts.
"It's not one man, it's a five-man unit," said Jackson, a 6-foot-6, 315-pounder from Detroit. "If we play hard, make holes and win games, we'll be fine in the end."
Eight different Hawkeye offensive linemen started a game last season when Iowa went 10-3 to finish with double-digit wins for the sixth time since 2002. The only player to remain in the same spot for all 13 games was sophomore center Tyler Linderbaum.
"We have a lot of guys who have played snaps in games," Linderbaum said. "To have that under their belt is definitely a good thing. They understand the tempo of the games, they understand the speed and what the practices need to be like in order to be successful in games. We're doing a good job of that — we have a lot of guys stepping up and trying to become great players and I'm excited to see what is going to happen."
The 6-3, 289-pound Linderbaum was honorable mention All-Big Ten last season.
Iowa's offensive line received a boost in depth with the return of 6-4, 296-pound senior guard Cole Banwart, who started against Middle Tennessee State and Michigan in 2019 before suffering a season-ending knee injury. Banwart says he has been "full go" since July.
"It's not one man, it's a five-man unit. If we play hard, make holes and win games, we'll be fine in the end."

Alaric Jackson
Because of the ongoing coronavirus pandemic and contact tracing/quarantine guidelines, Banwart knows depth and versatility at all positions will be more important than ever.
"We have been rotating all over the place, everybody jumps around," Banwart said. "You should know every position in case somebody is not able to perform or play that day. Everyone in the offensive line room is going to have to be ready because you never know when your name will be called."
This is Banwart's fifth season in the program and he is impressed by the team cohesiveness.
"I think we're as close as we have ever been," he said. "Everyone is working hard every day, trying to be better as a person and better as a football player and pushing to be their best."
Iowa's line received another boost with the addition of graduate transfer Coy Cronk from Indiana University. Cronk (6-5, 325) played in 40 games for the Hoosiers from 2016-19. He started at left tackle for the first four games of the 2019 season before suffering a season-ending leg injury.
"He fits in perfectly and he's getting better every day," Linderbaum said of Cronk. "He has a mentality of 'never arrived' even though he has played 40 games. You would never know he has played that many games by his attitude of trying to get better every day. That's the kind of person you need on your team. That's what you look for with someone coming into a new team."
Banwart agrees and sees Cronk as another peg in strengthening the Hawkeye offense.
"He is a hard worker and learns fast," Banwart said. "Everyone is pushing to be the best so we have the best offensive line in the country."
Iowa averaged 367 yards per game last season, 138 on the ground and 229 through the air.