By JAMES ALLAN
hawkeyesports.com
IOWA CITY, Iowa — When Coy Cronk studied film of opposing defenses during his three seasons as an offensive tackle at Indiana University, he gained a respect for the offensive line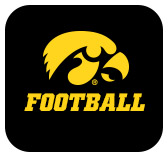 play at the University of Iowa.
Then Cronk became a "free agent" following his junior season as a Hoosier, one where he missed all but four games because of injury, and he elected to join the Hawkeyes as a graduate transfer.
"It was a difficult decision," said Cronk, a native of Lafayette, Indiana. "I have a lot of respect for my teammates, every coach I have played for and the strength coaches. Indiana did a lot for me, but sometimes you have to make a tough decision.
"I have great respect for that program and what I was able to accomplish there, but I was able to get a degree, make lifelong friends, play for great coaches and was on some pretty good teams. Overall, it was a great experience, but I am excited for this next opportunity."
"There were a lot of things that stood out to me. When I got a phone call from (Iowa head coach Kirk) Ferentz, it was an easy decision."

Coy Cronk, Iowa offensive tackle on deciding to join Hawkeyes as a graduate transfer
When Cronk was dissecting game film, he saw how the Iowa offensive line operated and noticed the pace in which the Hawkeyes played.
"There were a lot of things that stood out to me," he said. "When I got a phone call from (Iowa head coach Kirk) Ferentz, it was an easy decision."
Coming out of Central Catholic High School, Cronk flew under the radar. Hometown Purdue didn't offer a scholarship and he ultimately landed down the road in Bloomington as a Hoosier.
"I played at a small school in Lafayette with 60 kids in my class, so no one knew about me," said Cronk. "I put a big chip on my shoulder when I got to Indiana."
Cronk started all 13 games in 2016 as a true freshman. He earned the distinction of being a team captain during the 2019 season when his season was cut short by injury. He suffered a broken ankle against Connecticut — a game in which he started his 40th career contest.
"You talk about a guy, (quarterback) Spencer (Petras), who has never played, Coy is at the opposite end with 40 games under his belt," said Ferentz. "That will be helpful to our team. We lost a really good player in (first round NFL Draft pick) Tristan (Wirfs). When you lose a guy you could really count on who had that experience level, it's nice to have another guy who is also pretty experienced."
Cronk has adjusted to Iowa's new technique and getting off the ball and the Iowa coaching staff has helped him make a smooth transition.
"The nice thing (offensive line) coach (Tim) Polasek and coach Ferentz have done is they keep everything consistent," said Cronk. "You know what is expected Day 1 and every day forward. It's on the player to get better every day and I appreciate that.
"You can see on tape how it works, you see Tristian Wirfs go out and make good plays and all the great linemen that have gone through here. It has been a big adjustment, but I couldn't have better coaches and teammates to help me going on the right path."
Cronk is listed as Iowa's starting right tackle heading into Saturday's season opener at Purdue. Game time is set for 2:38 p.m. (CT) from Ross Ade Stadium in West Lafayette, Indiana.