IOWA CITY, Iowa — The University of Iowa swimming and diving team will host its Black & Gold Intrasquad Meet on Saturday at the Campus Recreation and Wellness Center Natatorium.  Action begins at 8 a.m. (CT).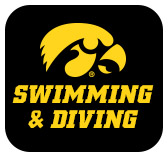 The Hawkeyes will swim in the following events: 200-medley relay, 200 free, 50 free, 200 IM, 1-meter diving, 100 free, 100 back, 500 free, 100 breast, 100 fly, diver 50 free, 200-free relay, and manager goggle throw.
The Gold roster will include: Kyle Adams, Sarah Ballard, Georgia Clark, Christina Crane, Dolan Craine, Charlie Feller, Anze Fers Erzen, Alyssa Graves, Alex Gonzalez, Drew Harris, Lexi Horner, Drew Hawthorne, Christina Kaufman, Julia Koluch, Erin Lang, Michael Konle, Jayah Mathews, Lauren McDougall, Zoe Mekus, Seth Miller, Mohamed Neuman, Preston Planells, Jonatan Posligua, Alexa Puccini, Ryan Purdy, Grace Reeder, Jacob Rosenkoetter, Millie Sansome, Tom Schab, Sarah Schemmel, Daniel Swanepoel, Alleyna Thomas, Ariel Wooden, and manager Jonathan Teitelbaum.
The Black roster will feature: Jackson Allmon, Mateusz Arndt, Caleb Babb, Maddie Black, Anna Brooker, John Colin, Kelsey Drake, Kennedy Gilbertson, Andrew Fierke, Claire Hartley, Taylor Hartley, Anton Hoherz, Evan Holt, Michael Huebner, Mallory Jump, Sergey Kutznetsov, Payton Lange, Will Myhre, Kasijaden Natarajan, Amechi Nwaeze, Sage Ohlensehlen, Aleksandra Olesiak, Claire Park, Zoe Pawlowski, Thomas Pederson, Anna Pfeiffer, Macy Rink, DJ Rogers, Katie Stonehocker, Aleksey Tarasenko, Sam Tamborski, Richard Williams, Daniel Young, Maddie Ziegert, and manager Jonny Miller.
The meet will be streamed via Facebook Live (www.facebook.com/iowaswimminganddiving.