IOWA CITY, Iowa — The University of Iowa men's swimming and diving team is ranked 25th in the College Swimming and Diving Coaches Association of America (CSCAA) preseason poll, it was announced Thursday by the CSCAA.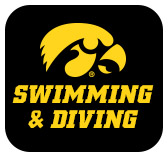 The Hawkeyes garnered 28 points and are one of five Big Ten Conference schools in the initial rankings. Three more Big Ten teams are receiving votes.
Iowa finished the 2019-20 season 20th in the final CSCAA dual meeting rankings.
The Hawkeye men return three All-Americans (Daniel Swanepoel, Anze Fers Erzen, and Mohamed Neuman) and 19 letterwinners for the 2020-21 season.
Iowa will host its annual intrasquad meet Saturday at 8 a.m. (CT) at the Campus Recreation and Wellness Center Natatorium. The action will be streamed via Facebook Live.