By JAMES ALLAN
hawkeyesports.com
WEST LAFAYETTE, Ind. — Purdue capitalized on a late fourth quarter fumble to rally for a 24-20 victory over the University of Iowa football team in its season opener Saturday afternoon at Ross Ade Stadium.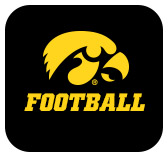 With Iowa driving, senior Mekhi Sargent burst off a 13-yard run to the Boilermaker 28, but Dedrick Mackey knocked the ball loose at the end of the play and Cam Allen recovered.
It was the opening Purdue needed as it drove for the go-ahead score.
The Boilermakers took over with six minutes remaining and drove 72 yards over 12 plays. Running back Zander Horvath rushed four times for 15 yards, including a 2-yard gain that gave Purdue a first-and-10 at midfield. Iowa sacked Aiden O'Connell for a 4-yard loss two plays later, but the Boilermakers caught a break when Jack Heflin was flagged for a 15-yard face mask penalty, moving Purdue to the Iowa 22.
After Horvath carried the ball twice for 11 and 5 yards to the 6, O'Connell hit wide receiver David Bell for a 6-yard touchdown pass — his third of the day — to give Purdue a 24-20 lead with 2:15 left.
"Bell is a good player, one of the best players in the Big Ten," said senior Nick Niemann. "You know he's going to go out and make plays.  It is a collective effort.  It comes down to physicality, communication, fundamentals — all of the above. There are a lot of things we need to get better at."
The Hawkeyes picked up one first down on a 16-yard completion to Sam LaPorta before turning the ball over on downs with 1:23 remaining.
"We're frustrated, sad, upset — it all falls into the same category," said Niemann. "All we can do is try to bounce back and try to win next week."
Iowa out-gained Purdue, 460-386, for the game, but the Hawkeyes were flagged 10 times for 100 yards (Purdue had three penalties for 21 yards). Iowa finished 4-of-13 on third down and committed two turnovers, both in Purdue territory.
"It's discipline and attention to detail," said quarterback Spencer Petras. "We pride ourselves on being brilliant at the basics, and we weren't that today. Self inflicted wounds are never easy, it's tough.  It's something we can correct, it's good we'll be able to watch it on tape and see what we did wrong and come back this week and try to improve."
Petras completed 22-of-39 attempts for 265 yards in his first career start with five completions going to LaPorta for 71 yards. The Hawkeyes rushed for 195 yards — averaging 5.4 per attempt. Sophomore Tyler Goodson had 77 yards on 16 carries, while Sargent finished with 71 yards on 11 attempts with one touchdown.
Defensively, Jack Koerner paced Iowa with 13 tackles, including nine solo stops and one tackle for loss. Senior Nick Niemann had eight solo tackles, while Riley Moss (six solos) and Daviyon Nixon (four solo, 0.5 sacks, 2.5 TLF) had seven stops apiece. Seniors Barrington Wade and Matt Hankins both had interceptions.
O'Connell completed 31-of-50 attempts for 282 yards and three touchdowns, Bell had 13 receptions for 121 yards and three touchdowns, and Horvath had 129 rushing yards on 21 carries.
Quoting Head Coach Kirk Ferentz
"It was a very long road to get here — 302 days.  It was a long time between games, we're appreciative of everyone's efforts to make this happen.  I am proud of our team's effort, they played hard and practiced all week and well all week.  There is no substitute for playing games, it has been a strange preparation.  It's tough to win on the road, and that's especially true in the Big Ten.
"We did a lot of good things, positive, good plays and good play, but there is a lot we have to work on.  In particular, turning the ball over, penalties — half of the penalties were major, more than five yards.  The other thing that hurt us is we let No. 40 get going in the second half. They ran it well in the second half.  We're going to see a lot off the film to teach off of, situational football and all three phases.  If we can't get what I referenced corrected and do a better job moving forward, it's going to be tough to win conference games.
"We need to go in tomorrow and respond in the right way, put in another good week and see if we can't make the improvements we have to make to win football games."
Quoting Petras
"The biggest thing to remember, the only goal of ours is still on the table at this point is being undefeated. There are still plenty of things to play for, starting with beating Northwestern next week.  All of our goals still apply, getting better each day and being the best team we can be and fulfilling our potential.  It's going to hurt, but we always talk about the 24 hour rule. We'll watch the tape tomorrow, let it hurt, but then come Monday, it's on to Northwestern."
How It Happened
• Purdue got on the scoreboard first, covering 66 yards over nine plays midway through the first quarter. On the second play of the drive, O'Connell completed a 16-yard pass to Milton Wright into Iowa territory. O'Connell had two 13-yard completions to Bell and Wright to the Iowa 20 before he connected with Bell for a 9-yard touchdown on second-and-goal from the 9.
• Special teams set up Iowa's first score of the day. The Hawkeyes' Tory Taylor pinned the Boilermakers at their own 7-yard line and an Iowa blitz (which resulted in a Wade sack) forced a Purdue punt from its own 2.
o After Charlie Jones' 25-yard punt return gave Iowa starting field position at its own 40. Petras connected with LaPorta for a 20-yard gain to the Purdue 8 before Petras scored on a quarterback sneak from 1-yard out to tie the game at seven with 10:21 left in the first half.
• Iowa grabbed its first lead with an 11 play, 73-yard drive. Ivory Kelly-Martin opened the series with rushes of 14 and 5 yards to near midfield. Petras completed a 15-yard pass to Tyrone Tracy, Jr., to the 23 and a Ihmir Smith-Marsette reverse moved the Hawkeyes to the 7. Three plays later, Sargent scored from 1-yard out, giving Iowa a 14-7 lead with 4:42 left in the first half.
• Purdue had an immediate answer, needing nine plays to cover 75 yards. O'Connell completed 5-of-7 attempts — four to Bell. Bell hauled in passes for 16, 9, 13, and 11 yards — the final of which was an 11-yard touchdown reception that tied the game at 14.
• The Hawkeyes forced their first turnover — a Matt Hankins interception with 31 seconds left in the first half — and turned it into points heading into the locker room. After taking over at the Iowa 36, Petras completed all three passes, including a 28-yarder to Nico Ragaini to the 30 and a 20-yarder to LaPorta to the 10. Senior Keith Duncan connected on a 27-yard field goal as time expired to give Iowa a 17-14 lead at the half.
• On its final drive of the third quarter, Iowa's drive began at its own 43 and the Hawkeyes covered 42 yards over 10 plays. On fourth-and-4 from the Purdue 33, Petras connected with Ragaini for 17 yards to the 16. After a holding penalty derailed the drive, Duncan connected on a 33-yard field goal to make the score 20-14 with 13:12 left.
• Purdue followed with a 14-play, 71-yard drive that featured five straight O'Connell completions, moving the Boilermakers to the Iowa 33. On fourth-and-1, Horvath rushed for 2 yards, the first of four rushes to the 12. Iowa's defense held, limiting Purdue to three points on a 29-yard J.D. Dellinger field goal with 8:20 remaining.
Individual Notes
Petras finished the game with 265 yards passing, the most by a Hawkeye quarterback in his first career start since Jon Beutjer in 2000 (380). Petras started the game 1-for-6 with three passing yards, and finished the first half completing 13 of his 15 throws for 171 yards. He was 14-of-21 in the first half for 174 yards passing. He added one rushing touchdown.
Petras is the fifth Hawkeye quarterback in the Ferentz era to make his first career start on opening day (Petras, Stanley, Rudock, Tate, Chandler).
Petras scored Iowa's first touchdown of the season, a 1-yard touchdown rush. It is his second career rushing touchdown.
LaPorta led Iowa with a career-high 71 receiving yards.
Goodson tied his career-high with five receptions. His 40-yard reception was a career long.
Koerner led Iowa with 13 tackles, tying a career high. Riley Moss added a career high seven tackles. Nixon (7) and Julius Brents (4) also tied their career best in tackles.
Wade had a career-high five tackles and added his first career sack (9 yards) and interception (9 yards).
Miscellaneous Notes
Iowa had 460 yards total offense, its highest total in a Big Ten game since 2018 against Indiana (479).
Purdue scored first, marking the first time since Nov. 9, 2019 (vs. Wisconsin) that Iowa trailed in a game. The Hawkeyes ended 2019 on a four-game winning streak and did not trail in any of those four games.
Up Next
The Hawkeyes return to action on Halloween, hosting Northwestern at 2:30 p.m. (CT) inside Kinnick Stadium. The game will be televised on ESPN.