By DARREN MILLER
hawkeyesports.com
IOWA CITY, Iowa —Jack Heflin made his presence felt on his first snap as a Hawkeye.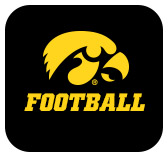 A three-year starter at defensive tackle for Northern Illinois, Heflin has one game under his belt as a graduate transfer at the University of Iowa. On Oct. 24, on the first offensive play of the season for Purdue, Heflin teamed with Chauncey Golston to tackle running back Zander Horvath.
With that, Heflin's Hawkeye career was off and running.
A native of Prophetstown, Illinois, the 6-foot-4, 312-pound Heflin is the second Division I football player from the town of less than 2,000. The other? Bret Bielema, who lettered for the Hawkeyes from 1989-92. Want more trivia? When Heflin makes his first tackle in Kinnick Stadium on Oct. 31 against Northwestern, it won't be his first in the historic venue. He made one stop against Iowa on Sept. 1, 2018…a 33-7 win by the Hawkeyes.
Heflin and his entire family are Hawkeye fans and he attended three camps at Iowa when he was in high school. The first was during his junior year when he referred to himself as "a little string bean."
"I want to build something special as a defensive line, that is more important than individual accolades."

Jack Heflin, Iowa defensive lineman
The Hawkeye staff liked what it saw, but Heflin got caught up in a numbers game.
"They already had a couple defensive line commits, so I knew the writing was on the wall," he said. "I wasn't getting many looks from teams; I had three walk-on opportunities at the Division I level."
Heflin was part of 21 wins the past three seasons when he accumulated 72 tackles, 17.5 tackles for loss and nine sacks. Twice he was named to All-Mid-American Conference teams.
Iowa head coach Kirk Ferentz calls it an "unexpected bonus" when Heflin transferred.
"We lost really good older players last year, so to add a guy like Jack to the defensive line gave us more experience," Ferentz said. "He is our kind of guy. He likes football, likes his teammates, works hard, enjoys playing and has been a good addition to our entire football team."
Heflin will never forget the feeling of swarming onto the field with teammates at Ross-Ade Stadium for the season-opener. Neither will his family and friends.
"My mom was crying and my girlfriend was crying, they were so excited about it," Heflin said. "My sister was a mess. It was cool to have that experience."
Although he hasn't been on campus long, Heflin relates to the attitude of the 2002 Hawkeye team that included national award-winners Brad Banks, Dallas Clark, Robert Gallery and Nate Kaeding.
"I want to build something special as a defensive line, that is more important than individual accolades," Heflin said. "The (2002 team) didn't think about awards, they thought of going every day and playing as a team. Those relationships will last a lot longer than your individual accolades. I have some from (Northern Illinois) and they are in my closet at home, I don't even look at them. I will look at them to show my son or daughter in 20 some years. It doesn't mean anything, it's a big paper weight."
Iowa (0-1) has its home opener Saturday against Northwestern (1-0). Kickoff is 2:30 p.m. (CT).