By JAMES ALLAN
hawkeyesports.com
IOWA CITY, Iowa – Northwestern rallied from a 17-0 first quarter deficit to defeat the University of Iowa football team, 21-20, on Saturday afternoon inside Kinnick Stadium.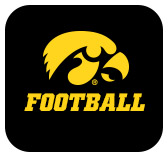 The Wildcats intercepted Iowa quarterback Spencer Petras three times in the second half. The first set up the only touchdown of the second half – a 2-yard Jesse Brown score midway through the third quarter – and Blake Gallagher's pick with one-minute left the sealed the Northwestern victory.
Iowa out-gained Northwestern, 293-273, in the game, but the Wildcats' ball control offense churned out 143 rushing yards on 60 attempts where it led to a seven minute advantage (33:33-26:27) in time of possession. The Hawkeyes were just 6-of-17 on third down.
Petras completed 26-of-50 attempts for 216 yards and one touchdown. Senior Ihmir Smith-Marsette had seven receptions for 84 yards, while sophomore Sam LaPorta made six catches for 46 yards. Brandon Smith made three receptions for 19 yards, including a first-quarter touchdown.
Iowa's rushing attack was limited to 77 yards on 23 attempts with sophomore Tyler Goodson finishing with 43 yards on 13 carries.
Defensively, three Hawkeyes posted double-digit tackles. Sophomore Seth Benson led the team with 13 tackles, including 10 solo stops, and two quarterback hurries. Junior defensive tackle Daviyon Nixon had 11 tackles with six solo stops, three tackles for loss, 1.5 sacks, and a forced fumble. Senior Nick Niemann finished with 10 tackles and 0.5 tackles for loss.
The Hawkeyes forced three turnovers in the game, turning them into 14 points. Senior Zach VanVelkenberg had a forced fumble and fumble recovery in the first quarter, and junior Jack Koerner had a fourth-quarter interception, the second of his career.
Northwestern quarterback Peyton Ramsey completed 11-of-18 passes for 130 yards with five of those completions going to Kyric McGowan for 63 yards. Running back Isaiah Bowser had 85 yards rushing on 25 attempts and Brown scored two Wildcat rushing touchdowns.
Quoting Head Coach Kirk Ferentz
"I'll start out congratulating Northwestern on the victory. They certainly played hard and played a better second half than we did, and that was the story of the game. I thought our guys came ready to go. We got off to a fast start, did a lot of good things in the first half and then the second half was a whole different story.
"You have to play the full 60 minutes, and at the end of the game, really all the critical areas, running the football, third down conversions and the turnover rate, obviously those things are going to be important deciding any football game. We did a good job of that in the first half, not so much in the second half. They finished the game and we weren't able to. That's kind of where it's at right now.
"We have a short week — not a short week but an unusual week, a disrupted week coming up — so it's the first time for us, as every team faces it. It will pose some unique challenges and we're going to have to be sure that we handle that well because we have a lot of improvement to make, and that has to be our focus. We're going to have to handle the week on top of it."
How It Happened
Iowa's special teams set up the Hawkeyes' first score. After going three-and-out on its first possession, Tory Taylor boomed a 50-yard punt to the Northwestern 15. McGowan waved for a fair catch, but he muffed the punt and Iowa's Terry Roberts pounced on the ball before going out of bounds at the 7.
– On Iowa's first offensive play, Petras threw his first career touchdown pass, finding Brandon Smith for a leaping touchdown from 7 yards out to make the score 7-0.
Iowa's defense forced its second turnover and the Hawkeyes capitalized to push their lead to 14-0. On second-and-1 from the NU 45, senior Zach VanVelkenberg knocked the ball loose and recovered a fumble by Bowser in Northwestern territory.
 The Hawkeyes needed just three plays to find the end zone. Petras hit Smith-Marsette for 20 yards on the first play to the 25. Two plays later Goodson scored with a 15-yard burst up the middle to make the score 14-0 with 8:36 left in the first quarter.
The Hawkeyes stretched their lead to 17-0 with a 61-yard drive that covered 13 plays. Petras had back-to-back 11-yard completions to Nico Ragaini and LaPorta to move into Northwestern territory. Iowa picked up two more first downs to move to the 3 before settling on a 22-yard Keith Duncan field goal with 1:43 left in the first quarter.
 Northwestern broke onto the scoreboard with a 75-yard drive that spanned 16 plays and used 6:23 of clock time. The Wildcats rushed 13 times during the series with the big play coming via a 21-yard scramble from Ramsey. Northwestern converted a fourth-and-1 from the 9 before McGowan scored from 3-yards out to make the score 17-7.
 Iowa answered with a 37-yard scoring drive that ended with Duncan's second field goal. Smith-Marsette started the series with a 33-yard kickoff return and Iowa converted a fourth-and-1 on a Petras sneak. On the next play, Petras avoided a sack and hit Tyrone Tracy, Jr., for 22 yards on a crossing pattern. After the drive stalled at the 29, Duncan drilled a 47-yard field goal into the wind to push the lead to 20-7.
 The Wildcats used another extended drive – a 14-play, 79-yard score – to make it a one possession game. After eight straight rushes moved the ball to the Iowa 38, Ramsey hit McGowan for 12 yards and Drake Anderson for 21 to the Iowa 8. Three runs later, Brown rushed up the middle from 1-yard out to make the score 20-14.
 Iowa moved the ball on its final possession of the first half in its two-minute drill. Petras completed four passes on the series to the NU 34. With two seconds left, kicker Caleb Shudak attempted a 52-yard field goal into the wind for his first career attempt, but the ball caromed off the right upright to end the half.
 Northwestern forced Iowa's first turnover on the Hawkeyes' second possession of the third quarter. On first-and-10 from the Iowa 44, Brandon Joseph intercepted Petras and returned the pick 18 yards to the Iowa 35.
– The Wildcats rushed six times during the eight-play scoring drive, including a Brown 2-yard touchdown run – his second of the game — that gave Northwestern a 21-20 lead with 6:05 left in the third quarter.
 The Hawkeyes notched their third turnover early in the fourth quarter. On third-and-13 from the NU 22, Chauncey Golston flushed Ramsey out of the pocket, which led to an overthrow. Junior Jack Koerner flew in to notch the pick at the NU 41 and returned it five yards to the 36.
– Goodson ran for nine yards on first down to the 27 before being stopped for a 3-yard loss on second down. On third-and-4 from the 30, Petras targeted LaPorta, who had the ball carom off his hand into the arms of Joseph for his second pick of the day.
Iowa's defense gave the Hawkeyes two more fourth-quarter possessions after surrendering one first down in Northwestern's final two offensive series. Iowa turned it over on downs after moving into Northwestern territory with 1:55 left before the Wildcats' sealed the win with an interception with a minute to play.
Individual Notes
Nixon set a career high with 11 tackles. He set a then-career high with 7 tackles Week 1. Through two games, he has 18 tackles, 5.5 tackles for loss, and 2.0 sacks.
Smith-Marsette set a career high with seven receptions. He had 84 yards receiving to move past Bill Schultz and Dallas Clark in career receiving yards (1,354).
Spencer Petras threw his first career touchdown, a 7-yard toss to Brandon Smith in the first quarter. Petras completed 26 passes on 50 attempts. No Hawkeye since at least 1982 completed more passes or had more attempts in their Kinnick Stadium debut. The 50 attempts are the most by a Hawkeye quarterback since Jake Rudock threw 56 times against Maryland in 2014. The 26 completions are the most by a Hawkeye quarterback since Nate Stanley completed 27 passes against Northwestern in 2018.
Duncan scored eight points today to move past Mark Weisman for 11th all-time in career scoring (200). He connect on field goals of 22 and 47 yards, and has made nine consecutive field goal attempts.
Koerner intercepted a pass in the fourth quarter, his first of the season and second of his career.
LaPorta matched his career high with six receptions.
Miscellaneous Notes
Iowa had won five straight games when recovering at least two opponent fumbles. Its last loss with two fumble recoveries was against Nebraska in 2012 (L, 13-7).
Up Next
The Hawkeyes return to action Nov. 7, hosting Michigan State at 11 a.m. (CT) inside Kinnick Stadium.  The Spartans are 1-1 after defeating rival Michigan, 27-24, on Oct. 31 in Ann Arbor.