By DARREN MILLER
hawkeyesports.com
IOWA CITY, Iowa — When it comes to coaching trees, it doesn't get better than Hayden Fry's staff in 1983. Perhaps the most unsung member of that group — Del Miller — has an interesting branch sprouting from his coaching tree as well.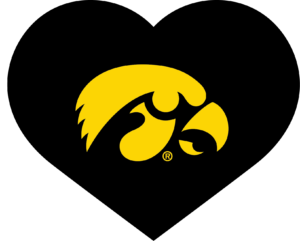 The offshoot is Ken Brase, who played football for Miller at Plainfield (Iowa) High School in the 1970s, coached 25 years, and is now a truck driver who has time to attend as many University of Iowa football games as possible…400 miles from his home in Grand Rapids, Michigan.
First, let's backtrack to olden times of the Big Marsh Conference that included a collection of small high schools in north central Iowa. Plainfield was the first coaching stop for Miller after he graduated from Central College in 1972. Other schools were Allison, Aplington, Clarksville, Dumont, Janesville, New Hartford, and Parkersburg. (Derek Pagel, who lettered for the Hawkeyes from 1999-2002, is from Plainfield).
Brase played tight end, free safety and handled the kicking and punting duties for the Pirates.
"Del would quickly tell you those were a couple tough years that he and I spent together," Brase said. "We won a few games to be happy, but we weren't kicking anybody's rear end around."
Miller became a graduate assistant and assistant for Iowa from 1978-88 and made stops at Kansas State, Southwest Missouri State, Oklahoma State, and San Diego State. Meanwhile, Brase taught and coached at Kanawha (now part of Britt-West Hancock), Lincoln Central (now combined with Estherville) and Iowa Lakes Community College.
"My first connection to the University of Iowa was through Del Miller when he went to do his graduate work and then he got on as an assistant under Hayden," Brase said. "I was getting out of college at that stage of Del's career, so I got to start coming to clinics and practices, then I went into high school coaching."
Brase earned college degrees from Cornerstone University and Calvin College, both located in Grand Rapids, Michigan. After 20 years of coaching and teaching in Iowa, he moved to Michigan to teach physical education and coach at NorthPointe Christian. He retired from education and now drives for Nationwide Truck Brokers (NTB), which serves Kentucky and five states that surround the Great Lakes.
"At Iowa, the glass is almost full as opposed to half full or almost empty," he said. "It is almost full in terms that we are family at Iowa both in the football program and among the fans."

Ken Brase
On this particular day, Brase was hauling to Meijer stores in Detroit, Sandusky, Toledo, and Akron, Ohio. All the while, he was wearing his signature Hawkeye hat.
The work schedule as a trucker allows Brase to attend weekend games in Iowa City and he has been to 84 straight Hawkeye home football games. When Iowa plays at Michigan or Michigan State, Brase is in the stands there as well. That includes the 2012 season when he cheered the Hawkeyes at both East Lansing and Ann Arbor.
"Living in Michigan isn't a problem," Brase said. "Almost 90 percent of the people I run into here say Iowa is their favorite team besides their own favorite team."
Brase and his wife, Deb, have been married 42 years. She makes the majority of trips to Kinnick Stadium and he gives her credit for allowing him to continue the fall weekend getaways. Brase's second ticket each week is rotated between his wife, children or grandchildren.
Family and Hawkeye football has a double meaning for Brase.
"At Iowa, the glass is almost full as opposed to half full or almost empty," he said. "It is almost full in terms that we are family at Iowa both in the football program and among the fans."