By JAMES ALLAN
hawkeyesports.com
IOWA CITY, Iowa – It was good Saturday afternoon at Kinnick Stadium.
The University of Iowa football team scored on offense, defense, and via special teams to jump out to a 35-0 first-half lead before finishing off Michigan State, 49-7, to notch its first victory of the 2020 season.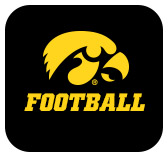 The Hawkeyes rolled up 405 yards of total offense, featuring a balanced attack with 226 coming on the ground and 179 through the air. Iowa's defense forced three turnovers (turning them into 14 points) and limited the Spartans to 286 yards with just 59 coming via the rushing attack.
Sophomore Spencer Petras completed 15-of-27 attempts for 167 yards and one touchdown. He spread his completions to seven different Hawkeyes with sophomore Tyrone Tracy, Jr., leading the way with four receptions for 38 yards. Senior Brandon Smith had three catches for 35 yards and one touchdown.
Sophomore Tyler Goodson had 113 yards – Iowa's first 100-yard game of the season — on 14 attempts, averaging 8.1 yards per attempt, and he found the end zone twice for his first career two score game. Senior Mekhi Sargent had 31 yards on nine carries with two touchdowns.
Defensively, sophomore Seth Benson paced the team in tackles for the second straight game, finishing with eight tackles. The Hawkeyes had seven tackles for loss – two coming from senior Chauncey Golston and 1.5 from senior Zach VanValkenburg – and Jack Koerner, Riley Moss, and Barrington Wade all recorded interceptions.
Moss returned his second quarter pick 54 yards for a touchdown to give Iowa a 35-0 lead.
Iowa shined on special teams with Jones notching 105 yards on five returns, including a 54-yard punt return touchdown in the second quarter. Punter Tory Taylor averaged 45.9 yards on seven punts and had five attempts downed inside the 20.
Michigan State quarterback Rocky Lombardi completed 17-of-37 attempts for 227 yards with four going to Jalen Nailor for 119 yards. Jordan Simmons had nine carries for 34 yards to lead the Spartan rushing attack.
Quoting Head Coach Kirk Ferentz
"I am proud of our team today, proud of their effort all week, and the performance today was everything we had hoped for. The guys played hard, tough and physical.
"All three segments played well, and most importantly they complemented each other. Not to single players out, but two of the first names that would come to mind for me would be our punter Tory Taylor and Charlie Jones — two guys that are newcomers that impacted the game today in a positive way. Not to single out our kickoff coverage team, not that they covered a lot of kicks today, but they've been outstanding all season long. I am proud of that, as well.
"We got off to a strong start and then we kept playing well and complementary football and it feels good to get the win today. We needed a win. We needed to play well. Our guys responded and did a great job on that.
"We have to transition now because we have another challenge. You probably noticed there's a four-week block here. This is week two, finishing week two, but in those four weeks, we have three weeks that are different as opposed to a normal week, which kind of makes the normal week different, too, because it'll be normal in the midst of some weird weeks. Because of that we want the guys to enjoy the game today, feel good about what they did, what they accomplished, but we have to transition fast tomorrow and think about our next game because we're going to be playing Friday. There won't be seven days this time to get ready, down to six, and we certainly still have a lot of work to do.
"The note I made at the end of the week this past week, win, lose or draw today, my point of emphasis to the team is I still think we can practice better. We're doing better weekly, but we still can practice better, and that's not going to change. That theme won't change. It's a shorter week, an unusual week, but we needed to have a good week of practice and that's where we're at.
"I am proud of our guys, I think we have a good team. I've always felt like we have a bunch of good guys on our team, and it was good to see them pull together and have some success."
How It Happened
Iowa jumped on Michigan State, scoring on its first two possessions and outgaining the Spartans, 156-43, in the first quarter.

The Hawkeyes went 75 yards over eight plays on their first scoring driving with a strong mix of the run and pass. Petras connected with Shaun Beyer for 18 yards and Jones had a 27 yard run on a reverse to move Iowa to the Spartan 6.  Goodson scored from 3-yards out two plays later to give Iowa a 7-0 lead.
Iowa forced its first turnover on a Koerner interception and the offense followed with a 10-play, 74-yard scoring drive. Petras hit Nico Ragaini for 28 yards and Ivory Kelly-Martin for 17 yards to the 12. Petras connected with Smith on a back-shoulder throw for a 14-yard touchdown on third-and-12 to make the score 14-0.

Jones set up a short field, returning a 42-yard Bryce Baringer punt for 31 yards to the MSU 47 early in the second quarter. Iowa needed seven plays to push the lead to 21-0.  Smith had receptions for 12 and 9 yards to the MSU 24 and Goodson scored his second touchdown from 9 yards out with 11:16 left in the half.
The Hawkeyes picked off Lombardi for the second time on Michigan State's next series. On second-and-1, Lombardi was flushed to his left and his attempt was intercepted by Wade and returned 12 yards to the MSU 24.  Iowa's drive stalled and the Hawkeyes came away empty when Keith Duncan missed a 37-yard field goal.
Iowa's defense and special teams were at it again, scoring two touchdowns in a span of 27 seconds.

Jones made the score 28-0 after taking a Baringer line drive punt, making a cut and going 54-yards for a touchdown.
On the third play of Michigan State's ensuing offensive drive, Iowa's defensive front flushed Lombardi from the pocket and his heave was intercepted by Moss near midfield. Moss returned the pick 54 yards for the touchdown to push the lead to 35-0.

Michigan State broke onto the scoreboard on its first possession of the second half. Lombardi jumpstarted the drive with a 57-yard deep ball to Jalen Nailor on third-and-18, moving the ball to the 13.  The Spartans scored via a Tyler Hunt 1-yard touchdown to make the score 35-7.
Iowa responded with a four play, 75-yard touchdown drive. Goodson burst through a hole for a 71-yard rush – the longest of his career — on the first play of the drive and senior Mekhi Sargent scored from 2-yards out three plays later to push the advantage to 42-7 with 8:47 left in the third quarter.
The Hawkeyes scored their seventh touchdown via a three-play, 45-yard drive. Iowa was the beneficiary of two Spartan penalties – a defensive hold and a pass interference – during the series before Sargent scored from six yards out with 11:57 left.
INDIVIDUAL NOTES
Goodson rushed for 113 yards. His 71-yard rush in the third quarter is a career long and pushed him over the 100 yard mark, his second career 100-yard rushing game. Goodson had two rushing touchdowns (3, 9) to record his his first career multi-touchdown game. Goodson has started the last seven games at running back. He has seven rushing touchdowns over the last seven games.
Moss's 54-yard interception return for a touchdown was Iowa's first interception return for a touchdown since the 2019 Holiday Bowl (Nick Niemann). Iowa has at least one pick-six in 13 consecutive seasons, and at least one interception returned for a touchdown in 18 of the last 20 seasons.
Jones returned a punt 54 yards for a touchdown in the second quarter. It is his first career punt return for a touchdown, and Iowa's first since 2018 (Kyle Groenenweg, 61 yards at Illinois). Jones had a then career-best 31-yard punt return in the second quarter to set up Iowa's third touchdown drive.

Jones had 105 punt return yards on five returns (21.0 avg.). In all of 2019, Iowa returned 15 punts for 121 yards (8.1 avg.).

Taylor averaged 45.9 yards on seven punts, including a career-long 61 yard punt in the second quarter. He had two punts of 50-plus yards and five punts downed inside the 20. Taylor entered the game leading the Big Ten with 46.1 yards per punt.
MISCELLANEOUS NOTES
Iowa scored 49 points today, the most in series history. It is the third time in the series Iowa top 40 points (44 in 2002, 41 in 1980). The 49 points scored are the most by the Hawkeyes at Kinnick Stadium since defeating Ohio State, 55-24 in 2017.
Iowa led 35-0 at half. It is the most points scored in the first half of a game since scoring 35 points at Illinois in 2018.
Iowa had three interceptions (Jack Koerner, Barrington Wade, Riley Moss), its first three-interception game since 2018 at Illinois. Iowa has at least one interception in the last 10 games. Iowa has 14 interceptions over the last 10 games, and 59 interceptions since 2017.
Iowa returned a punt and interception for a touchdown in the same game for the first time since 2014 vs. Nebraska (Lowdermilk 17-yard INT, Drew Ott 12-yard punt).
The Hawkeyes scored a touchdown on offense, defense and special teams for the second time in the last four games (USC at 2019 Holiday Bowl).
Iowa scored a touchdown on its opening drive for the first time this season. The 75-yard touchdown drive was Iowa's longest scoring drive of the season.
Up Next
The Hawkeyes return to action Nov. 13 at Minnesota.  Game time is set for 6 p.m. (CT), and it will be televised on FS1.