By DARREN MILLER
hawkeyesports.com
IOWA CITY, Iowa —If you watched Luke Lachey play football at Grandview Heights (Ohio) High School, you saw him about everywhere on the field except tight end.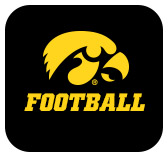 On defense, he was a cornerback. On offense, he lined up at wide receiver, quarterback and even took a few snaps at running back. In other words, the 6-foot-6, 237-pound multi-sport, multi-position student-athlete is exactly what the University of Iowa looks for in a tight end.
"We were impressed with his athleticism," Iowa head coach Kirk Ferentz said. "He did a lot of things for his high school football team and we thought he was a good prospect with a lot of upside."
Then there is Lachey's pedigree. He is the youngest of five to parents Ann and Jim. Jim was an All-America offensive tackle for Ohio State who was selected 12th in the first round of the 1985 NFL Draft by San Diego. The three-time Pro Bowler played 11 seasons with the Chargers, Raiders and Redskins, winning a Super Bowl championship in 1992.
"He told me to pick wherever I want to go, it's not about anyone else," Luke said. "He told me to think about it and make the right decision for me."
"I want to become a better football player, better man and better teammate."

Luke Lachey, Iowa tight end
That decision was Iowa because Lachey was fond of the Hawkeye culture and coaches.
"When I was here for my official visit, all the player were nice to me and my (recruiting) class is really close," he said. "I saw that before I committed so that added a lot to it."
About a month before the 2019 NFL Draft, Lachey began watching highlights of Iowa tight ends T.J. Hockenson and Noah Fant. When the two Hawkeyes went No. 8 to Detroit and No. 20 to Denver in the first round of the draft, he knew there was something special about playing that position in Iowa City.
In high school, Lachey also participated in basketball and was a high-jumper and 200-400 runner in track and field. He was offered a basketball scholarship by Bowling Green but decided to pursue football. Lachey had more than 20 scholarship offers for football and chose Iowa over the other finalist, Michigan State.
Coincidently, Lachey saw his first collegiate action against the Spartans on Nov. 7 in Kinnick Stadium. Iowa won, 49-7, and Lachey played several snaps in the fourth quarter. In practice, he has seen time with the second unit.
"(The playing time) motivated me to want to get back out there," Lachey said. "It makes you a lot less nervous going back in because now you have some experience."
Ferentz agrees and enjoys Lachey's willing attitude. He said in time, Lachey could be a strong contributor for the Hawkeyes.
"Being on the game field is a nice reward," Ferentz said. "It doesn't seem like a big deal, but it really is valuable to the guys because to be out there is different than practice. It gets them started, so now they have a chance to move in and contribute quicker."
Lachey arrived on campus June 12 and started practice three days later. He understands the work that is needed to perform at a high level in the Big Ten. His goals for the rest of his true freshman season are three-fold.
"I want to become a better football player, better man and better teammate," he said.