By SHANE STURTZ
hawkeyesports.com
IOWA CITY, Iowa — In the last two weeks, the University of Iowa defense has more interceptions (five) and sacks (six) than touchdowns allowed (two). That has led to the Hawkeyes outscoring opponents, 84-14, to improve to 2-2.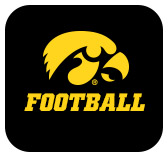 It has been a quick and confident turnaround. Iowa's defense is back to its old tricks, wreaking havoc, forcing takeaways, and frustrating offenses. It is a product of putting in the work during the week.
"The thing that has changed (since Week 1) has been our practice habits," said defensive line coach Kelvin Bell. "We talk about winning the week. We put an emphasis on that. What you do during the week is going to show up on Saturday."
Bell preaches to his defensive line about not getting too high or too low and worrying about each week – not the big picture.
"We talk about daily improvement," Bell said. "How do you do that? No. 1: Attention to detail. No. 2: We need consistent effort on the practice field. No. 3: Through the film work, having an honest self-evaluation about what you're seeing."
This practice strategy and mindset has paid off for Iowa's front four.  It is a group that is setting the tone for a defense that ranks third in the Big Ten in scoring (14.8) and total defense (314.3).
"We have honest conversations after every game," Bell said. "Credit to those guys for taking it to heart. It's a tight-knit group and they're getting better every week."
There's no better example of the defensive line's willingness to improve than fifth-year senior Chauncey Golston.
When Bell was recruiting the Detroit, Michigan, native he had one offer and weighed 224 pounds. Now Golston is a 272-pound edge rusher and the most consistent guy up front.
"He worked his butt off since he has been here," Bell said. "Day-in and day-out, I know what I am going to get out of Chauncey, both on and off the field. The leadership that he provides – from an X's and O's standpoint and from a motivation standpoint – is going to be hard to replace."
Former Division II standout Zach VanValkenburg is another example.
What started as an email from VanValkenberg in the middle of the 2018 season has led to a hard-nosed, smart player and the reigning Big Ten Defensive Player of the Week.
The list goes on.
Junior Daviyon Nixon, who played mostly in a reserve role last season, has been one of the most disruptive defensive lineman in the Big Ten, leading the conference with seven tackles for loss. Northern Illinois transfer Jack Heflin, Joe Evans, and Noah Shannon have unselfishly learned the defensive scheme, and performed when their name is called.
"I have no problem putting four guys out there, regardless of whether they're a defensive tackle or defensive end by trade," Bell said. "They all know what to do and that's a credit to them and the way they attack the scheme, learn the scheme, and are detailed about the scheme. We have great team guys and you can't have enough of that."
Iowa's defense will be up for another test Saturday at Penn State (2:30 p.m. (CT), BTN).
"Penn State is a talented team," Bell said. "They always have been, but are in a rough spot right now. They're 0-4, so they're going to be extra hungry. We're going to get their best shot, so we have to make sure we're ready."